Time for the seventh installment of our family's grocery challenge for the year, which I'm calling "A Year of Good Food." (Spoiler: this is the first month we failed).
At the beginning of July, we moved from New Hampshire to North Carolina. We sold a house there and bought a house here, but along the way, we lived in hotels and stayed with my sister for about a week, then filled up a new fridge and pantry, then fed all four of us breakfast, lunch, and dinner all month. We blew an exorbitant sum of money on everything in July, including food.
The Back Story (Skip This if You've Already Read it Six Times)
This year, our family is challenging ourselves to spend less on food so we can save and travel more. Last year, I adopted one habit a month that would translate into better money moves for our family. You can read all about our A Year of Good Habits here.
That experiment worked so well that we tried a new one this year. In 2018, we are challenging ourselves to do better at our food spending. Last year our family spent over $12,000 in groceries, or $966 per month.
This year, our goal is to spend 20% less on groceries. That may not sound like a lot, but it's almost $200 per month in food savings. The extra $200 per month is going into a travel savings fund, so we can see the results of our hard work in spending less on food.
We could have adopted a radical goal to keep our spending under $500 or something like that. But we know better. We thought it made much more sense to consistently hit our modest target, month after month, for an entire year, to show ourselves we could do it, than to maybe hit the $500 goal once or twice and then face plant with more $1000+ grocery bills.
And if we consistently hit sub-$772 spending, then perhaps we'll challenge ourselves next year to shave off more.
Each month, we're trying out a new way to save money at the grocery store. Last month, we focused on staying in budget while moving houses. We kept our expectations low–I knew I wouldn't be able to consistently meal plan or regularly grocery shop, so the idea was to do as well as we could despite the chaos.
July
Ok, I'm going to get real with you this morning. This privileged WASPy white woman who currently doesn't work (much) and who really only has to make sure that she keeps her two kids alive and make them clean the bathrooms for her has another first world problem. We got a puppy. And I have to watch it all the time. Because of course it lives inside and has the Prince(ss) of Bel Air life right now, complete with training treats and grooming gloves. She gets up at 5am which is normally my prime writing time, so this post may or may not make sense, because I have to check to make sure she's not tee-teeing under the bed every 2 minutes.
We did not get the puppy in July, though, so I digress something mighty. Lack of sleep will do that to you.
We spent the majority of the month unpacking boxes and getting acclimated to our new house. Mr. ThreeYear started working from home, which is both weird and wonderful, as he's… home all the time! He eats every meal at home, so during July, all four of us ate every meal at home, except for the week we spent at the beach, when we ate every meal at the beach.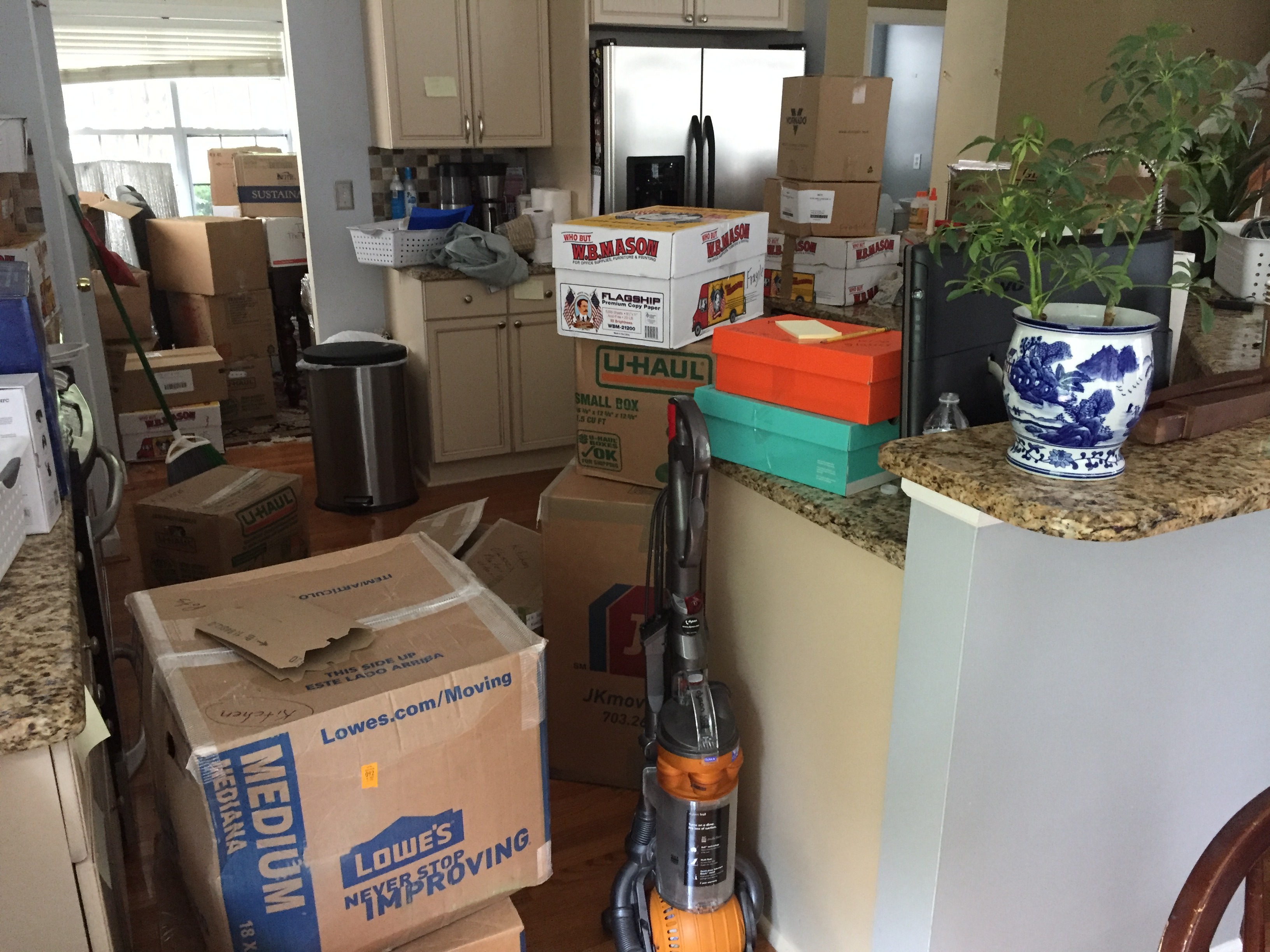 I didn't even notice we were going over budget, probably because I was busy spending money in every other budgeting category. We were also getting used to the heat, and drinking beverages like crazy. We have a Soda Stream and love it, but the $2.50/12 pack of seltzers kept ending up in our cart.
I also think that mental fatigue played a part. We had been "on" for our move since about March, getting the house ready, selling it, packing up our stuff, buying a house in NC, and once we moved and got a reasonable amount of boxes unpack, we could finally relax and rest. Moving in was about ten times as hard as I predicted and expected, and I'm glad that pretty much on the other side now.
Further Reading on Our Spending and Saving: 
The Details
Total Budgeted For july: $772.00 US
Total Spent for july: $938.99 US
Filling up an empty refrigerator and pantry is easy to do. It was so incredibly easy to blow through all that cash last month without even realizing (otherwise, I would have tried to stop the bleeding!).
Weekly Expenditures:
Week 1: $97.96 Harris Teeter, and $195.76 Aldi
These shopping trips happened the first few days we arrived in North Carolina, and involved filling up our refrigerator and pantry and buying new condiments. I was SOOO excited for my first shopping trip to Aldi.
Side trips: $47.19, ShopRite and Harris Teeter
We inevitably needed a few more things to fill the fridge, probably seltzers and ice cream.
Week 2: $80.30, in four separate trips to Harris Teeter
This week we went to the beach with my family, and arrived after everyone was already there, so of course there was a ton of food.
Week 3: $127.79 Aldi
It felt like we had no food in the house when we got back from the beach, aside from ketchup and Duke's mayonnaise, a staple in any self-respecting Southern woman's fridge. We actually didn't have much.
Side trips: $65.03 in two trips to Harris Teeter
Week 4: $190.91, Aldi
Mr. ThreeYear and the kids came with me on this trip to Aldi and we bought all. the. food. We bought a lot of canned items and other pantry staples so that we really did stock up the pantry on this trip.
Side trips: $95.55 in three trips to Harris Teeter
Week 5: $20.37 and 18.16, Harris Teeter
The side trips really did kill us this month, per usual. I will continue to believe that we can cut them out!!
What I Learned
I feel like July pressed me through a pulp machine and squeezed me flat. I'm really glad I don't have to relive that month again. It felt like it was about three or four months long, because everything was a new experience and so strange and new. I learned that Aldi is a great place to shop BUT like everywhere I need to go in with a list and meal plan beforehand. The same lessons, over and over.
August's Focus
This month I am going to focus on doing my weekly shopping at Aldi and avoiding good-ole' Harris Teeter, unless it's part of my main weekly shopping (they have good loss leaders). We continue to eat the simplest of dinners, which we have on repeat–tacos, spaghetti, grilled chicken, stir fried veggies, hot dogs. The kids are in heaven though.
I'm obviously going to also work really hard to stay in budget this month so that we can chalk July up to a moving anomaly. I'm still one month ahead in YNAB which I'll write about soon. That means I am being super strict about staying in budget so we can continue to use this month's income to fund next month. It's a powerful feeling to be a month ahead, even when you have a large emergency fund.
Stay chill in August! Thanks for reading!