In the past eight years, we've sold two houses.
Both times, we got multiple offers within FOUR DAYS.
Here are my best tips for selling your house in 2 weeks or less.
Now, it could be a coincidence or good market timing that we sold our houses so quickly. But, we sold our first house in 2010 in Atlanta, at the height of the real estate market implosion, and we got multiple offers.
Then, we did it again a few months ago when we sold our house in New Hampshire.
When we put both our houses on the market, there was a process we followed to get them ready for sale.
Get Professional Advice
When we decided to sell our New Hampshire house, the first thing we did was reach out to several local realtors.
I made sure they knew we were interviewing realtors, and we'd like to schedule a consultation.
Each realtor came in, walked the house, and told me what they thought needed to be fixed.
One realtor was so specific about everything that needed to be fixed that it almost paralyzed me into inaction. Another realtor told me everything was fine.
The best realtor told me the major issues to fix and paint, gave me cost-effective ways to fix issues, and told me what we could skip on the repair list.
Each realtor also provided a market comparison report, and the price they'd recommend listing the home. More on that in a minute.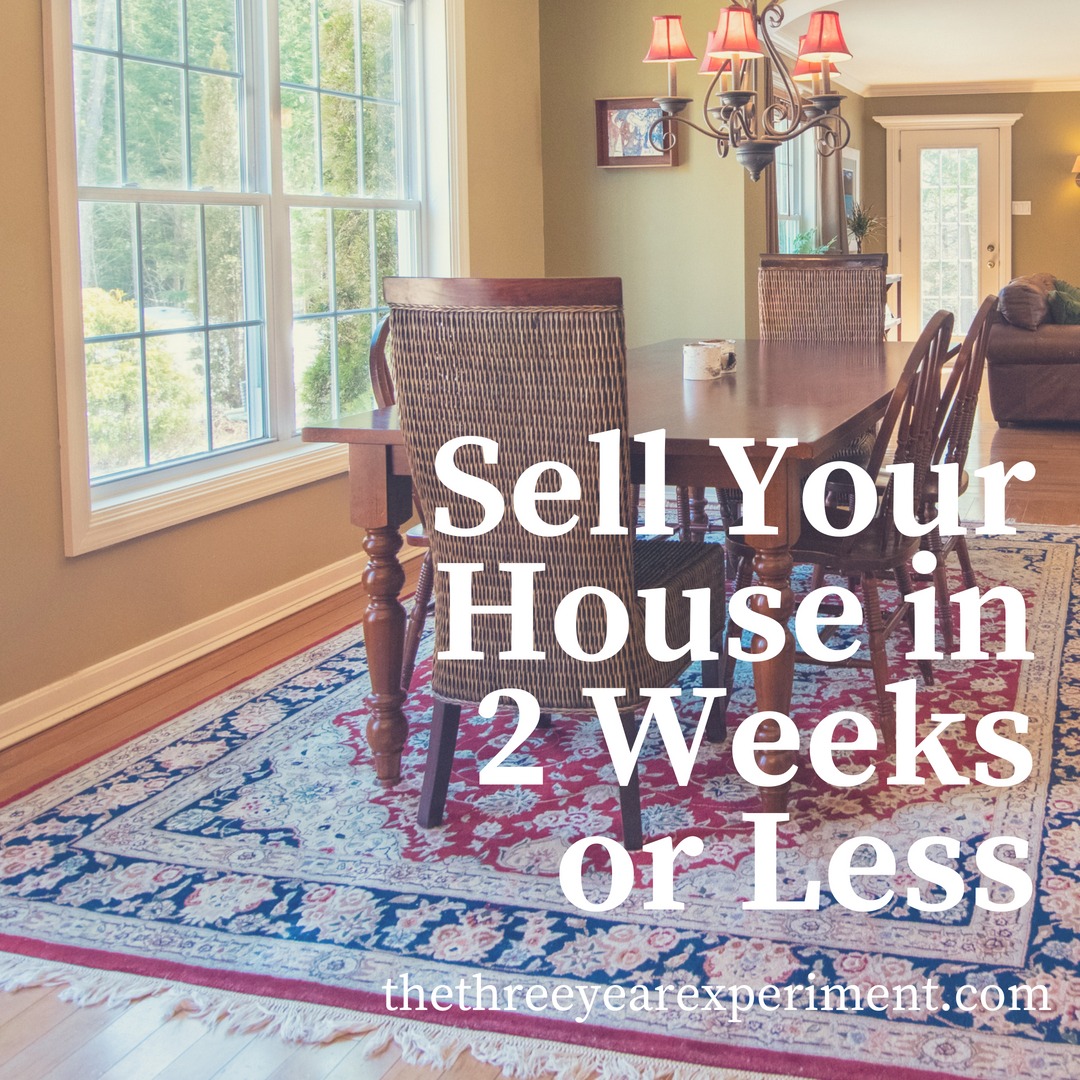 Fix the Little Things
After we met with three realtors, we had a list of things we needed to get fixed.
broken towel rack in master bathroom
broken GFI (electrical) switch behind the washing machine
broken towel rack in guest bathroom
leaking kitchen sink
broken front door handle
no light in the shower
damaged drywall around the master jacuzzi
broken tiles in master shower
We had a similar list for our house in Atlanta. We asked around, and found a reasonably-priced and reliable handyman.
I asked him to come over and take a look at everything that needed to be fixed and give me a price. I also asked him to buy any parts that I might need to fix these issues.
He recommended an electrician friend of his who came over and fixed several of our electrical issues, and ended up being the best electrician I've ever worked with. We also called a plumber to fix the kitchen sink.
This stage of the process took about two weeks.
It took awhile for all the repair people to come in and get things fixed, but as they were, we were working on the next step.
We'd also changed out several dated light fixtures last year. This is pretty easy to do, or pretty easy to get an electrician to do, and can help your house look much more modern. We spent about $200 on the whole project, for the lights.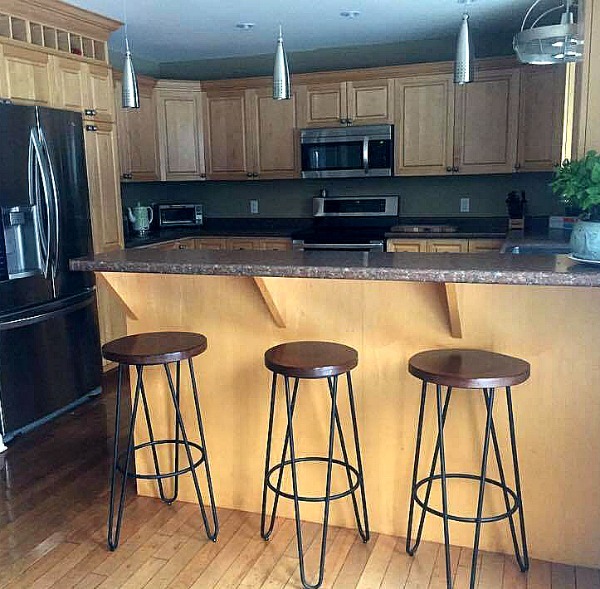 Here are the old lights in all their stainless steel glory.
Here are the new, updated lights. They match the stools if you notice from the picture above.
Paint
In Atlanta, we hired someone to repaint our whole house, outside and in. Because we lived in a major city, we were able to find a painter who was willing to do the job for $2500.
Granted, it was the middle of an economic depression, and he needed a LOT of oversight, but it was feasible.
In New Hampshire, you'd never find someone to paint for such a price, because service people are in such high demand and there's little competition (it's why our new roof cost $14,000 instead of probably half that price in Atlanta or Charlotte).
In New Hampshire, it was DIY all the way.
We ended up painting the bathroom upstairs, our master bathroom, and the mudroom to our finished basement. We also touched up areas on our ceiling and around the house where there were holes or gaps.
This stage took forever.
I loathe painting, even though I'm not terrible at it, so I seriously procrastinated for awhile. I'd say it took a total of about two months to get all the painting done, because I'd paint a bit, then take a break for 2-3 days, then paint some more.
This is the upstairs bathroom after we painted it. We used a neutral gray-toned beige in a lot of the house. It's important to pay attention to paint trends when you paint. The idea was to make the house look very neutral to potential buyers, but also up-to-date.
In hindsight, I should have repainted these rooms slowly over time, but I had a pretty big mental block about it.
When we bought this house, we did all the painting ourselves, and I somehow ended up with the thought that I'm a bad painter. But I'm not, when I take my time. It's good to know for the new house.
Declutter
I know these tips are ones you read over and over again, but for the love of Pete, declutter your house.
For both houses that we've sold, we took ev-ery-thing off the counters and put it into boxes.
We found a spot for the boxes in our storage closet (although your garage or your closet would work fine).
We boxed up all the pictures we had lying around.
We took all the toys in the boys' rooms and put them away. They got to keep a box each (which they were fine with–read this for more).
We put 90% of our books in boxes.
We cleared everything off the kitchen cabinets.
We put the toys in the basement in boxes.
We took everything out of our office space and boxed it up.
I have a semi-minimalist aesthetic, and even I had a ton to box up. It definitely helped that I'd Kon-Maried our house a few years previous, though, because it was a way easier process than in Atlanta. In Atlanta we actually rented a storage shed and put a bunch of our stuff there before we listed our home. It was worth it!
This was our basement after we decluttered it. We kept the barest hint of decorations on the shelves by the television–a couple of well-placed books and a photo or two. That was it.
The same day we listed our house, we saw another house that was listed, and of course we looked at the pictures. Check out this picture of their bathroom:
NOOO!! The plants (vines?) make it look like a jungle.
The old, mismatched towels on the wall need to go.
There are three liquid hand soaps congregating by the sink, and a whiteboard marker too!
That "welcome home" message makes me want to run for the hills. The stool by the toilet needs to be removed.
The picture and shelf on the wall need to go, and those white spots near the towels need to be painted to match the bathroom.
Not surprisingly, 78 days later, this house is still for sale.
This room would look so much better if the owner spent five minutes removing those items. Even if the spots didn't get repainted, the room would look infinitely better.
If you're not great at decorating, invite a friend over who is. That's what I did in our Atlanta house, to get a set of fresh eyes.
Get Professional Photos Taken
This leads me to another important tip.
When we interviewed realtors, we eventually picked the realtor who agreed to pay for professional photos.
Professional photos make all the difference. Our house looks nice with regular photos, but it looks awesome with professional photos.
And since something like 96% of homebuyers look online first, they'll judge your house by its photos.
Plus, if your realtor pays for it, you're not out of pocket the money.
But even if you're selling your house yourself, spend the $300 for professional photos.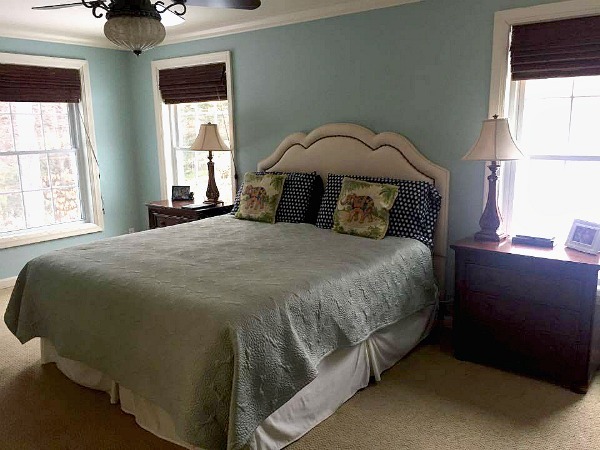 I took this photo with my iPhone.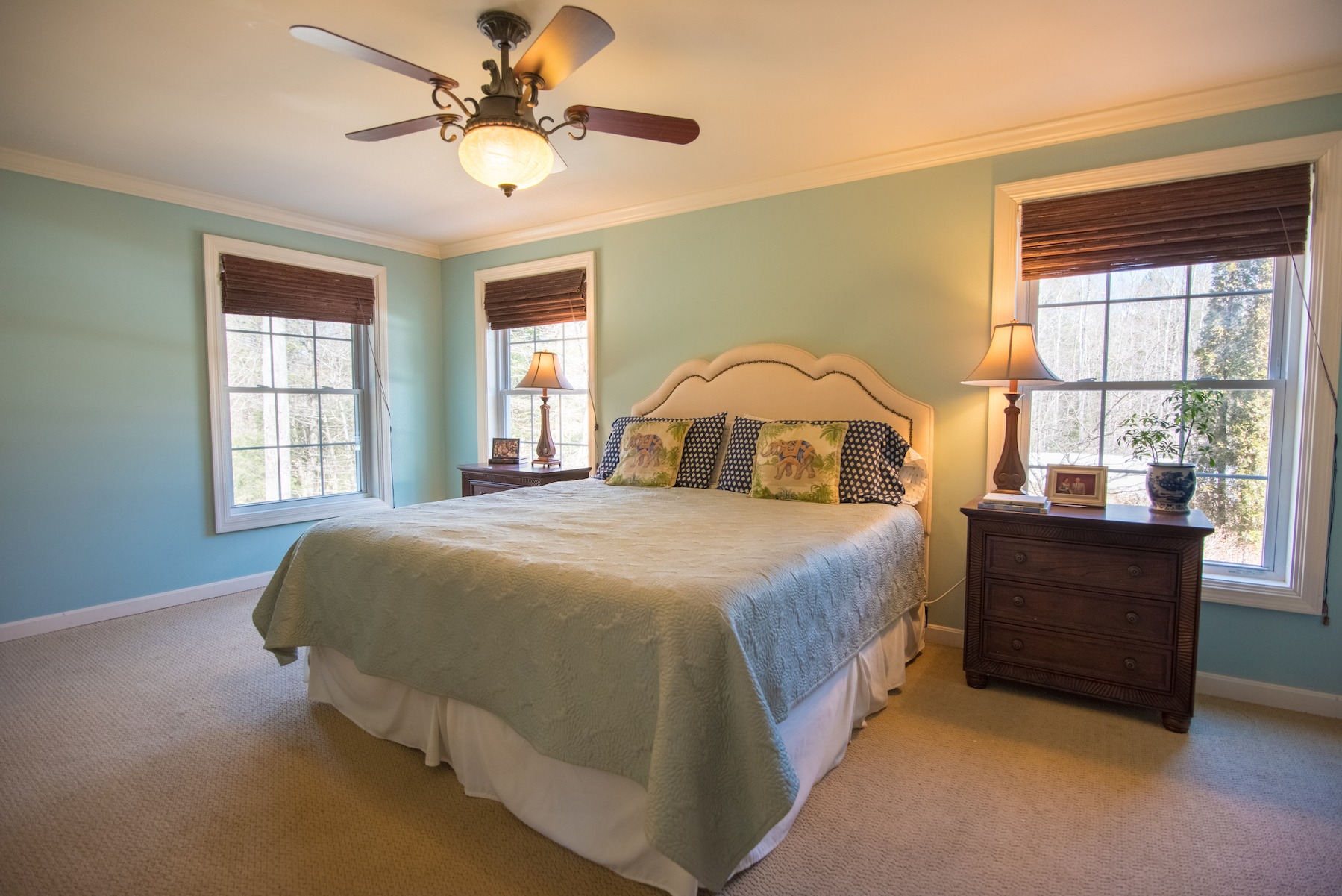 The professional photographer took this photo. You can tell the difference in the lighting, and the crispness of the details. Same room, same bedding, much better results.
The *Number One Tip* that Will Sell Your House Fast
Ok, ready for the MOST IMPORTANT TIP to sell your house in two weeks or less?
I wish I could tell you that it was putting ferns on either side of your front door, or making sure your countertops were decluttered.
But your number one tip for selling your house quickly is pricing it right.
Price it right.
Don't price too high.
You will have to lower your asking price anyway after your house has sat on the market for weeks or months.
People overvalue how much their homes are worth because of a common fallacy–we tend to overvalue the things we own, because we've attached emotions to them.
We lovingly gaze at the growth chart on the closet door that marked how our children have grown through the years.
We remember when they took their first steps in the backyard.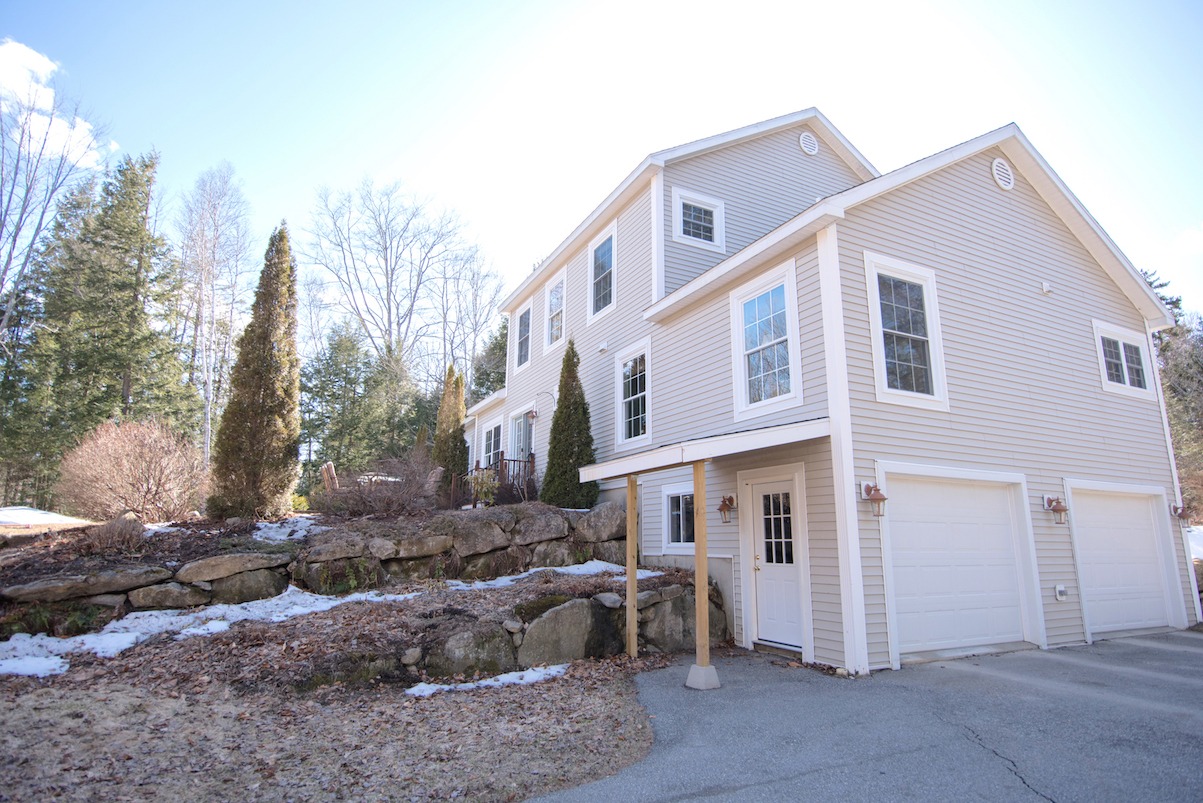 Buyers, however, are looking at dozens of houses, and assessing which are good deals.
So if your house is priced too high, it won't sell.
You're going to be hard-pressed to figure out the best price for your home, even if you watch Zillow valuations like a hawk.
Use a professional to help you price your home, or at the very least, get lots of outside opinions.
With our last house, we had three real estate agents who were experts in our local market come in and give us quotes. We did not tell them what we wanted to get for the house–that is the kiss of death for an honest quote.
Instead, we said we wanted to sell the house quickly and asked their opinion on what they would sell it for.
We didn't tell any agent what the other agent priced our house at either. We just told them that our goal was to sell the house quickly (within 1-2 months) and that we wanted to price it accordingly.
We mentioned that we had equity in the house and so were flexible with the price.
Amazingly, all three realtors independently came back with the same price for our house. We decided that sounded like the correct price.
We put our house on the market on Wednesday. By Saturday, we had multiple offers on the table. We ended up selling our home for slightly more than we listed it for.
When we sold our house in Atlanta, we were in a similar situation.
We were selling just as the real estate bubble burst, in 2010. It was the worst real estate market in Atlanta in 100 years. Houses had been for sale for over a year with no bites.
We called in our real estate agent and told her that we needed to sell the house quickly in order to move to New England.
"What do you want to sell the house for?" she asked.
"No, we want you to tell us what to sell it for," we told her. "We know we're going to be selling it for a lot less than we bought it for, but our main priority is selling it quickly."
She recommended a price that was $25,000 less than we'd bought the house for four years earlier.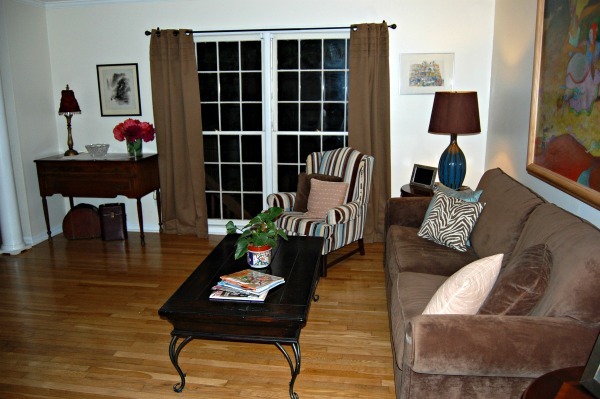 "Okay," we said, "you're the expert. Let's price it there." "Oh good," she told us. "You're not one of these couples who are in fantasy land about what their house will sell for."
We sold that house in less than two weeks, and received multiple offers as well.
The first offer fell through, and then we ended up selling to the second offerer.
Pricing your house has nothing to do with what you think your house is worth and everything to do with what the market says your house is worth relative to other houses for sale and what people are currently paying that season.
When we bought our current house, it was a short sale.
The owners told us we were getting "a deal" because they'd priced the house to sell at $100,000 higher. "
But just because you thought it was worth that much, or it was once worth that much at the height of the real estate bubble doesn't mean it's worth that much now," I told them, frustrated. "We're paying the market value for the house now."
And we did.
Six years later, we sold the house for $45,000 more than we paid for it, nowhere near the inflated price they set in 2009.
According to Zillow, the house has never been worth the arbitrary price they tried to sell it at back in 2009, before it went into short sale.
You have to price your house correctly. This is the best piece of advice I can give you.
If you do, you will sell it quickly.
If you don't, it will languish on the market and you will eventually sell it for a lower price anyway.
Experts say that the first offer you get is often the best.
We kept that in mind as we received offers on both houses, and in both cases, the first offer we received was the best one.
Take it.
These are people who want your house.
If you're more interested in getting top dollar than in selling fast, then you might be able to be more flexible on your price, but I still recommend following all the steps above, because the most important period for selling your home is in those first few days and weeks when it's new on MLS. If you prep your home well and price it correctly, you'll be able to sell it fast.
Stay tuned next week for more details about prepping your house for sale! Have a great weekend!