May is here! Flowers are blooming like crazy at our house, and temps are slowly creeping up into the uncomfortably warm. Which I'll take! I feel like I spent eight years never getting quite warm enough in New Hampshire. Now, I'm spending my afternoons playing tennis in the sunshine. Life is good (yes, I'm going back to work at some point!).
As I've looked back over pictures that I wanted to add to this post, I was amazed at how much went on this month. Mr. ThreeYear went to visit his family in Chile, my niece was born!!, we spent a week at the beach with friends, and we had so many other fun adventures. April has definitely been chock full of fun. And our spending has matched!
Our Progress
This was a great month for net worth, because it's the month Mr. ThreeYear's stock "gift" comes in. We call it a "gift" but it's really part of his overall compensation package. It varies pretty significantly from year to year, but this year it was pretty good (and the second largest ever). He works for an ESOP company, meaning the company is owned 100% by its employees, and so they receive a chunk of stock each year, commensurate with a predetermined percentage of their salaries.
Each year, in December, an independent company comes in, audits the stock, and sets the price for the year. So the stock price, and therefore the entire value of Mr. ThreeYear's stock portfolio, is dependent on the auditors. They base the price on the market, competitors' stock prices, debt held by the company (which is not much), and more. The stock price has been growing steadily over the years, but that doesn't mean it always will. Nevertheless, it's now become a significant chunk of our net worth. We won't be able to access it until Mr. ThreeYear leaves the company or retires, and even then it's distributed over five years. So even though it's a big part of our net worth, we have to be careful not to rely on it too much since we'll be limited in the way we access it in retirement.
After the stock gift and strong stock market gains in April, our net worth is now 65.8% more than where we started back in December of 2016. While that still leaves us significantly short of our goal (which was to double it, or reach 100%, by the end of this year), we are making steady progress. In fact, we're about two-thirds of the way to our goal.
You could say we're only four months behind (we wanted to be two-thirds of the way to our goal in December), but because we're not likely to make such significant net worth jumps throughout the rest of the year, the chances that we reach it before this December are slim. Still, I'm excited that we could reach our goal by this time next April (maybe?)! And we have moved to our dream town in North Carolina in the meantime!
Spending Update
We are not-a-super-frugal family, so I hope our spending reports are helpful to look at/inspirational if you're not either.
We're proof that you can reach your financial goals without being extremely frugal, although that certainly helps things along!
Here's our financial situation:
We're debt free, except for our 15-year mortgage.
We achieved our dream of location independence, so we're not in a hurry to reach FI after doing that.
We are a high income family, as per this calculator.
We are not planning to retire for another ten years.
We plan to retire in the FatFIRE category (here's the definition of that term).
We're not particularly frugal, although we have been working to get better at our spending for the past decade.
Notes on Our Spending Reports
We don't include our mortgage in the spending reports. These spending reports are a way for us to have a more realistic idea of what we'll spend in retirement, and since our mortgage will be paid off then, we don't include it.
We do include the costs we pay for health care, since we'll definitely be paying those costs in retirement.
Our spending reports don't show how much we save, only what we spend. But the less we spend, the more we have to save, and that has never been more apparent to us than after getting a month ahead in our budgeting.
April SPENDING
We use YNAB to track our spending, and we budget a month ahead, meaning we use money from the previous month, March, to pay for our expenses in April.
I definitely noticed an urge to spend more this month. Spring is here, and so are the festivals, the invitations to eat out, the pick-up tennis games with lunch afterwards, the baseball game outings.
I've decided that we need to give ourselves a slightly higher entertainment budget for April and May, because I suspect those expenses will be high every time this year, given the change in the weather and preparation for summer.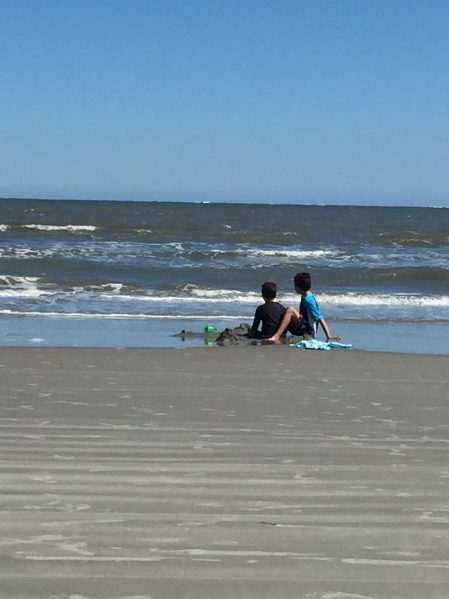 Charity
Charity: $78. Compassion International plus contributions to the local church we've been attending.
Food
Groceries: $892.79 We more than made up for last month's low grocery budget with this extremely high one. Mr. ThreeYear was traveling for two weeks of that, but he was in Chile, buying groceries for his mom, so I added those expenses in. Because of the warm weather, we grilled out more, meaning more trips to the grocery store, more fancy snacks and wine for get togethers, and more watermelon. Oh, the watermelon.
Eating Out: $265.62. This isn't even the full amount. We went out to eat several times during Spring Break, treating our friends who came to visit. One and a half of those time were included in my parents' bill for their beach house and I have to pay them back. This total does include $90 on Mexican during Spring Break, $60 on Chick-Fil-A going to the beach and back (it's expensive fast food but sooo good), $55 on sushi for me and the boys while Mr. ThreeYear was traveling, and then the rest on bits and pieces of ice cream, donuts, and other fun food.
Fun
Entertainment: $73.97. We spent $54.08 at the movies. We also rented a couple of movies and for some reason, I included an ice cream run in this total.
Fun Money: $936.39. Because Mr. ThreeYear was in Chile, he spent a lot of extra money there, taking his family out to eat, leaving money for higher bills because he was there, etc. His family doesn't have a ton of money, so he is always extra generous. My part of this total was not insignificant, with $70.50 going to a half-marathon I'm running, and more than $45 going to new bakeries I've discovered (dangerous habit).
Gifts: $248.33. We sent a big box of perfumes, creams, and makeup to my mother-in-law. I went to Marshall's (great prices) and got all the fancy stuff. She loved it! I also bought presents for my brand-new niece and her big sister on her birth day!!! We bought a trash can for the beach. And we bought two gifts for our neighbor's birthday, because both of my boys were invited to his party.
Health
Health Insurance: $447.68 This year, we switched to a high-deductible HSA account. In addition to our health and dental premiums, we also have $250 per paycheck taken out for our HSA fund.

Fitness: $464.50. Our swim and tennis dues plus the cost of my tennis league. This includes a credit since they overcharged us last month. Since we've moved to North Carolina, we've decided to prioritize fitness.
Household
Clothing: $256.34 This month, Junior ThreeYear needed new shoes (his old ones had holes!). I got three shirts at Old Navy, Mr. ThreeYear got some stuff for his trip at TJ Maxx, and we got the boys Easter shirts at Marshalls.
Exterminator: $109. They supposedly come once a quarter, but they push their appointments to come more frequently. It feels like a racket to me, and as soon as we're done with our one-year contract I'm cancelling.
Haircare: $29.98. Haircuts for the boys, just once.
Home Maintenance: $200.81. Despite spending a fortune on our house last month, we spent a lot this month, too. We bought mulch and plants at Lowe's, a year's subscription to Ring, the doorbell that records people that come up to your door, and a $6 chair for Diego's new desk.
Household Goods: $133.47 We got a big shipment of toilet paper, conditioner, gum, paper towels, and rice from Amazon.
Housekeeper: $100.We left $100 for the housekeeper at the beach since we stayed for a week.
Medical: $22.88. Most of our medical expenses come out of our HSA money, but I paid for this allergy medicine out of pocket. I'm really excited, because Mr. ThreeYear has been bugging me to download the GoodRx app, to save money on our prescriptions. I thought it wouldn't work, but low and behold, it can save me over $100 on Little ThreeYear's medicine!!! (See my post on our HSA for more details). I am SOOOOOOO excited to try and see if it works!!
Service Fees: $12.50 Mr. ThreeYear took money out of our US bank (Fifth Third), and they charged him $12.50!!! in fees! Luckily he opened an account in Chile, so we can transfer up to $500 at a time and only pay a $5 fee. Much better.
Kids
Expenses: $122.87 Most of this is from their Easter baskets. They got new underwear, socks, books, and candy. I had the brilliant idea of simplifying the sock situation. Bought two giant (identical) bags of socks from Target. I'll buy a new one each year so that they can mix and match socks. I bought two different sizes, but it still should be way easier to keep track of socks now. I also spent $50 for their school lunch accounts.
Allowance: $91.47 Because I'd taken back one of Junior ThreeYear's Christmas presents because it didn't work (just within the deadline, phew!), I had a big ($85) credit. He used it to buy a Nintendo Labo robot for his Switch which is, admittedly, pretty cool. You build stuff out of cardboard and then use it to play games on your Switch. There was also a $5ish expense for a Nintendo game.
Pet
Pet: $89.27: We had one bag of dog food and then I realized I was out of heartworm medication. So I got on Petco, and they got the prescription from my vet for me (so nice!) and put me on a recurring order, so I saved 15% or something like that. $26.39 for six months of heartworm meds. We also finally got her a charm for Lucy's collar that says her name and our # number.
Transportation
Gas: $206.11 Another month of high gas prices. We did go to the beach and Mr. ThreeYear went to the airport. Some of these expenses are candy and snacks that the boys inevitably talk us into on these long road trips. Gotta work on that.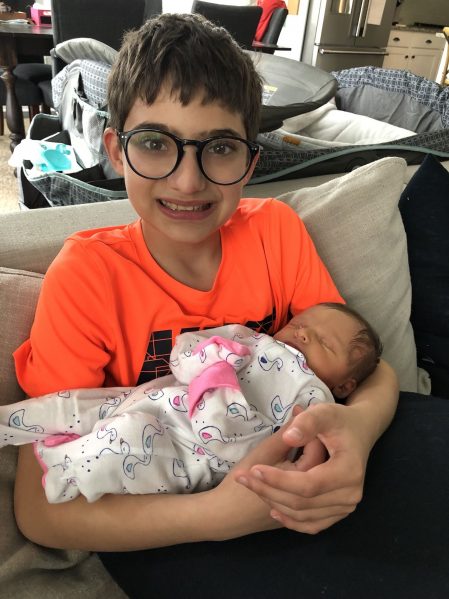 Utilities
Internet: $0.Mr. ThreeYear's work is now covering this.
Subscriptions: $37.94. Ooma, Spotify, Skype, Netflix.
Electric: $78.56
Natural Gas: $89.24.
Water & Sewer: $59.15. Still low. I'm waiting for this month's to be ginormous!!
Cell Phone: $36.76. Through Total Wireless.
Total: $ 5083.63
Here it is in a condensed format:
April 2019 Spending
| CATEGORY | COST | NOTES |
| --- | --- | --- |
| Charity | $78 | Compassion International, offering at church |
| Food | $1158.41 | lots of groceries, lots of eating out during Spring Break |
| Fun | $1258.69 | help for family in Chile, movie for boys, gifts for my MIL and nieces |
| Health | $912.18 | health insurance and swim, tennis costs |
| Household | $864.98 | mulch and flowers, exterminator, TP and paper towels, Zyrtec, service fees |
| Kids | $214.34 | school lunch contributions, toy "credit" for Junior ThreeYear, Easter baskets |
| Pet | $89.27 | one bag of dog food, 6 months heartworm meds, collar charm |
| Transportation | $206.11 | gas |
| Utilities | $301.65 | phone, Spotify, Skype, electricity, natural gas, water & sewer |
| TOTAL: | $5083.63 | |
High spending month. I'm still waiting to get adjusted to our new normal, but I think I'm going to have to give it more time, because we have spent so much on home maintenance this year. I feel like this category should be way less once we get lots of these little projects done. But there are a lot because the house really was neglected for awhile!
May is for Play
This weekend, I'm headed to the beach to meet my New Hampshire running friends for a girls' weekend! I'm so excited. Then we have more friends coming into town from all over in June/July! It's going to be a fun summer.
I've continued to apply for jobs, but I haven't seen a huge glut of ESL jobs yet. I missed the very important Teacher Job Fair, so unfortunately I missed a big opportunity there, but I'm going to start sending my resume out directly to principals with whom I'd like to work.
School is winding down and will be over the first week of June, so we've almost made it through our first full school year! It's gone so much better than I could have hoped, and I'm truly thrilled that we made the move to North Carolina.
Have a great month!