Last weekend both of my boys celebrated birthdays. This year, those celebrations looked a little different than this time last year. Last year, I decided to do a homemade birthday party extravaganza. Unlike Mrs. BITA's homemade party, which seemed to be lovely and fairly easy to put together, or Mrs. Frugalwood's family gathering, the ThreeYears' homemade Minecraft party was a lesson in what not to do when creating a homemade birthday party.
Don't get me wrong. The party was a straight-out hit. I had no less than four small people tell me "this is the best party ever!" with zero trace of sarcasm in their tiny voices. They were having major fun, which may have had something to do with the Brewing Station, with six bottles of sugared soda that they got to "mix" into different potions.
But the party planner almost did herself in. In my efforts to do it myself, and reproduce Pinterest, I drove myself nuts. I made a homemade Minecraft piñata, for the love of all things holy. I created the aforementioned Brewing Station, and affixed handmade labels to each of the two-liter bottles of soda in six phosphorescent artificial colors. I made recipes for the potions they could create, and had my boys weigh in on how realistic the colors were for each potion ("No, Mom, that's a Potion of Healing, which is red, not green").
The junior ThreeYears are three years and two days apart, so their birthdays always fall near or right after the end of school… two days apart. That is not enough time between birthdays, if you're planning for kids. Just sayin'. Last year, because we were headed on our epic summer road trip right after school ended, I planned the parties for the last weekend of school, one day apart. Did I say that two days was not enough time between birthdays? Oh right, I did. Which means that one day is definitely not enough time between birthdays. But, I thought, I'll just reproduce the same party two days in a row, so I don't have double the work.
Two parties, thirty kids, thirty-ish presents, and eighty-ish pounds of sugar later, Mr. ThreeYear and I were wiped out. The parties weren't a huge financial burden–they were fairly inexpensive, since I'd done so much myself–but they were absolutely exhausting. The kids had sugar hangovers the next day and they got too many presents. Yes, that is a thing. Too many presents. Our youngest looked shell-shocked and overwhelmed by all of the gifts he got during his party. For past birthdays, we'd actually asked for no gifts, but it didn't go over well, frankly, so against my better judgement we had a "normal" party and all of his friends brought him generous gifts, many of them Lego sets. I squirreled about half the gifts away for the boys to open later, but they still ended up putting together three or four Lego sets within a span of a few days.
Getting ready for the party was a huge amount of work. It was the last week of school, so in addition to writing final reports, organizing my files, getting goodbye cards written for my students, having my own kids write cards for their teachers, and finishing up final papers for my two graduate courses I was taking, I was buying supplies for the party, making a homemade piñata and Minecraft cake! (was I insane?), and cleaning the house.
If you're someone who enjoys having homemade get-togethers, you may not understand the overwhelm. But I had too much going on, and I shouldn't have planned these parties. Once I got the Minecraft theme in my mind, I went way overboard. Instead of having a lovely party to celebrate my kids' birthdays, I felt stressed and tired.
**Little note here: I looked, in vain, for pictures of all my efforts. There are none. I was too worn down to remember to take pictures.**
So let's take a step back for a minute. Why in the world was I planning birthday parties if we had so much going on–graduate courses, road trip, end of my first year as a teacher?
It's a question I never asked myself. Why? Because I didn't know it was a question. Of course you have birthday parties for your kids. They are your kids, and you celebrate their birthdays. I had always had birthday parties growing up. My friends had. It was an unwritten rule that I had never thought to question.
Until…
A day or two after the party, I ran into a mother who has children in the same grades as my own. I mentioned my exhaustion at having birthday parties so close together. And she commented, ever-so-innocently, "That's why I don't have birthday parties. We just celebrate as a family."
I stared at her. "You can do that?" I asked. "Yep," she replied. "Once every few years we might invite a friend to come along with us, but usually we just do something together as a family."
I went home and shared my newfound knowledge with Mr. ThreeYear. I told the boys, just a few days after their parties. "Next year, boys," I said, "we're not having parties. We're celebrating as a family." When they mentioned the type of party they'd like to have during the year, I reminded them that we were celebrating as a family.
Why was it so hard for me to break free from my own self-imposed rules for celebrating birthdays? My friend was not the only person who didn't have parties. I'm sure that many people celebrate their kids with family birthdays. We only had family birthdays for the first four or five years of my kids' lives. But when they started school, some internal programming of mine made it impossible for me to see another way.
This year, the scales fell from my eyes again as we enjoyed the most marvelous birthday weekend ever. Mr. ThreeYear and I came home early from a work conference, and picked up breakfast sandwiches, a treat, from our local store. We bought tickets to a local trampoline park, and the whole family headed out to jump like mad for an hour and a half (I think Mr. ThreeYear had the best time of anyone!). The boys picked our lunch spot, and we had a delicious sushi lunch. Afterwards, we went to Target, and the boys got to pick out their birthday gifts. No, they didn't get thirty gifts this year. But we let them pick out something more extravagant (a $60 Lego set for our youngest!), and they were very, very happy. That night we had dinner at home and sang happy birthday while they blew out the candles of their shared cake.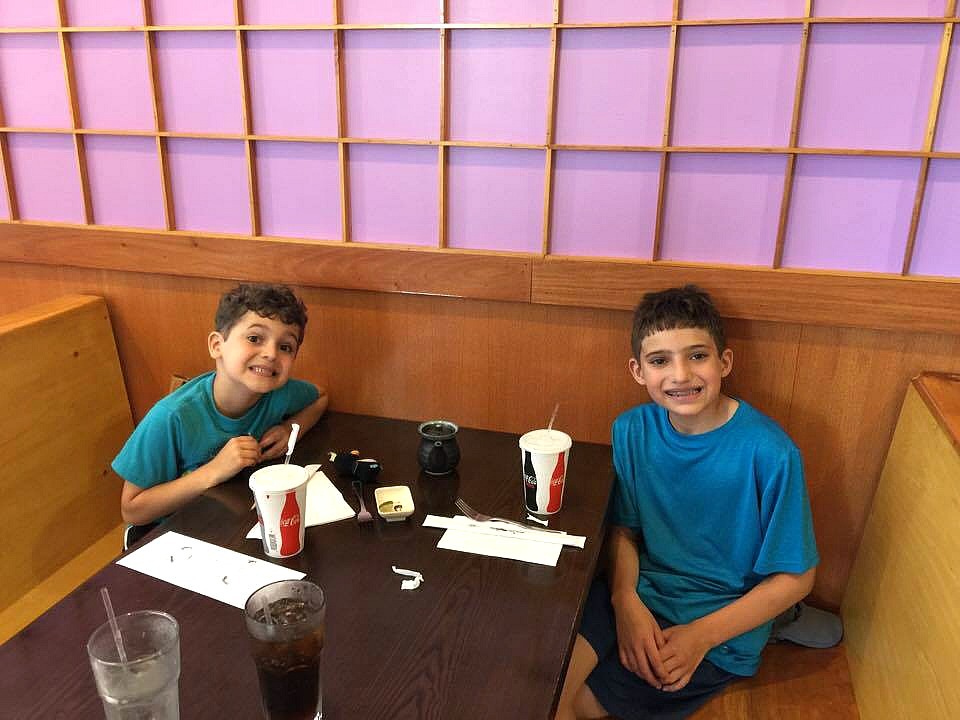 Which birthday did they enjoy more? I don't know and I'm not going to ask. But I know which birthday I enjoyed more, and which Mr. ThreeYear enjoyed more. We created a forever memory with our family this year that the Minecraft party couldn't touch.
After this experience, I've been thinking long and hard about the unwritten rules that I carry. I've written before about having a hard time with other people's expectations. But these particular rules, the expectations that I have for myself, for my family, are nobody's expectations but my own.
Because these unwritten rules aren't actually rules.
They're just ideas I've formulated from my experiences in life. They may come from ideas I formed growing up about how a family should work, or what we've seen on TV or other media. These expectations are insidious and difficult to flesh out, but the good news is that it has been fairly easy to make changes that match what our family actually wants to do, once I identify them.
Some of the "rules" I've realized don't fit our family:
the need for yearly birthday parties with friends, cakes, balloons–celebrating as a family makes a lot more sense and is more memorable!
gobs of presents at Christmastime–we currently give three to each child
being made-up before I go to work–I may put on some mascara, but that's it
not driving a "boring" sedan (but I still don't like minivans, and I don't want to drive one! Not now, not ever!)–I drive a rockin' Honda Accord with one missing hubcap. 100% mine, paid off.
feeling guilty about stuff–the more my life looks like the version of the life I think it should, the less guilty I feel about not doing stuff I used to do all the time, like volunteering a ton at church, school, and local charities. I'm more apt to pick one cause that's near and dear to my heart and support it.
keeping up friendships just because we used to be friends with someone–I'm not great at keeping up with the people I do like, so I have less compunction about maintaining friendships that no longer fit. Mr. ThreeYear doesn't have friendships with people he doesn't like. Full stop.
Rewriting the unwritten rules in our lives that we unconsciously follow means we need time for reflection, time to think and imagine how we'd like our lives to look. I'm grateful that we'll have downtime this summer to think, dream, and revisit these unexamined places in our lives.
How about you? What are some of the unwritten rules you've discovered in your life that need breaking? Be sure to let me know in the comments!!