Let me let you in on a little secret–I love the holidays. For me, the time from Thanksgiving through Christmas all the way to the New Year are a time of family, food, and excess.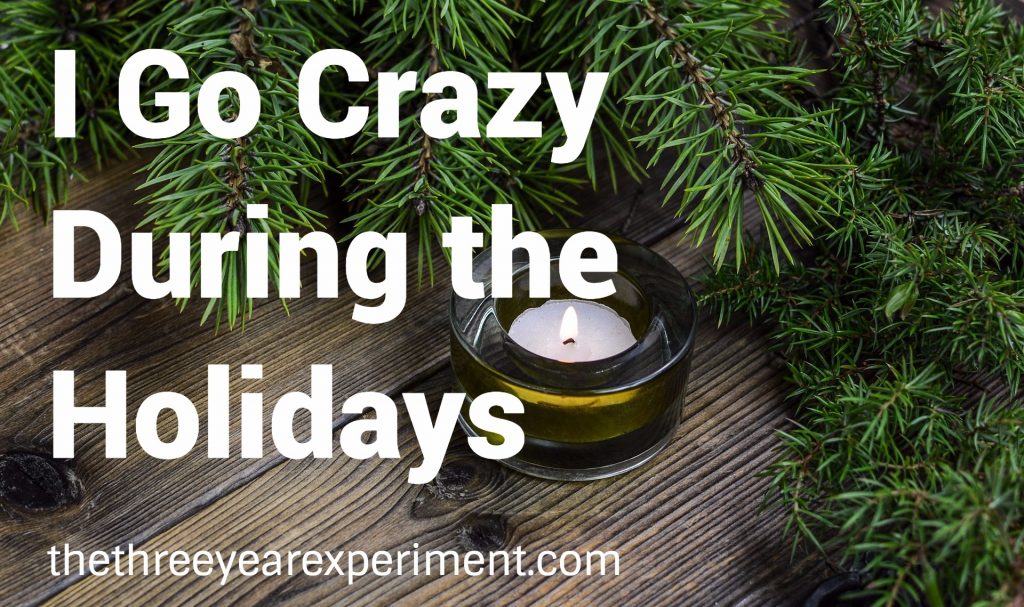 That's right, excess. For Thanksgiving, we eat a ton of food. My fridge is packed for weeks afterwards. We don't just have one pie. We have three or four. We often have two turkeys–one baked and the other fried. Have you never had a friend turkey? They're beyond delicious. Crispy skin on the outside, juicy on the inside…
I go a little crazy for Christmas. I love to give gifts and I like to give people nice things. I spend tons of money at Christmas and throw frugality out the window during gift-giving. We way surpass the average American's holiday spending of $800.
In New Hampshire, we have snowy, white Christmases almost every year, and Thanksgivings are chilly and fallish–just as Thanksgiving is supposed to feel. On Thanksgiving weekend, we put up our Christmas tree, pull out our favorite ornaments, and decorate the whole house. Then, at Christmas break, we wear cozy sweaters and overeat for several days. We spend lazy days with family members, playing in the snow, playing board games, opening presents, and listening to too much Johnny Mathis Christmas music (just kidding! There is NO SUCH THING as too much Johnny Mathis Christmas music!).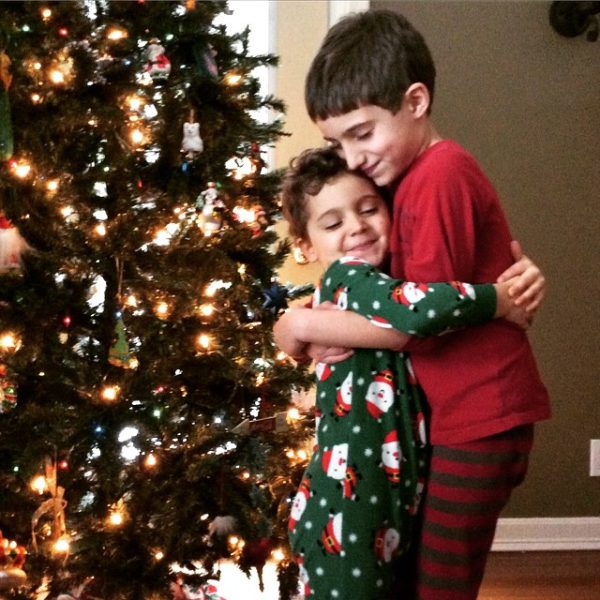 Yes, it's true. It's my dirty little secret. I go crazy with my spending during the holidays. But you know what? I love it. I love to spend money on nice things for other people. And believe it or not, I have changed my gift-giving over the years to better match my values–to use money (a little more) wisely, buy higher-quality items you can use every day, and focus less on material goods. 
For example, in 2008, when we started our get-out-of-debt journey, we realized how much money we were wasting by buying excessive toys for our son–that he didn't even want. He was overwhelmed on Christmas Day, and afterwards, we ended up donating or throwing out many of the things we bought. So, we adopted our "Santa Gives Three" rule to focus on less higher-quality gifts.
Santa Gives Three
When I was growing up, Santa gave us mountains of gifts. I got dozens of presents from Santa Claus, and many of those were very nice, high dollar items. Every Christmas, my mom went completely overboard. It was her favorite holiday. She always gave in excess, and always worried about not giving us enough (still does!).
When Mr. ThreeYear was growing up, the opposite was true. Christmas was a time when it was blatantly obvious to him that his family didn't have any extra. He almost never got a toy for Christmas (one! let alone dozens!), always instead getting practical gifts like socks or underwear. And sometimes, the family didn't even get special meals for Christmas dinner (read my interview with him for more).
So when we got married, we were both very excited to give Junior ThreeYear the Christmas of his dreams. I was repeating the formula I'd grown up with, and Mr. ThreeYear was making sure his child had the Christmas he never did.
For Junior ThreeYear's first, second, and third Christmases, Mr. ThreeYear and I bought tons of stuff for Junior–choo choo trains that moved when you pressed brightly colored buttons, board books to read together, heaps of new clothes, rattles, bouncy chairs, and more. As Junior got older he got more complex (and expensive) toys like a kid-sized car that he could drive, toddler "computers," games, and so many battery-powered kid toys.
We began to notice something. Our son spent Christmas in a state of overwhelm. He didn't even seem to want to open all his presents or play with all of the toys Santa brought. And about two or three months after Christmas, I realized I was donating or throwing away many of the toys he'd gotten for Christmas. It was all too much. Mr. ThreeYear and I weren't giving our son a warm and happy experience; we were stressing him out with all the stuff.
When we moved to New Hampshire, a friend told me that in her family, Santa gives three gifts, much like the wise men, three actual players in the Christmas story. I thought this was a terrific idea! We'd just had Little Three Year, and Santa now had two kids to visit in our house, so we decided to try it out. Turns out, they loved it. Santa brought three gifts that Junior really wanted, and he was able to focus on those gifts and play with them all morning. Of course, he got tons more presents from family and friends, but we realized that in this case, less really was more for him. The funny thing was, he didn't remember it being any other way. And he was much happier with less, high-quality things that he really wanted.
Over the years, we've stuck to the "Santa gives three" rule (although we'll sometimes add a few books, drawing paper, and drawing supplies to the mix, because I can't help myself). When the boys started telling us what they wanted for Christmas, we'd remind them that Santa brings only three things, so they'd need to choose wisely for their gifts. When my oldest son realized, several years ago, who the real giver was, he amended his list to include one or two surprises.
While that rule has made the Santa experience easier, it still doesn't speak to the gifts we buy for family and friends.
Giving Collectables
So, in line with this new less-is-more philosophy, we changed the type of gifts we were giving to others, too. We decided to focus on higher-quality, locally-made goods that were collectables, that we could add to each year.
We wanted to give our friends and family members something of worth that they'd really love and could keep, not just another scarf to throw in the donate pile in a few months.
We looked at local companies, and discovered Simon Pearce , a Vermont-based glass- and ceramic manufacturer who made gorgeous tableware. We were inspired by my dad, who'd given us several of their coffee mugs. We used them every day, and they elevated our coffee-drinking experience each time. We began to give family members Simon Pearce wine glasses and coffee mugs so that we could give them something useful and beautiful, but something they could use and keep for years.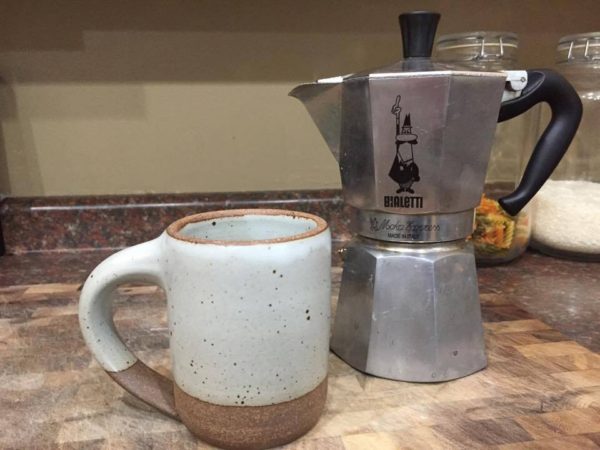 We'd give each person one piece per year, and over the years, they developed a full collection of each piece that they could keep forever.
Giving Experiences
In 2014, I started reading about minimalism and began to reduce the number of items, clothes, toys, and books we kept in the house. For several Christmases afterwards, we noticed that even though we were giving the kids less, friends and family continued to give just as many toys as always, so we were still donating, throwing away, and packing up garbage bags full of toys in January, February, and March. It was a big waste of money and so much to send to the dump! That's when we began to ask for experiences rather than things.
For the kids' birthdays, we asked my parents to gift them ski passes (because a local mountain was offering a killer deal). The kids were so excited to know they would get to ski all season long, instead of just a couple of times. Full disclosure–they also gave the boys one actual toy each, because my mom was worried that was too much delayed gratification for their birthdays (we still haven't used the passes–their birthdays were in June). But they're learning that the best gifts can be experiences. In past Christmases, they've been gifted a week of summer camp and each morning that we went to camp, we talked about why it was possible they got to go, and called and thanked the gift giver after it was over. That way, we were actively tying the experience to the person who gave it.
This year, we're trying out the gift of experiences for the boys and our family and friends. Because we'll be in Chile during Christmas, we can't take a lot of heavy gifts with us. So, we're looking into cooking classes for Little ThreeYear, who loves to cook, and rock-climbing passes for Junior ThreeYear, who's discovered a climbing passion.
We're looking into other experiential gifts for our family members, not only because they'll be easier to mail, but because we're also cutting down on the stuff we're giving, and allowing our gift recipients to have a wonderful experience that they'll look back on fondly, year after year. And we're trying to put our money where our mouths are. I talk a lot about the importance of decreasing our material possessions, so I should adapt my gift-giving to match that value. I'm very excited about this year's gifts!
The one thing I'll probably never do is spend itty bitty amounts of money on gifts. It truly brings me joy to be a bit excessive with presents for others, especially when those presents are thoughtful and I know they'll love them. We budget for Thanksgiving and Christmas spending, so we have the money set aside to spend. Gift-giving helps us express our value of loving family, and so we engage in it with gusto.
Next week, we'll be hosting my entire extended family, and we couldn't be happier. We're heading to the store to buy lots of groceries this weekend, and the boys have been testing the air mattress they'll be sleeping on for the week. It seems that, at least here in the US, the holiday season is upon us.
How do you celebrate this time of year? Do you have any beloved rituals or practices? What's your gift-giving style? Are you restrained? Excessive? Somewhere in the middle? I'd love to hear from you in the comments!