Another month is done. Here's what happened last month in your next chapter of… A Year of Good Food.
This year, our family is challenging ourselves to spend less on food so we can reach our goal of location independence by the end of 2019. Last year, I adopted one habit a month that would translate into better money moves for our family. You can read all about what I called A Year of Good Habits here.
That experiment worked so well that we tried a new one this year. In 2018, we are challenging ourselves to do better at our food spending. Last year our family spent over $12,000 in groceries, or $966 per month.
This year, our goal is to spend 20% less on groceries. That may not sound like a lot, but it's almost $200 per month in food savings. The extra $200 per month is going into a travel savings fund, so we can see the results of our hard work in spending less on food.
We could have adopted a radical goal to keep our spending under $500 or something like that. But we know better. We thought it made much more sense to consistently hit our modest target, month after month, for an entire year, to show ourselves we could do it, than to maybe hit the $500 goal once or twice and then face plant with more $1000+ grocery bills.
And if we consistently hit sub-$772 spending, then perhaps we'll challenge ourselves next year to shave off more.
Each month, we're trying out a new way to save money at the grocery store. We've tried shopping with cash, making only one trip to the store per week, and shopping with a list. So far, shopping with cash has worked best. That's in line with the idea that parting with your money is painful, and so you're more likely to part with less of it if you're paying in cash. When we use credit cards, we separate ourselves from our spending just a bit, since when we pay with a card, we feel like we'll pay for the groceries later (and we will, when we pay our monthly bill). Strangely enough, when we pay our monthly credit card bill, it feels like we've already paid for stuff in the moment of purchase. So there's a lot less purchase pain, which is the reason we tend to spend more with credit cards.
As of now, we haven't adopted an all-cash system because it's convenient to pay with credit cards. But I might start this summer.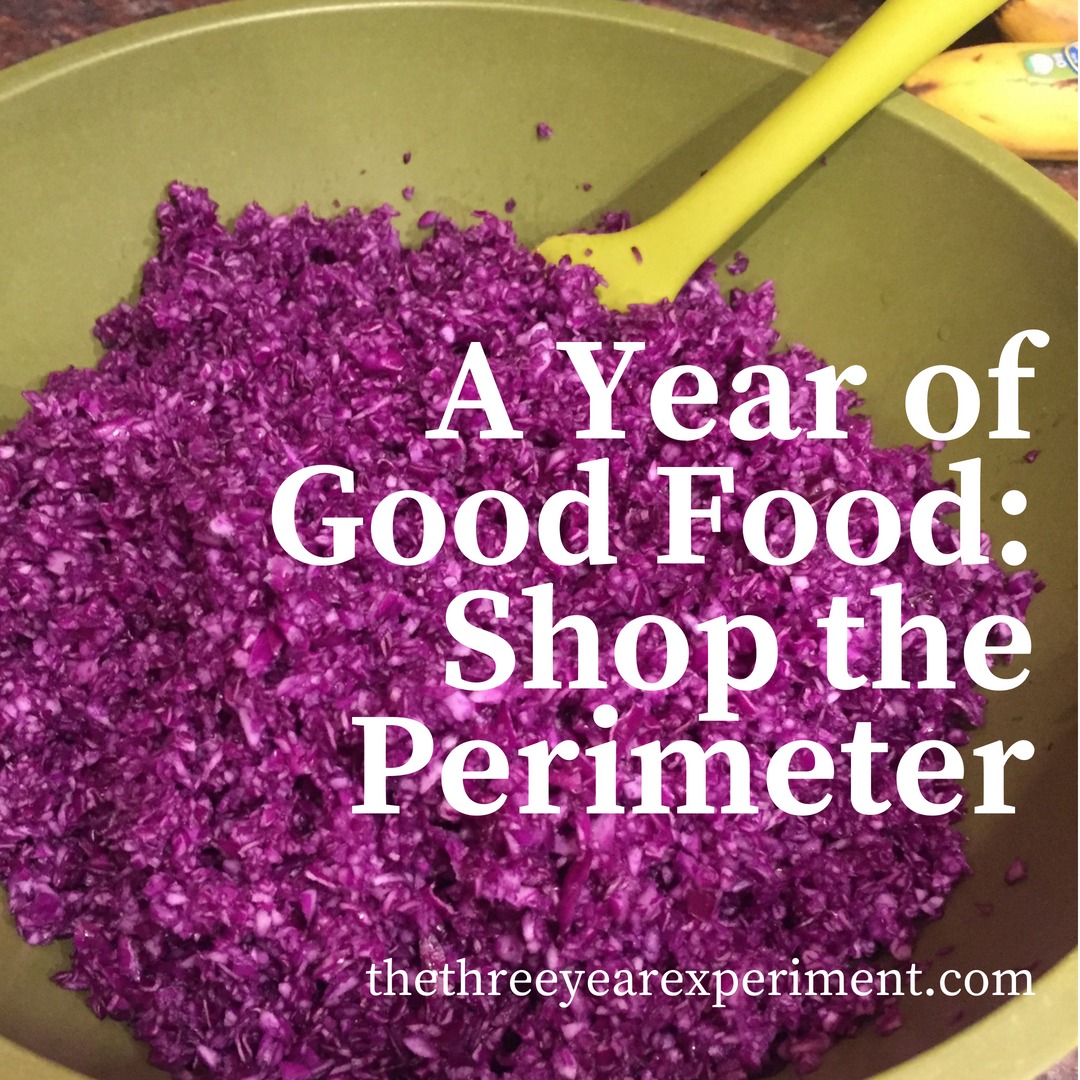 Further Reading on Our Spending and Saving: 
The Details
Total Budgeted For APRIL: $772.00 US
Total Spent for APRIL: $670.50 US
This month, we spent a lot less at the grocery store because Mr. ThreeYear was gone for a large chunk of it. He had several work trips and so we only had three people to feed instead of 4. That translated to spending $100 less on our grocery budget for the month.
Our goal for the month was to shop at the same store each week. I thought I did really well at this until I actually looked at our expenditures. It was something of an epic fail. Wow. I didn't shop at the same grocery store at all. I meant to. But I shopped all over the place. Sorry, guys. I guess I have the answer to my experimental question, though. You should shop at the grocery store that's most convenient at the time, especially if you get the chance to hit up a lower-priced, but out-of-the-way store.
Weekly Expenditures:
Week 1: $54.74, Market Basket & liquor store
Mr. ThreeYear got supplies for his gin and tonics. He bought a few odds and ends from Market Basket, I believe on the way back from the airport.
Side trip: $19.94, Co-Op
Week 2: $141.43, Hannaford
This was a normal grocery haul. We were stocking up after our small weekly grocery trips in March. It was nice to be able to spend my normal $150ish again.
I made this amazing homemade yellow curry paste this week. Try it. It's so good and easy. Here's the recipe for the meal.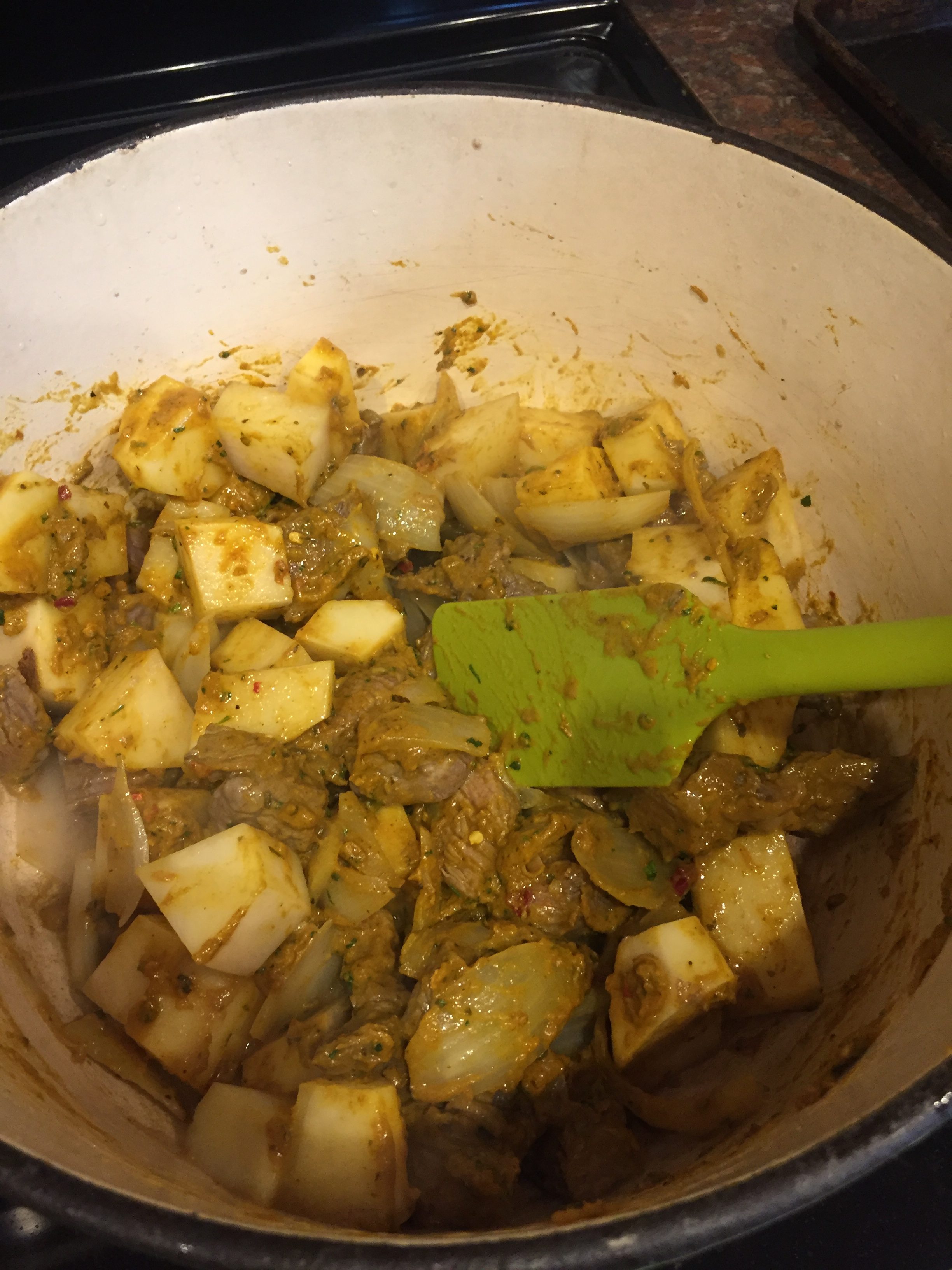 Side Trips: $13.70, Asian Market. $22.96, Mighty Nest
At the Asian Market I got some rice and coconut milk. I placed an order at Mighty Nest and got some shampoo and soap-based cleaner which I love (just in case you're curious. I always am).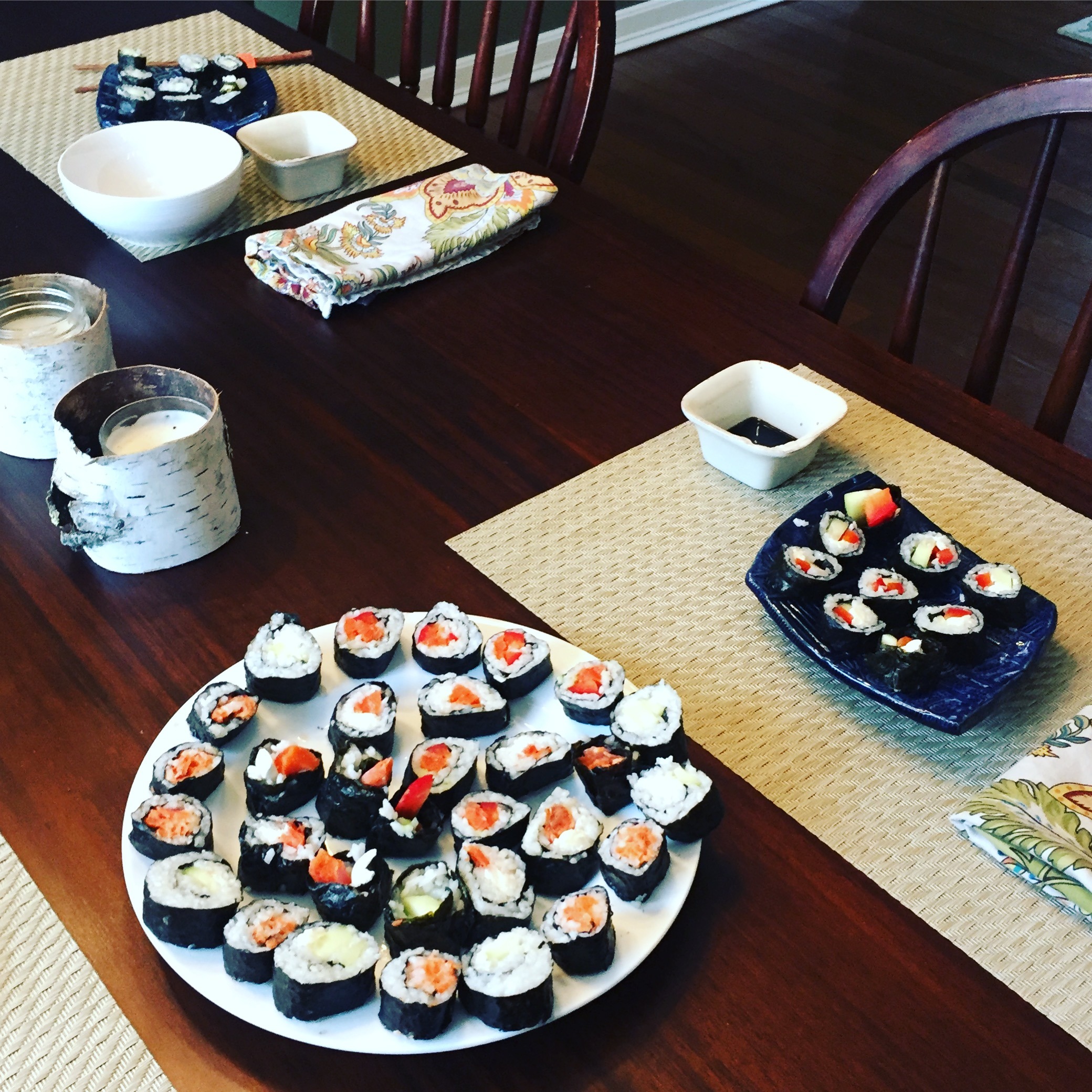 Here's the sushi-making in action: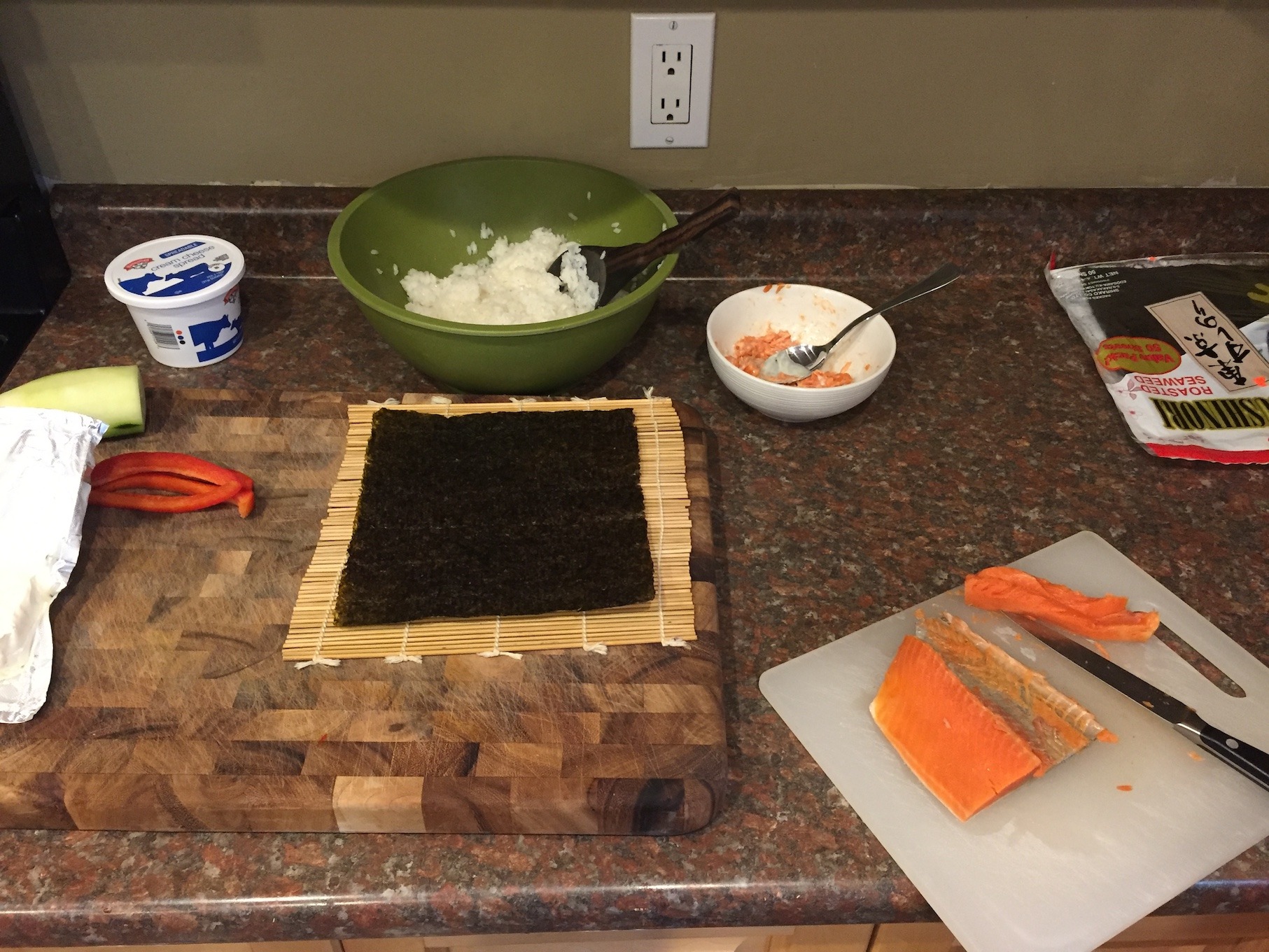 Week 3: $156.20, Hannaford and $62.97, Market Basket
After I bought my normal weekly groceries, I bought about $60 at groceries at Market Basket because I was on the way back from the airport with my mom, and I wanted to make sure she had enough food while I was away in Portland with Mr. ThreeYear.
Side trip: $30, Co-Op
I believe I was buying a couple of things for my mom's visit here too.
Week 4: $82.83, Market Basket
On the way back from dropping my mom off at the airport I hit up Market Basket again. When I pass Market Basket, the food is such a good deal that I take advantage of it! It's just amazing to me that I didn't remember all these trips (it was a really busy month). I didn't buy as much because Mr. ThreeYear would be gone for the entire week so there were just 3 of us to feed.
Week 5: $72.77, Hannaford
Same thing this week. I bought less. When it's just the 3 of us, I don't tend to cook "formal" meals. It's usually stir fry and salads, pasta, or hot dogs. The kids get meals "short-order cook" style. I eat more veggies. It's a win-win.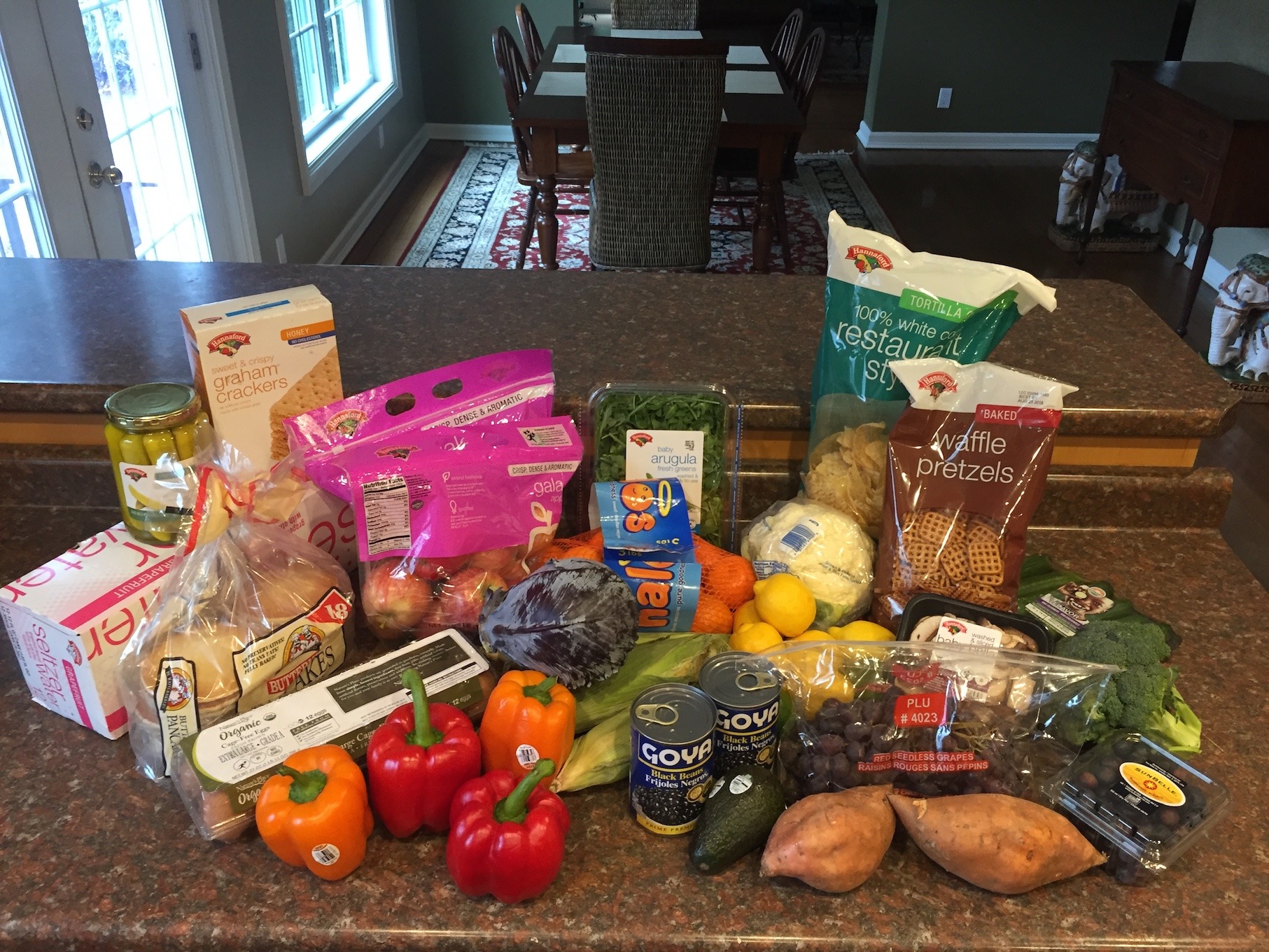 What I Learned
I think the big takeaway from this month is that when we have less side trips, we spend less money. I'm also getting better at buying the right amount during our weekly trips to the store. Yes, the refrigerator can occasionally be bare at the end of the week, but that also means we get a little more creative at finding things to eat and eating the food we have.
My family eats snacks like crazy. We eat way more snack food than meal food, especially the boys. I wish we were more like the French, who eat three meals slowly and appreciatively, and rarely snack, but we aren't.
Here's my favorite snack food being prepared: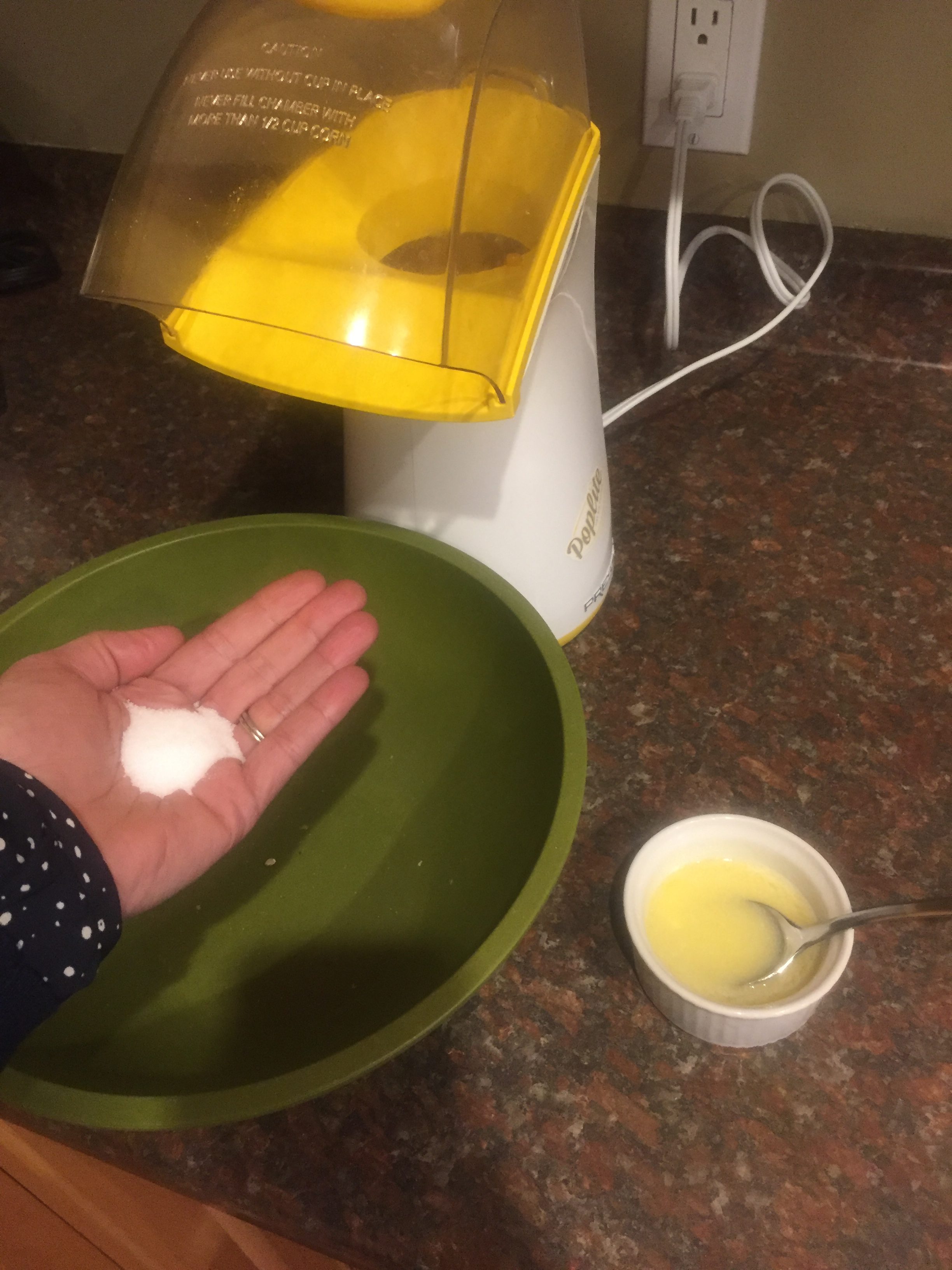 May's Focus
May's focus is going to be Shop the Perimeter. Since it's FINALLY Spring here, I'm going to focus on buying fruits, vegetables, and meat almost exclusively. That means I'll need to buy more fruit as snacks, since I'll be buying less snack food. I'll also try to do some more baking. I made a batch of banana bread muffins for a playdate, and the four kids at all. eighteen. muffins. in an afternoon. One of the kiddos over to play actually asked me, "Can I eat every single one of these?" Um, no. But thanks for the compliment on my baking.
Happy May! Hope you're enjoying more fresh food this month.