It is time to report on our first month's progress in the A Year of Good Food Challenge.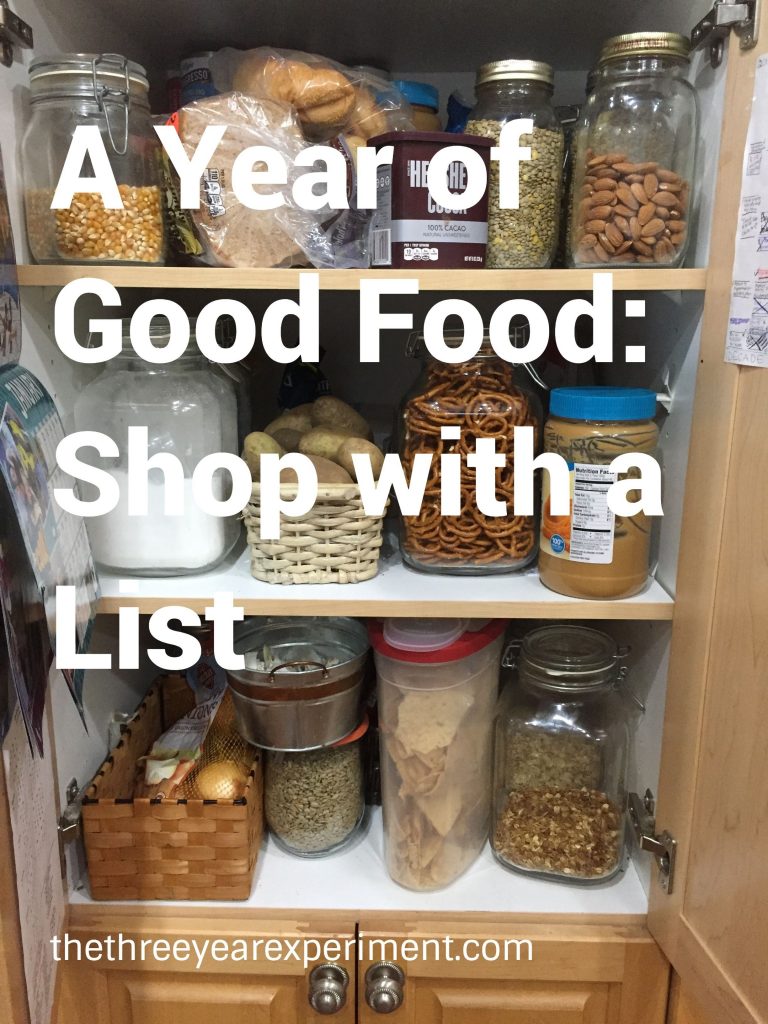 This year, our family is challenging ourselves to spend less on food, so we can reach our goal of location independence in two more years. Last year, I challenged myself to adopt one habit a month that would translate into better money moves for our family. You can read all about what I called A Year of Good Habits here.
Year Two's Challenge  is called A Year of Good Food. This year, we are challenging ourselves to do better at our food spending. Our family spent an average of $966 US per month on groceries in 2017 for our family of four. That's almost $12,000 in just groceries last year.
This year, we've adopted the (what we hope is attainable!) goal of shaving 20% off that number, each and every month. That means we would spend no more than $772 in groceries in any month of the year.
With the extra money we're saving, we've created a travel fund, so we can pay for a ticket to Chile for Mr. ThreeYear, or some other travel adventure. The point of spending less on groceries isn't just that we'll have saved more money. It's that we'll develop the habit and hopefully carry it with us in future years, so we'll spend less and waste less.
Further Reading on Our Spending and Saving:
The Details
Total Budgeted: $772.00 US
Total Spent: $767.80
Money really is like air. We were actually slated to have a bit of an overage,  but Mr. ThreeYear needed some last minute gin and tonic supplies. Nevertheless, we stayed within budget this month. Yay! We did it!
Here are way more details than you probably need, but this is the weekly breakdown:
Weekly Expenditures:
Week 1: We were in Chile, so all of our food spending was budgeted under our "Travel" category.
Week 2: $120.05, BJ's
I didn't take a picture of this shopping trip, because it was made right after we shoveled our car out of a snow bank in negative temps. Also, we had no room in our car, so we shoved food in every nook and cranny available. Ah, the joys of food shopping.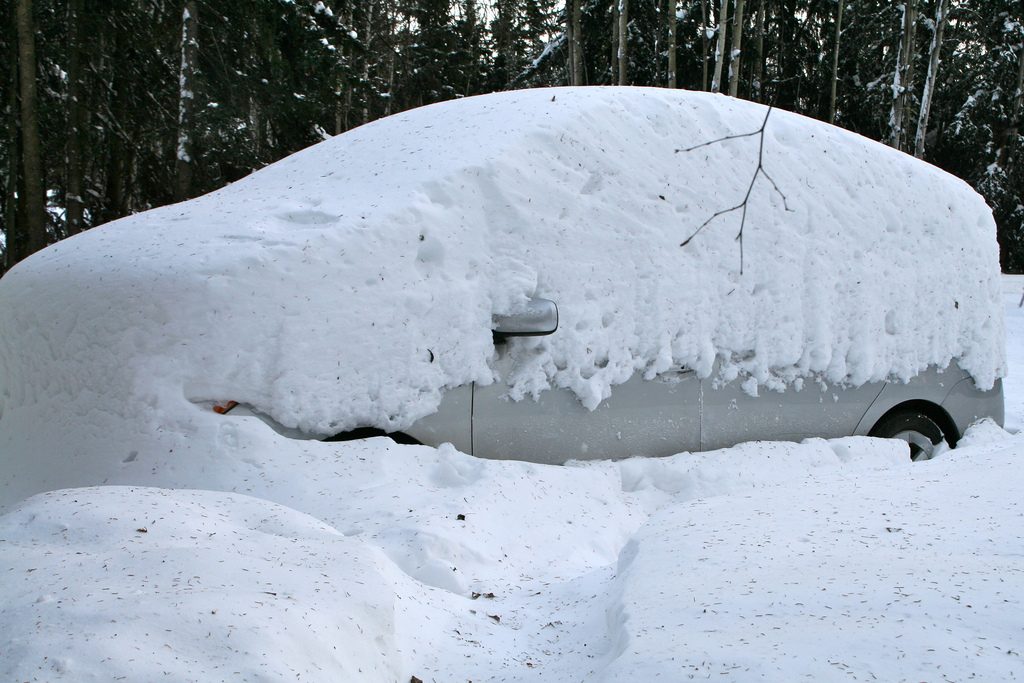 Week 3: $170.43, BJ's & Co-op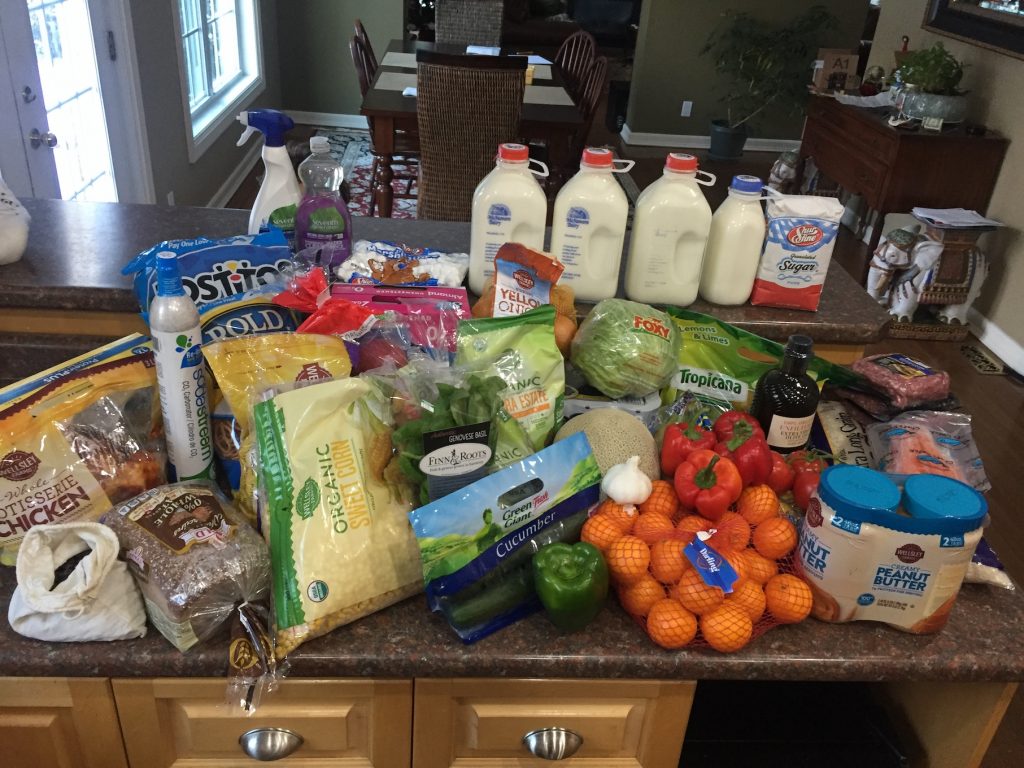 We ate a lot of soups this week, especially chicken soup. Check out the Rotisserie Chicken in the picture–it made several meals for us. We also had a delicious Chilean dish called Pastel de choclo. That's what we used the corn and basil for.
Week 4: $133.09, Market Basket
This week, we had less vegetables to eat, but lots more Oreos and tortilla chips! (And so we ate Oreos and nachos!).
Week 5: $191.43, BJ's & Co-op
I overbought groceries this week. Check out what our fridge looked like afterwards. It's stuffed.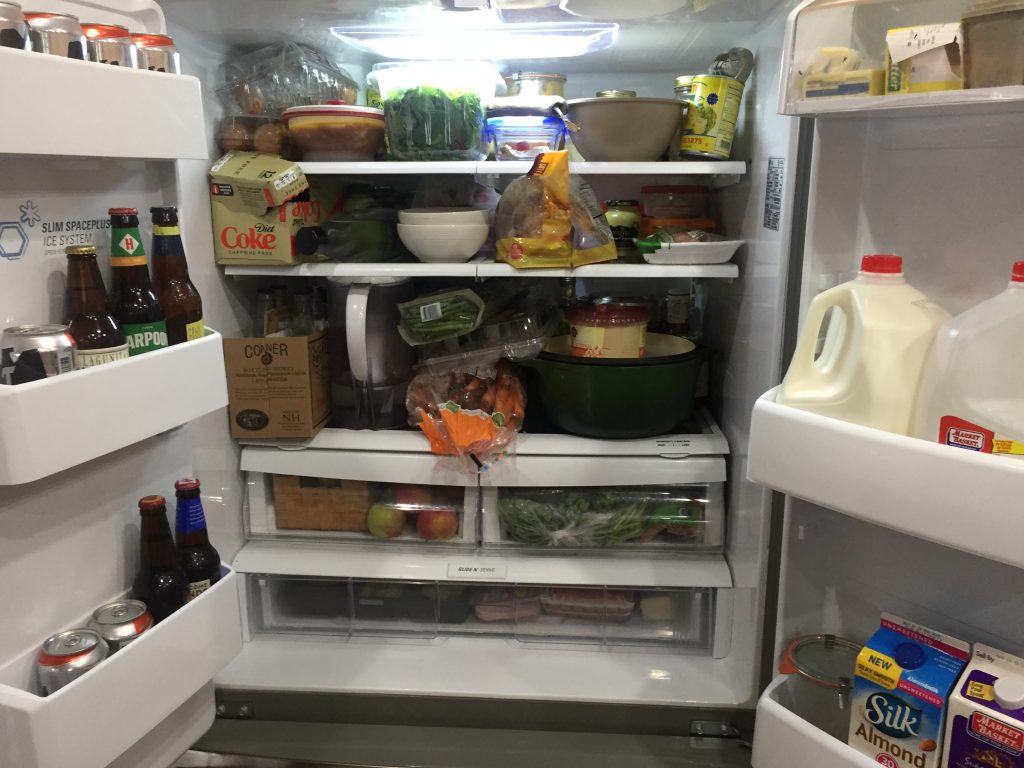 Here's the part that shows where all our extra money really goes:
Random trips to our local market or liquor store: 8.
Total money spent there: $149.70
Ok, leaving that for a bit.
What We Ate
Maybe I'm oversharing, but I absolutely love to see what people eat. I'm curious, especially in those families where they're able to spend such a small amount of money per month on food. So here's a random selection of what we ate in January, based on when I remembered to snap a photo.
BreakfastS
I enjoyed greek yoghurt with homemade granola, frozen strawberries, and syrup for breakfast. The kids had frozen waffles, and Mr. ThreeYear had homemade marraquetas and cheese.
Marraquetas are a Chilean type of bread that I made a batch of two weekends in a row. The white bread version was a bit more popular than the whole wheat version.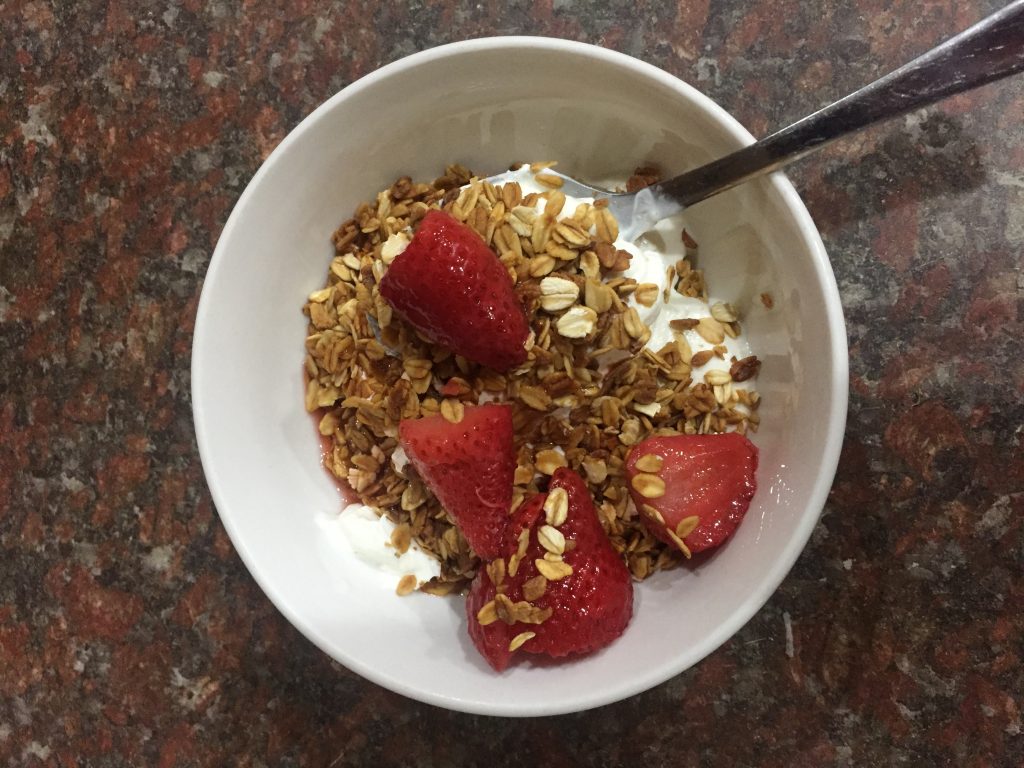 Lunches
I made the kids' and my lunches each day for school. I eat leftovers and the kids generally eat leftovers or sandwiches, which is why we buy a lot of ham and cheese. Mr. ThreeYear eats at the cafeteria at his work. I ate a lot of chicken soup.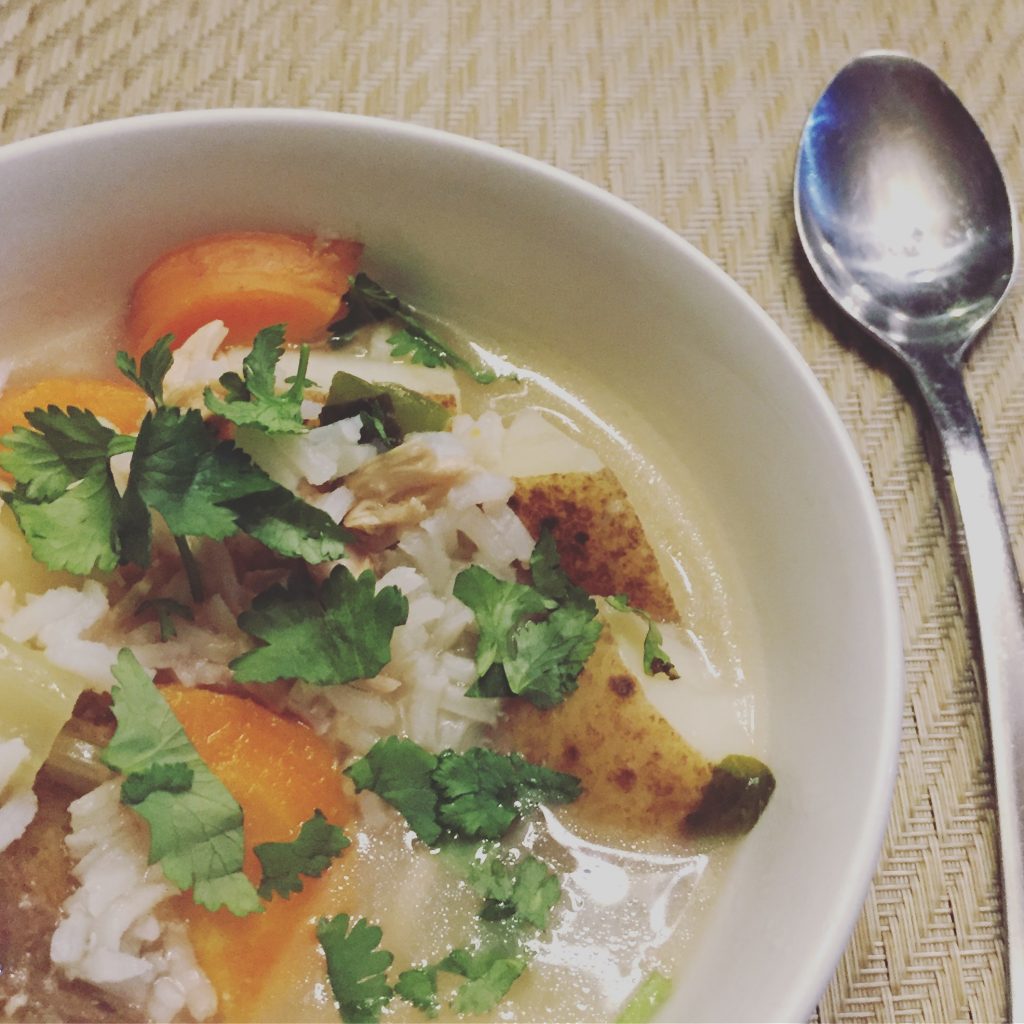 Dinners
We keep dinners simple on weeknights, because we're all tired at the end of the day.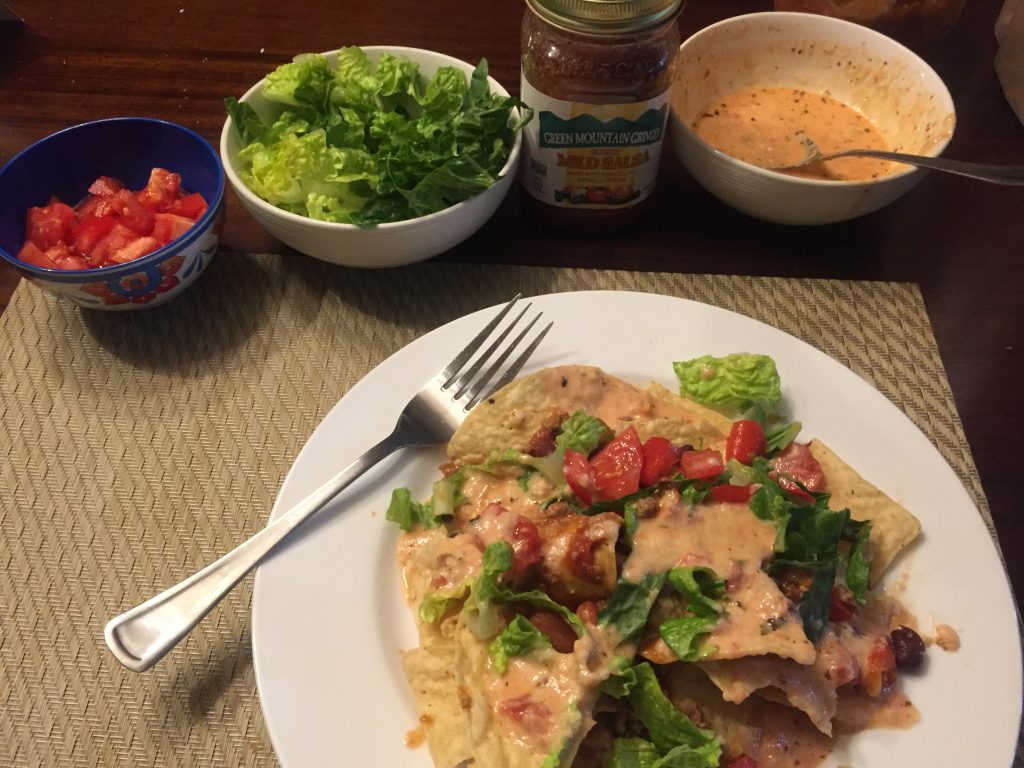 This month, we ate a lot of soups, as befitting the chilly weather. One of the benefits of buying a pre-made rotisserie chicken is that it makes so many meals. We eat it once as roasted chicken with veggies and a salad, the second time for tacos or some other meal that calls for shredded chicken, and a third time as chicken soup. We use all the leftover chicken bits, and make broth from the bones and carcass.
My sister-in-law was appalled that we throw the vegetable peels straight into the broth pot (which surprised me since she's one of my frugal heros!) but that's how we do it, and it turns out spectacular every time.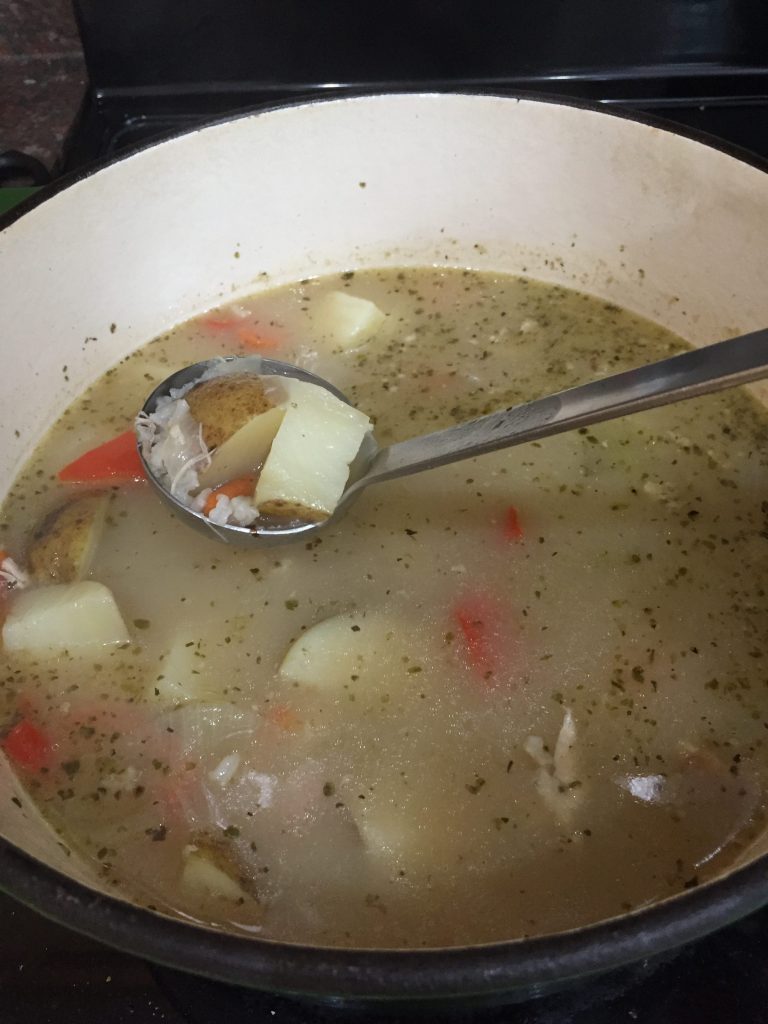 For other dinners, we ate chili, ceviche, bean soup, and roasted veggies.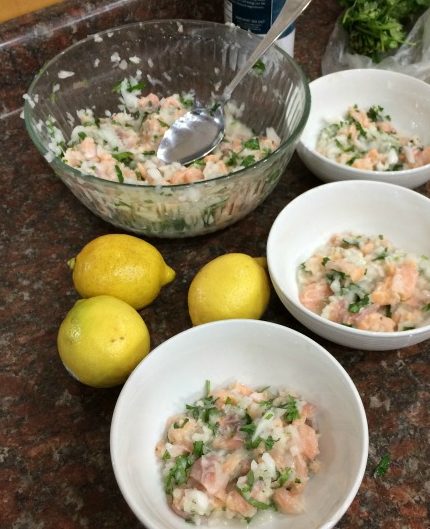 Fast Nights
Mr. ThreeYear and I fast twice a week. That means we keep our calorie intake to 600 calories for him and 500 calories for me. On those nights, the kids feast on hot dogs or quesadillas (whatever I can quickly make) and we eat a veggie stir fry of whatever veggies we have. During Week 3, when Mr. ThreeYear didn't buy many veggies, I was quite proud of myself, because I created this delicious concoction out of an onion, three plum tomatoes, a splash of balsamic vinegar, and four egg whites I had sitting in the back of the fridge.
Celebrations
We had a couple of sweet treats throughout the month (aside from the Oreos). We had friends over for dinner and I made alfajores, a Chilean sandwich cookie with dulce de leche inside.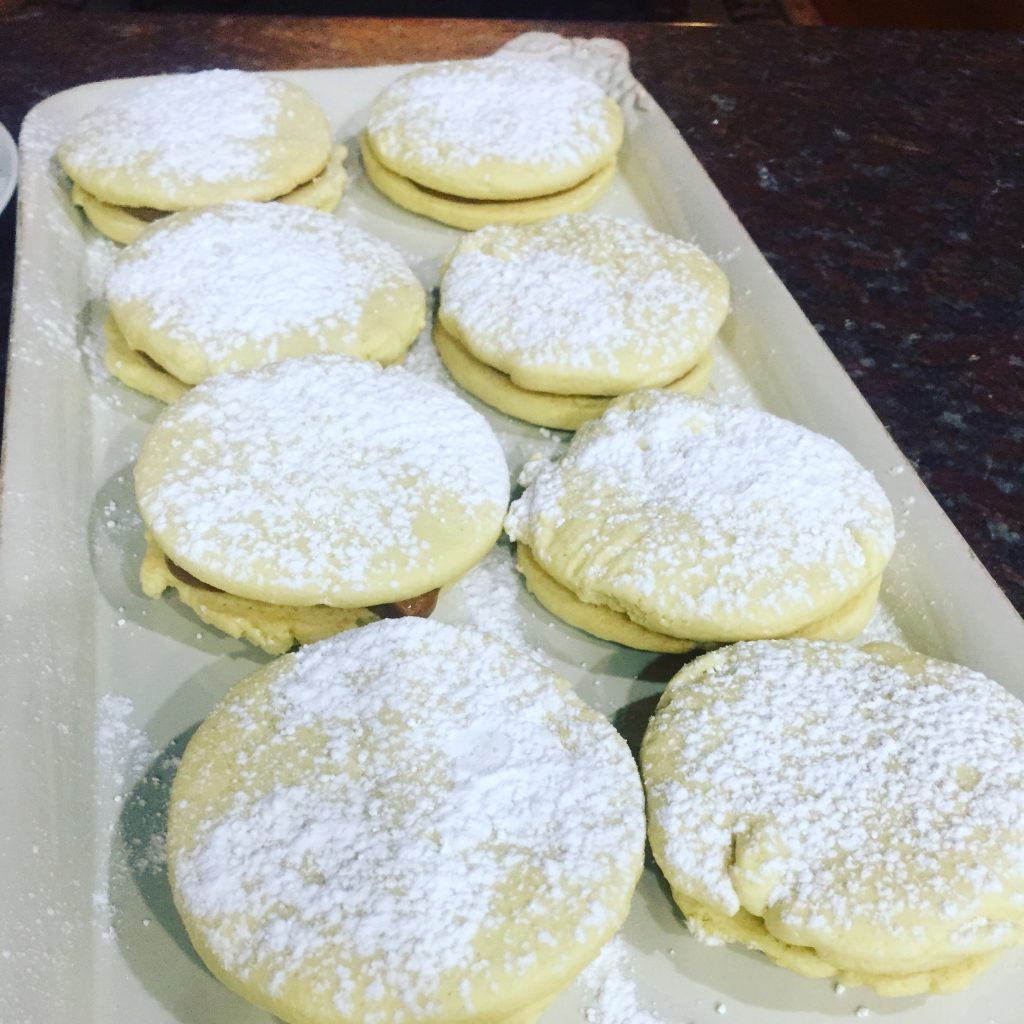 It was also Mr. ThreeYear's birthday, so we bought him a cake! I have tried to make him birthday cakes, but he never likes them, so I just buy them instead. I have found that people from different countries have very different sensibilities about their desserts.
What I Learned
Two big takeaways from this month:
Avoid those little trips to the store at all costs. They add up.
Don't over shop. In hindsight, I bought way too much food during the fourth week. I should have bought mainly veggies and fruits, because we still had a lot of leftovers in the fridge. This week, I'm going to buy less groceries, until we eat up some of the food that we already have. I have a feeling this is going to be the biggest learning area for me this year.
February's Focus
Now that we have one month of staying in our food budget under our belts, we have to stay the course for February.
February's focus is going to be to shop with a list. We did this in January, but we did stray from the list a bit and buy extra food, which resulted in a very full refrigerator and pantry. My hope is to buy smaller hauls over the next few weeks, eat up the food we have on hand, and eliminate our side trips to pick up "one or two things" here and there. Those trips really add up quickly.
There are four weeks in February, so that helps out. In weeks where we'll have to go to the store five times it will definitely make it harder on our budget.
Ok, we're off to do some food planning. We'll see you again to report on how we did at the end of the month!