This weekend, Mr. ThreeYear came back from spending a week in Brazil. He brought back the best souvenir from his trip, as usual.
He's been on a lot of work trips, and while he doesn't always bring back souvenirs, he did this time. It was his first trip to Brazil and he wanted to make sure to bring back something special.
What did he bring us? Well, I'd argue it's the best possible souvenir you can bring anyone from anywhere in the world.
And he got it all at Walmart.
A São Paulo Walmart, of course.
He brought us…
food!
Specifically, he brought us non-perishable food: Brazilian coffee, of several different strengths, chocolates, cookies, and snacks.
When we travel, we hardly ever buy traditional souvenirs–tchotchkes, clothing, pens, magnets, snow globes. We've found, over the years, that while these items may seem great in their home countries, once we get them home they have no place in our home.
Since we've adopted our semi-minimalist aesthetic, we try not to bring decorations into our house.
But we often need small gifts or would like to keep a few reminders of our travels.
Enter: food. One of our favorite things to do in a foreign country is to go into a local grocery store and look around, maybe even buy a few things we feel brave enough to cook back at our AirBnB.
Almost everywhere you go, there are non-perishable food items that are a little different from anything you have back home.
In Mexico, we found candy with chili pepper in it.
In Thailand, we found instant coffee latte packets.
In Indonesia, we found squid rinds (didn't bring those home, sadly).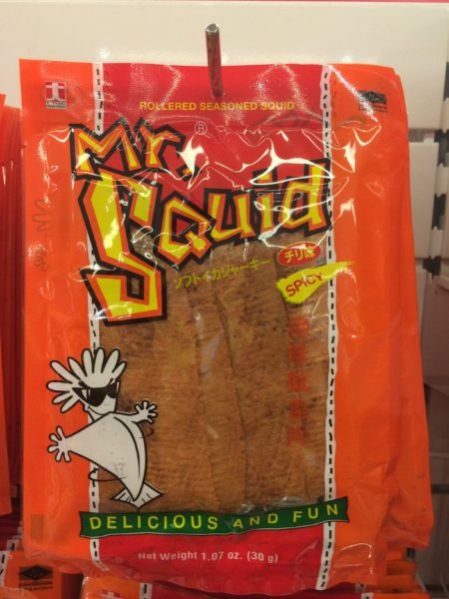 When Mr. ThreeYear went to Dubai, he brought back Arabian sweets with hints of cardamom and tons of curry spice.
Related Reading:
Here's why packaged food is such a great souvenir, in my opinion: you eat food anyway, so you're not buying something unnecessary. If you're bringing someone a gift, it's something practical, that they'll use.
And it's so cool to experience a foreign country through taste.
While many typical souvenir items are made of plastic and aren't even made in the country, food items typically are.
Even though Mr. ThreeYear bought everything he brought back from Brazil in Walmart, it was all made in Brazil. Brazilian wafer chocolates, with a hint of coffee flavor. Brazilian cookies that tasted a little like gingerbread. Brazilian fig newtons with a unique fruity flavor.
Let me caution you that the food items you bring back, especially candy, may taste a little strange to you at first.
That's because tastes for sweets seem to change mightily across international boundaries.
Like I mentioned, in Mexico, they like sweet candy with red pepper.
Those Arabian sweets had a taste of honey and pastry.
The Brazilian cookies tasted sort-of like gingerbread.
While cookies and candy can have unusual flavors that it takes a bit to adjust to, we've found that coffee from around the world tends to be amazing.
While we missed out on buying the world's most expensive pooped-out coffee in Bali (it's kind of a long, gross story but it's really a thing: Kopi Luwak), almost all the other coffee we've tried from different countries has been fabulous.
Not every country produces its own coffee, obviously, but many put a spin on coffee varietals by adding their own local flavors, like the latte packets we bought in Thailand.
One of the best things about this type of souvenirs is that they're not expensive, especially if you go to a local grocery store.
When we go to Chile, we head to the local supermarket and stock up on alfajores, one of our favorite sweets (and a great gift). If we bought expensive tourist alfajores at the mall, they'd cost ten times or more what we pay for them in the store. And they're just as delicious (although, admittedly, have fancier packaging at the ten-times-as-expensive price).
But if you buy the same products that locals buy, at the same place, then you'll pay normal grocery-store prices, provided you're in a normal grocery store, and not an extra-expensive tourist grocery store (sometimes it takes a little ferreting to figure out where those normal stores are).
In Brazil, Mr. ThreeYear had a colleague drive him to a local Walmart, and bought six kinds of coffee, lots of cookies, two big boxes of chocolates, and several small kinds of chocolates, for less than $35.
So the next time you're looking for the perfect souvenir, find a local grocery store, peruse the aisles, and bring home some non-perishable local food for your loved ones and friends. I bet they'll love it!