We are already entering the third month of the year! Crazy stuff! That means it's time for another update in A Year of Good Food.
This year, our family is challenging ourselves to spend less on food, so we can reach our goal of location independence by the end of 2019. Last year, I challenged myself to adopt one habit a month that would translate into better money moves for our family. You can read all about what I called A Year of Good Habits here.
This year, we are challenging ourselves to do better at our food spending. Our family spent an average of $966 US per month on groceries in 2017 for our family of four. That's almost $12,000 in just groceries last year.
For 2018, we've adopted the modest goal of shaving 20% off that number, each and every month. That means we would spend no more than $772 in groceries in any month of the year.
The extra $200 per month is going into a travel savings fund, so we can see and benefit from our reduced spending in the food budget.
We could have adopted a radical goal to keep our spending under $500 or something like that. But we know better. We thought it made much more sense to consistently hit our modest target, month after month, for an entire year, to show ourselves we could do it, than to maybe hit the $500 goal once or twice and then face plant with more $1000+ grocery bills.
And if we consistently hit sub-$772 spending, then perhaps we'll challenge ourselves next year to shave off more.
Further Reading on Our Spending and Saving:
The Details
Total Budgeted For Feb: $772.00 US
Total Spent for feb: $713.51
We did even better this month than last month, so that is pretty sweet! Of course, February was a short month and we only had four weeks of groceries. But we did better on not overbuying at the store this month.
For you financial voyeurs out there, here are the weekly specifics:
Weekly Expenditures:
Week 1: $167.26, Hannaford
Forgot to take a picture. I was really disappointed with this load of groceries. It was expensive because I was buying a lot of the ingredients for our large get-together that I talk about below. Sodas, beer, wine, and other packaged ingredients are expensive. Plus a birthday cake that cost $19.99 (epic birthday cake purchase fail! BJ's is so much cheaper!).
Week 2: $119.45, Market basket
Mr. ThreeYear went shopping this week. Although he spent a small amount of money, we ran out of a lot of food midway through the week. But, because we had so much food in our freezer and pantry, we were easily able to feed ourselves. It was a great lesson for us that even if we run out of fruits and veggies, we can still make delicious food that is healthy and nourishing.
Week 3: $137.80, hannaford
I have no picture to help me remember what I bought, but this week I did a good job buying snacks. I stocked up on pretzels, Pringles, cookie dough, and other treats for the boys. Sometimes if I buy too many fruits and veggies, I can forget foods that I can use to pack the boys' lunches, and then I have to really scrounge to figure out what to pack them each day. But this week was a good balance between both.
Week 4: $98.58, Hannaford
I was proud of myself this week. Under $100 and we bought a lot of good food. I even remembered to take a picture! As you can see, there's little meat in this photo, which is probably why it was such an inexpensive haul. But lots of fruits and veggies, yogurt, local milk and half & half, coffee, ham, and snacks.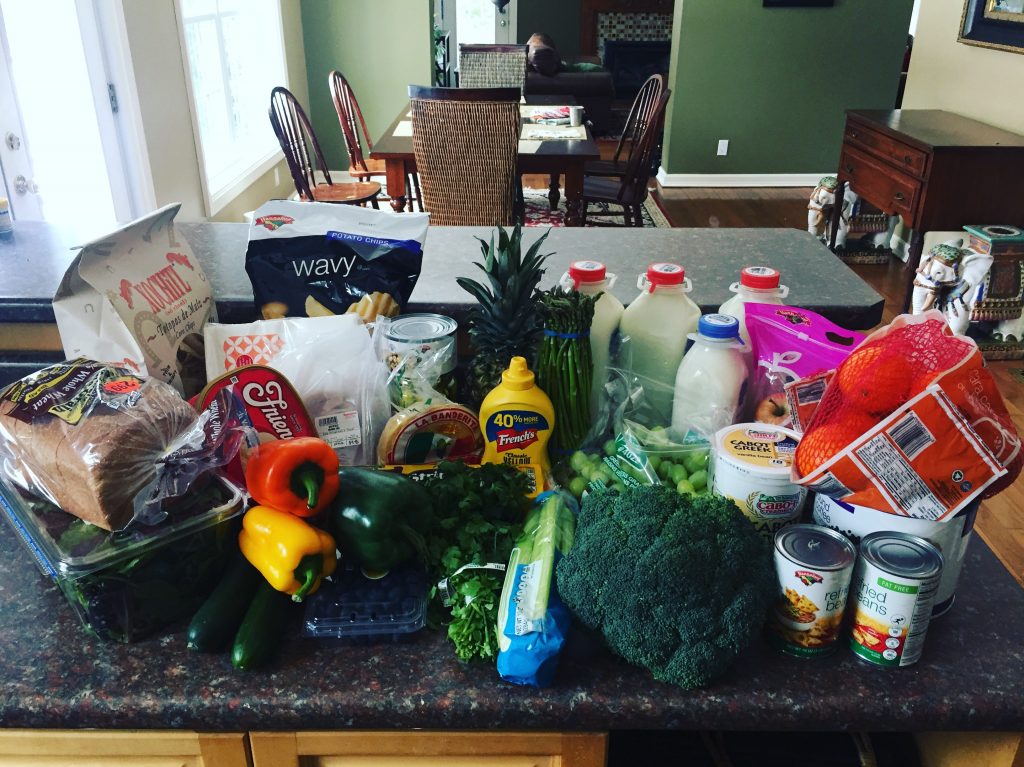 Did we do better this month on those mid-week trips to our local store? Let's see:
Random trips to our local market or liquor store: 11.
Total money spent there: $160.42.
Ouch. We did worse than last month!! We're going to try and do better (again) in March. We also spent $30 on local honey with our neighbors. Our ear/nose/throat doctor friend says local honey is one of the best things you can eat to manage allergies. We like to support our neighbors.
What We Ate
Here are more random shots of the meals we ate during the month of February.
BreakfastS
We ate a lot of bread with cheese and ham this month. We also ate some frozen waffles and occasionally, on weekends, bacon, eggs, and pancakes (Junior ThreeYear even cooked them himself!).
Lunches
This month was the same as last in terms of lunches. I eat leftovers, the kids eat sandwiches, crackers and cheese, fruit, etc. One of these days I'll remember to take pictures of their lunch boxes.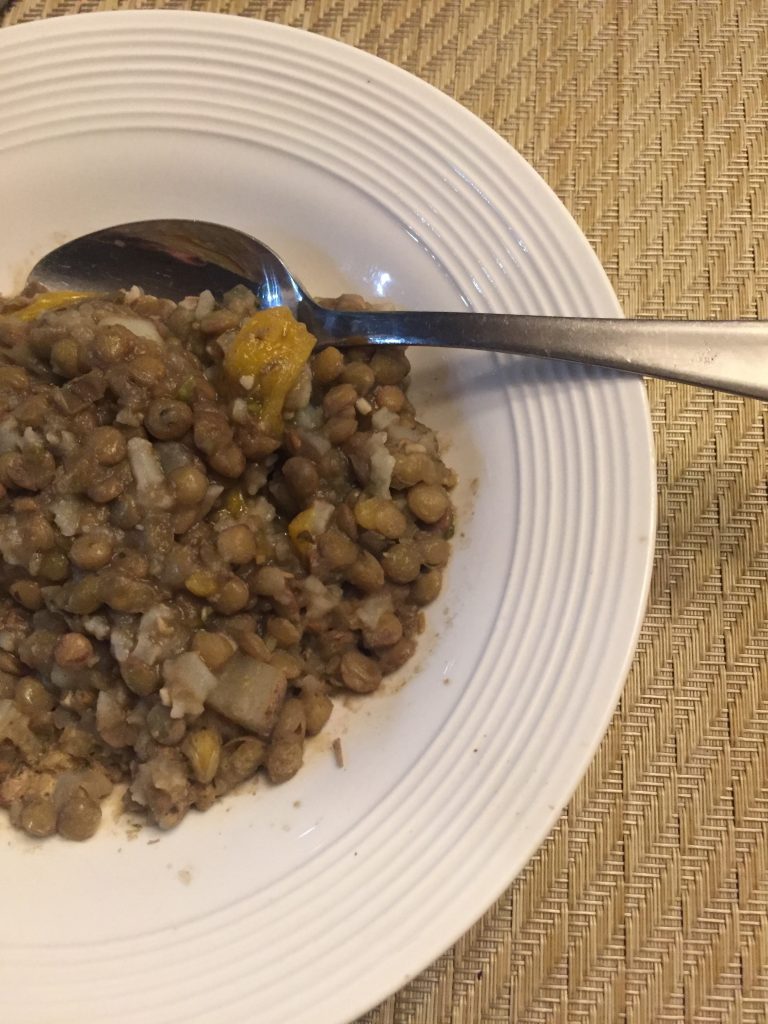 Dinners
We keep dinners very simple, because it's easier and we have a picky eater (Little ThreeYear!). We have started having weekly tacos and lentils, because those are both meals that the little guy will eat. We also try to eat vegetarian at least once a week. That cuts down on our meat costs quite a bit (groceries are much more inexpensive with no meat!).
I made a big pot of red beans and then, using the red beans, made Mark Bittman's absolutely delicious red beans and rice (hint: you use Coconut milk). His is the only cookbook I own, and everything I make from there is so good. But it's rare I use a cookbook to make a meal, because I usually just throw whatever's at hand into a pot. It took years to get there, though, and it started with me following recipes to teach myself how to cook.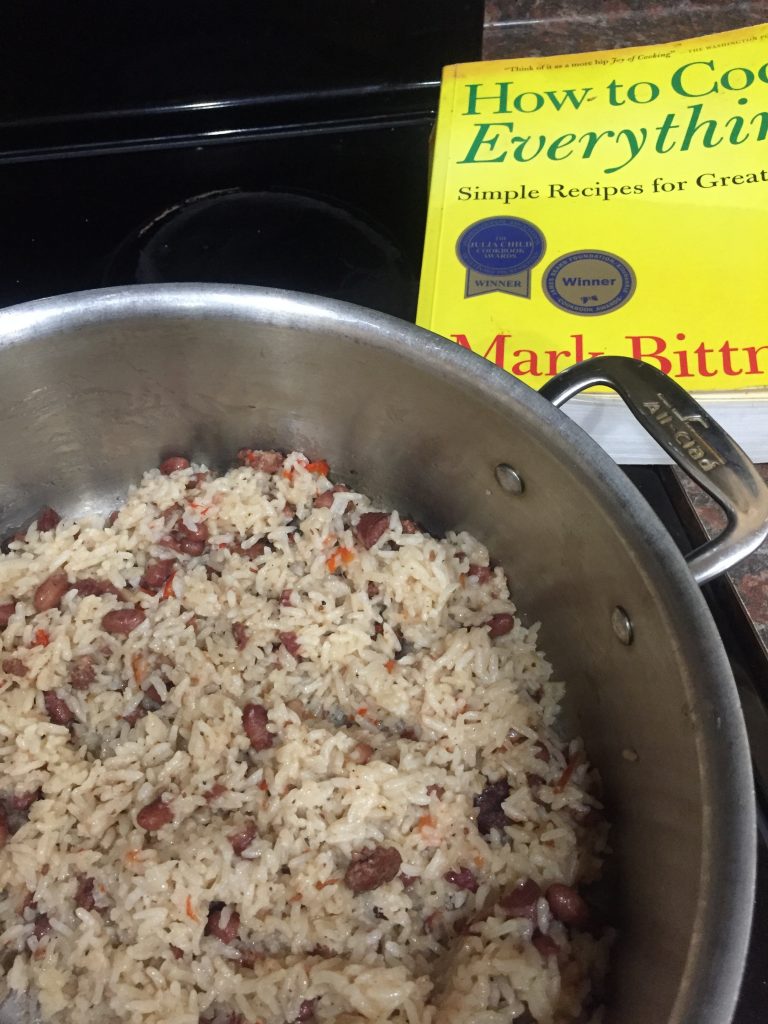 Celebrations
We had friends over a couple of times this month, once for Mr. ThreeYear's birthday party, and once with a couple we've been trying to get together with for awhile. It is expensive to invite people over, especially when we had over 20 people for Mr. ThreeYear's birthday! But we actually made a delicious, inexpensive meal that people loved. It was taken from Shauna Niequist's Bread and Wine, and it is easy, cheap, and delicious, a combo that can't be beat when you're entertaining a large crowd–layered chicken enchiladas–check out the recipe here. To make it even easier, I use canned chicken (which you can buy next to the canned tuna). I served it with a big salad and lots of chips and salsa. It's a casserole that you can make ahead and freeze. I quadrupled the recipe for 20 people and we had leftovers.
We also had a delicious (and free!) meal at our church. We do a yearly "Fat Sunday" celebration to kick off Lent, and everyone brings in yummy Cajun food! I stuffed myself this year!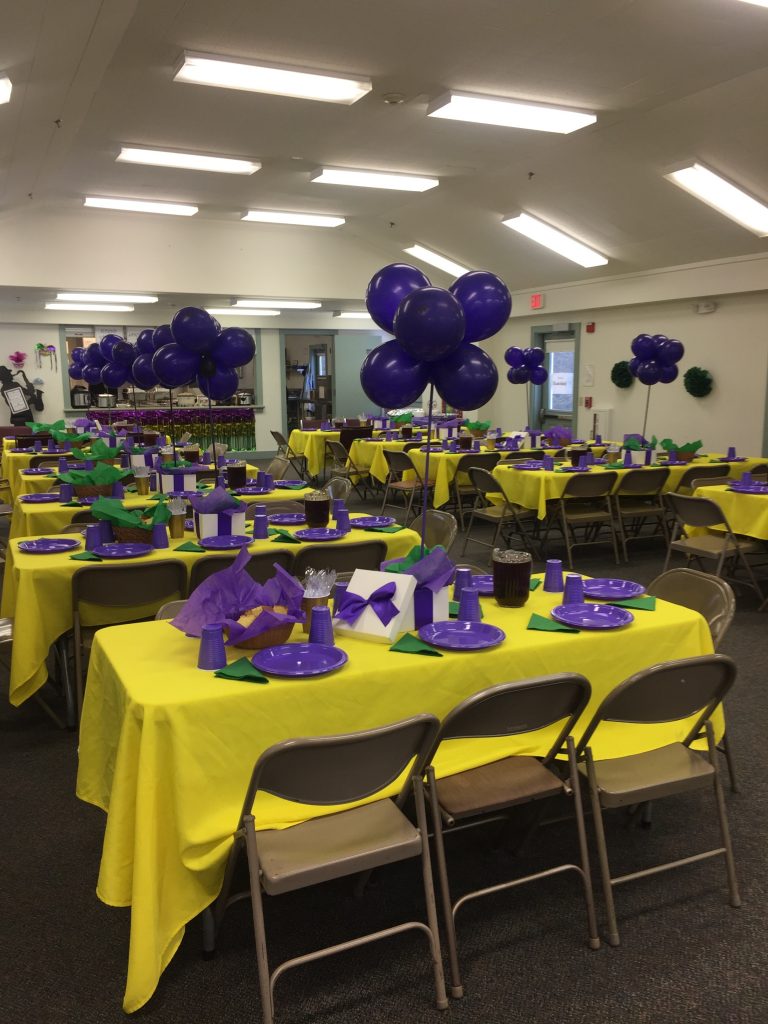 What I Learned
Two big takeaways from this month:
Do whatever it takes to avoid the little trips to the store–having extra snacks on hand is a good idea!
Do an inventory and make a simple meal plan before you make your grocery list.
March's Focus
We did pretty well at shopping with a list in February, although I did go off-list a couple of times.
I think the key takeaway from shopping with a list is that your shopping will only be as strong as your list.
What does that mean? Mr. ThreeYear bought groceries a couple of times in February, based on a hastily-scrawled list I'd made. When he got back from the store, I saw that we were missing a lot of important staples and snacks, because I had not bothered to put those on the list.
We are most successful at shopping with a list when I take the time to a) do an inventory of what we have and what we need and b) come up with a rough meal plan of what we're going to eat that week. When I make a better list and have a rough meal plan, we inevitably have less of a tendency to "run out of everything."
March's focus is going to be Use Cash. We're going to withdraw $350 every two weeks and see if we're able to spend less and reduce our trips to our local market by carrying cash around. Mr. ThreeYear and I will each have an envelope with cash in it to spend on food. My hope is that handing over cash while grocery shopping will encourage us to be more mindful of how much we're buying and mindful of those small trips to the local stores.
March is a slightly longer month with five weeks! So it will be very tough to stay in budget, but we're going to do everything we can to try. Again, we made way too many side trips to our local market, so if we can eliminate those, I think we'll be okay.
What were your biggest wins/fails for February, food-wise? Got any tips for us in March?