It's time for another net worth update! Are you in the midst of winter, or is it warm and deliciously summery where you live? The ThreeYears are smack dab in the middle of the coldest and snowiest parts of winter, but we made it through January and we're raring to go for February (Little ThreeYear can hardly wait for Valentine's Day and all that chocolate he thinks he'll get from his classmates!).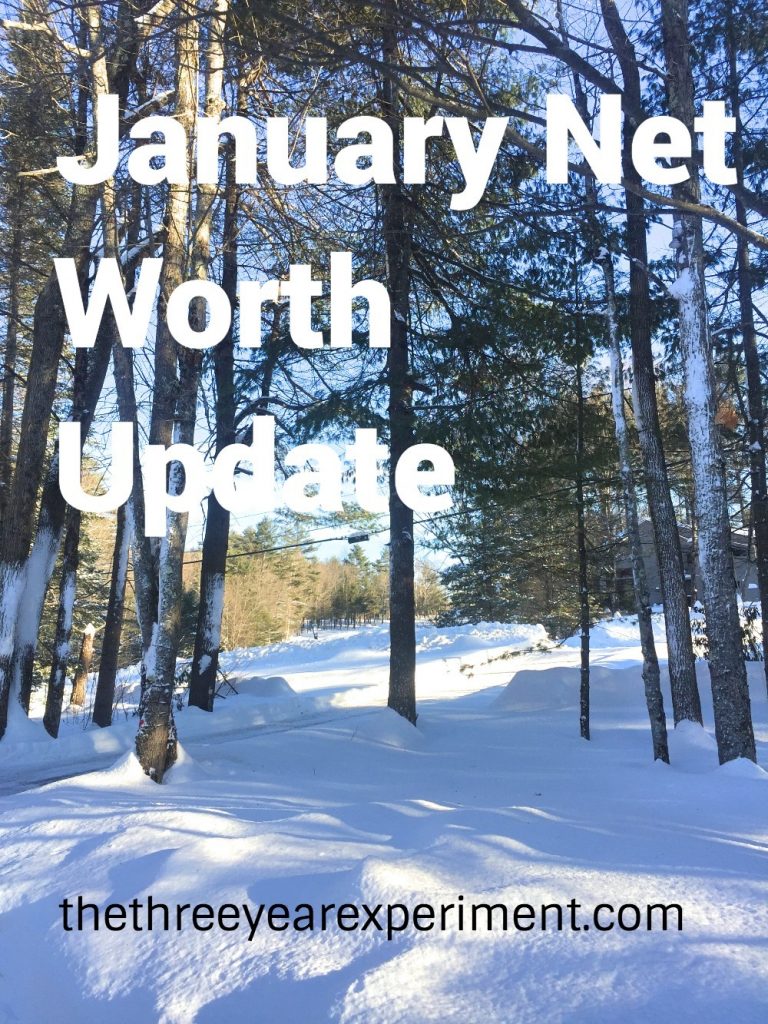 This is the first report from 2018, and boy is it a good one. Subsequent reports may not be as juicy, given that the stock market may have more "small or significant corrections" coming up, so I'm focusing on January while I can!
If you're just joining, our family of four is on a three-year journey to double our net worth and become location independent. Each month, I record our progress on our net worth and our spending (gulp!). Last year, we increased our net worth by 32% over the year before! This year, we're trying to increase it by more than 65%! from where we started in December 2016. Given the wild ride the market's likely to take us on this year, I'm not sure it's doable. But we're going to try!
We started the month of January off in warm Santiago. We took a three week trip to visit my in-laws, and had an amazing time.
I was very excited to see how our spending would look in January as compared to spending in 2017, given we have now eliminated the mortgage in Chile and our car payment. We're also working to keep our food spending lower than last year.
Our Progress
As of January 31st, our net worth has increased by a total of  36.2% from our starting point in December of 2016. In order to hit our goal of doubling our net worth in three years, we'll need to increase it by an average of 2.77% each month (or 66.66% by this December), but we know that progress won't be completely linear. We may not quite hit our 66.66% goal for this year, but we hope that the increase in investment income and growth from that will make up for it in Year Three (but if the stock market drops precipitously? Who knows). Our net worth increased 4% from last month, but January's stock market returns were really high.
Here's a graph to track our progress: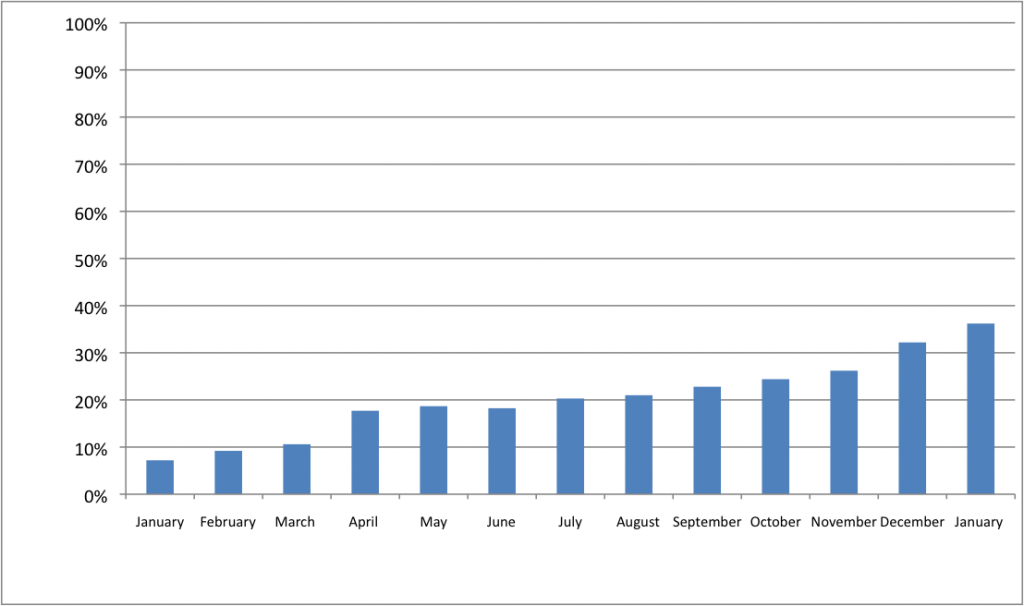 This is as a percentage of our total goal: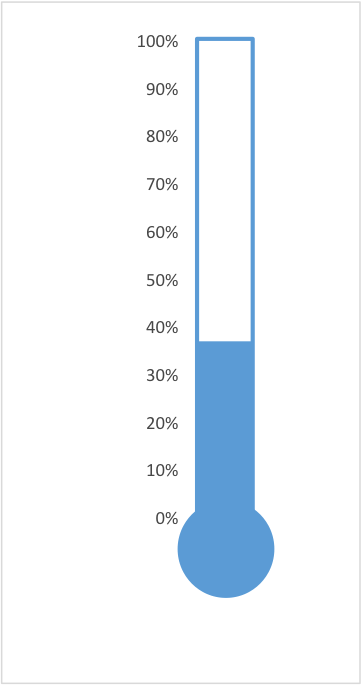 Spending Update
We know that we spend more than the average frugal financial blogger. But there's nothing quite like publishing these figures to keep us honest. And I know publishing our spending will eventually change our spending habits. Slowly, but surely. Plus, we want to share with others that even if you have higher spending levels than other people, you can still achieve your financial dreams and goals.
JANUARY SPENDING:
Housing: $1775. One fifteen-year mortgage payment. Taxes and insurance are not escrowed–we pay those twice a year.
Gas: $144.29. Normal.
Auto license: $292.75. Our annual cost for the license (taxes) for both cars, which keeps going down. Yay for older cars!
Auto maintenance: $504.00. I had a *fun* surprise when I got back from Chile. I needed new snow tires! So we bought them, had them put on, and had both our cars inspected.
Groceries: $767.80. Month one of our Year of Good Food challenge, where we're trying to keep grocery spending 20% lower than last year, or less than $772 per month.
Eating Out: $70.10. We ate out one time at the kids' favorite Mexican restaurant at Little ThreeYear's request. Again, trying to keep Eating Out costs lower this year as well, although we don't have a specific goal.
Household goods: $33.08. A new mascara for me and an air popper. We kept burning our popcorn when we made it in a pot and also wasting half of the kernals that didn't pop. This is way better.
Kids' expenses: $90.09. The drum rental and snacks for their Destination Imagination team, one book–the new Dav Pilkey Dog Man book (someone's a little obsessed!!), plus one babysitter from some months back.
Mr. ThreeYear's spending: $188.92. His normal eating out at work plus a new Amazon Fire device for our TV.
Mrs. ThreeYear's spending: $138.79.  Yoga is the main cost here.
Utilities: $626.15. Another propane delivery this month, but low electricity costs because of our trip.
Clothing: $15.05. Mr. ThreeYear bought some body wash at TJMaxx.
Haircare: $130.95. One cut for Mr. ThreeYear and one cut and color for me.
Fitness: $208.48. Mr. ThreeYear had to do a different type of gym membership this month. He gets $111 back for three months if he works out 12 times a month (he will) so this isn't quite as bad as it looks, but it's still pretty high. However, it's worth it to me for his mental health and well-being!
Home Maintenance: $66.15. In addition to our curbside compost pickup, we bought new weatherstripping for our doors since we noticed that the cold is leaking in. We also bought some mousetraps. Joys of living in the country.
Housekeeper: $100. 
Subscriptions: $27. Netflix, Spotify, Skype.
Gifts: $153.87. Mr. ThreeYear's birthday gifts and a friend's gift.
Vacation: $943.03. These are all of the expenses from our last week of our Chile vacation, including food, eating out, leaving some money for our water/electricity expenses, etc.
Total: $6285.46. We spent $4510.46 without mortgages included.
I was hoping for a lower month, but we had the vacay expenses, the snow tires, a propane shipment, and our auto license. I have to keep reminding myself that we're trending downward!
Behavior change is slow, but little changes add up over time. I know that at the end of 2018, our spending will be way lower than in 2017 AND we'll have saved a lot more $$$!!
If you're wondering how we were able to pay off $38,000 in debt and build a high net worth in less than ten years, read more about it, despite lots of mistakes and a late start, here and here.
(Part of our success comes from keeping spending low on our housing and cars, and now trying to keep it lower in the third big $ category, food).
Let it Snow
As I type this, we're getting another massive winter storm, about 12 inches of fresh powder! February is a pretty enjoyable winter month, as temperatures are generally a bit warmer and skiing is more fun, as there's generally more snow (and time, during Winter Break!). As always, we're optimistic for the future and excited to see what Year Two of our experiment holds.
How did the first month of your new year go? I can't believe it went so fast!