The final countdown… yes, we have one more week of school left. The kids are remarkably sanguine. I am excited for the days where we won't have the mad morning rush for a few blessed months.
We had another extremely full month in May. Since the weather has warmed up, there has been almost more to do than I can keep up with, leading to this post on how it's a lot harder to be frugal when you're busy.
We've also been spending a lot and not saving as much as I'd like, which has reminded me why I like having a job so much… extra income. While I've been on several interviews, I still don't have anything lined up for fall. However, I have two promising meetings this coming week, and I'm continuing to apply to many different schools (and universities!).
Our Progress
This month our net worth dropped, because the stock market dropped. So, sadly, we 're one step back. We usually have less net worth progress in the summer months, so I'm prepared for several months of disappointing net worth reports.
Our net worth is now 62.9% more than it was in December, 2016 (dropping from last month's high of 65.8%). It remains to be seen how much we'll increase our net worth by December of this year, but we continue to feel really positive about our budget, since we've gotten a month ahead, and our debt, since we only have our home mortgage left.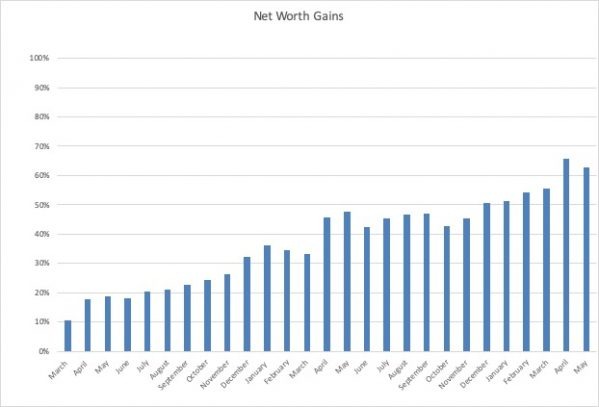 Spending Update
We are not-a-super-frugal family, so I hope our spending reports are helpful to look at/inspirational if you're not either.
We're proof that you can reach your financial goals without being extremely frugal, although that certainly helps things along!
Here's our financial situation:
We're debt free, except for our 15-year mortgage.
We achieved our dream of location independence, so we're not in a hurry to reach FI after doing that.
We are a high income family, as per this calculator.
We are not planning to retire for another ten years.
We plan to retire in the FatFIRE category (here's the definition of that term).
We're not particularly frugal, although we have been working to get better at our spending for the past decade.
Notes on Our Spending Reports
We don't include our mortgage in the spending reports. These spending reports are a way for us to have a more realistic idea of what we'll spend in retirement, and since our mortgage will be paid off then, we don't include it.
We do include the costs we pay for health care, since we'll definitely be paying those costs in retirement.
Our spending reports don't show how much we save, only what we spend. But the less we spend, the more we have to save.
May SPENDING
We use YNAB to track our spending, and we budget a month ahead, meaning we use money from the previous month, April, to pay for our expenses in May. Here's what the month's spending looked like:
Argggh, Maycember. There were so many expenses for May that I lost count. End of school expenses, swim team starting, camp. It was over the top. Here's the damage.
Charity
Charity: $38. Compassion International donation.
Food
Groceries: $749.55 This was good but…
Eating Out: $546.62. Oh my. Let me add some caveats. A large part of this was from treating my New Hampshire friends to dinner out because they flew all the way to SC to meet me (then they gave me a really generous gift card for my upcoming birthday, so geesh). Two, part of this was paying my dad back for food we ate last month at the beach. After those two, we "only" ate out once for brunch, once at Subway, once for Chinese, and then we got really expensive but delicious ice cream three times (which turns out is pretty expensive for a family of 4). Death by a thousand cuts…
Fun
Entertainment: $226.82. We spent $120 on tickets to go to my alma mater's baseball night at the Charlotte Knights' stadium. That included dinner but did not include parking. Parking was $6 across the road, but unfortunately we had to pay it twice, because the parking ticket that you're supposed to put in the dashboard fell between the dash and the instrument panel and we could not fish it out. Sigh. We also paid $82 to go to our tennis club's tennis night, which included dinner for two (we did this in April, but we pay for everything a month later). And of course, I went to the Aladdin movie with my sister! It was sooo good.
Fun Money: $201.33. Mr. ThreeYear ordered some kind of something or other for the iPhones that I don't understand. He took out cash, bought a DVD for his BIL, and bought some hooks for the house at Harbor Freight. I bought a book on my Kindle (rare), contributed money for a captain's gift for my tennis team, and did something I haven't done in about three years: got a pedicure with my sis.
Gifts: $23.04. We bought a going-away present for some neighbors.
Health
Health Insurance: $447.68 This year, we switched to a high-deductible HSA account. In addition to our health and dental premiums, we also have $250 per paycheck taken out for our HSA fund.
Fitness: $611.40. Our swim and tennis dues plus the cost of the food for tennis matches (I paid for tennis league last month). Tennis is expensive! And we pay a high monthly fee on top of that (although it feels more worth it lately since the pool has opened back up and we're there almost every day). As I'm deciding whether to go back to work full versus part time, one of my difficult decisions is no longer being part of my tennis team, because it's great exercise and I've made so many friends. But man, it's pricey. Nevertheless, Mr. ThreeYear and I are making it a point to prioritize fitness, and that's what we've done this year.
Household
Clothing: $24.60 Mr. ThreeYear went to Goodwill and got a pair of shorts and some shirts.
Haircare: $115. While none of the males got haircuts this month (the boys got cuts from me and I must say, I'm getting better), I went to the hairdresser for the first time in a year. I paid for part of the cut in cash, so it was really like $150. I got a cut and highlights. I really like the stylist, and she's perfectly fine with me coming as infrequently as I want.
Home Maintenance: $534.95 We finally got some patio furniture. We had to wait until I saved up the money, which took awhile. The set was just over $500 (the rest was for pillows and AC filters) and we looked exhaustively all over the place to find it. We looked and looked for a used set but the prices weren't good and there wasn't anything in the style we were looking for. So far, we've been really happy with our choice because it's comfortable and invites sitting and dining outside. Here's (the affiliate) link to the set we almost got. The set we purchased is no longer available on Amazon.
Household Goods: $114.59 The boys accidentally broke our friend's hammock so we replaced that. We got a mosquito repellant spray for the backyard which has seemed to work very well, and then we stocked up on cleaning supplies at Target.
Service Fees: $5.50 We took cash out of an out-of-network bank and this is the charge. Soooo annoying to pay this!
Kids
Activities: $263.97 Swim lessons for Little ThreeYear for the month of May to get ready for swim team, swim goggles, Dance-a-thon for Junior ThreeYear, a PTO charge, VBS, tennis lessons.
Expenses: $96.05 We allowed Junior ThreeYear to buy Sea of Thieves for the Xbox so he can play online with his NH friends, 2 nerf guns I bought so the boys would have some more outdoor toys, a book for Junior ThreeYear, and a couple of Nintendo and Microsoft online purchases.
Pet
Pet: $50.40. One bag of dog food. Also, Lucy turned one year old on May 31st. Awwww.
Transportation
Gas: $160.69
Maintenance: $47.91. An oil change at Wal-mart.
Utilities
Internet: $0. Mr. ThreeYear's work is now covering this.
Subscriptions: $37.94. Ooma, Spotify, Skype, Netflix.
Electric: $85.47 We're getting ready for summer electricity bills.
Natural Gas: $24.31.
Water & Sewer: $99.86. I was still pleasantly surprised this wasn't higher since we've been watering so much.
Cell Phone: $36.76. Through Total Wireless.
Total: $ 4542.44
Here it is in a condensed format:
May 2019 Spending
| CATEGORY | COST | NOTES |
| --- | --- | --- |
| Charity | $38 | Compassion International |
| Food | $1296.17 | ok on groceries, but boy! on eating out |
| Fun | $451.19 | a baseball game, Aladdin, a pedicure, going-away gift, many other odds and ends |
| Health | $1059.08 | health insurance and swim, tennis costs |
| Household | $794.64 | new patio furniture, a haircut for me, a replaced hammock, and an ATM charge |
| Kids | $360.02 | swim lessons at the YMCA, VBS, Sea of Thieves |
| Pet | $50.40 | one bag of dog food |
| Transportation | $208.60 | gas |
| Utilities | $284.34 | phone, Spotify, Skype, electricity, natural gas, water & sewer |
| TOTAL: | $4542.44 | |
Summertime
The first few weeks of summer are already full, with the first week being VBS, along with swim practice for Junior ThreeYear and several swim meets. After that, Mr. ThreeYear and I are heading to New Hampshire for his work's annual conference where partners attend.
Still, we look forward to more relaxed schedules, since there's only one thing to do per day in June. And in two weeks, I'm running a half marathon. I am not ready (but I always say that).
See you next month!