We've just gotten back from a week-long trip to the beach, and I've also just had an extended girls' weekend. I've packed a lot of carry-ons in the last month.
I love reading posts about what people pack in their carry-ons, but I don't see very good ones all that often, so I thought I'd write my own. To me, what makes a good carry-on post is pictures. Lots of pictures and specificity.
Perhaps I'm a little too nosy; I don't know. I do love to look in people's pantries when I go over to their homes and see what food they buy. Same thing for their carry-ons.
So here are all the details of what I brought to the beach and how I get everything to fit into my carry-on.
I've been a semi-minimalist for a while, and only have a small amount of clothing (compared to other people in this country, anyway). If I'm packing a carry-on only so I don't have to check a bag (or to take up less space in the car), I need to be as efficient as possible with my limited wardrobe.
Overview
Here's a picture of everything I bring in my carry-on. We'll delve into details below, but this is what it looks like when everything is nicely packed up in packing cubes.
Packing cubes, or packing bags, or travel bags, are a really helpful tool when you're traveling. We bought two sets, but my favorite are these which we bought from Amazon (affiliate link). As you can see, we bought the blue. They are slightly heavier duty and the zippers seem to be a little more heavy-duty, although none of the type we've bought have been full-proof. For some reason, the zippers give out really quickly on whatever packing cubes we buy.
My carry-on is an Amazon Basic hard-shell suitcase. It's a little on the bigger side, but it usually fits in the overhead with no problem. I have a smaller version as well, which is a great suitcase, but this fits a little bit more and I find myself using it frequently.
Clothing
Over the years, I have learned to pack way less than I used to. Because you can generally wash your clothes almost everywhere you go, you only ever need to pack a week's worth of clothing anyway. More than that and it gets overwhelming and hard to keep up with your things.
For the beach, I've packed:
2 pairs of shorts for general outings in blue and khaki
1 pair of jeans if it gets cooler at night
1 pair of nicer pants for going out to eat
4 short-sleeved shirts: 1 tank and 3 casual but cool shirts
1 long-sleeved shirt for cooler nights
Running shorts and two running shirts
2 pairs of running socks
1 bathing suit
6 pairs of underwear
1 pair of PJs
1 regular bra
1 sports bra
You'll notice that most of my clothes are in the same color category. It's because I try to buy coordinating clothing. I buy a lot of black, navy, red or pink, tan, and white clothing that I can easily interchange. It makes it much easier to pack that way, knowing that I can make several different outfits.
I'll often pack a lightweight raincoat (featured in this post) if it's cooler, but at this time of year, I don't need it, and the long-sleeved shirt will suffice.
Related Reading:
Shoes
I generally carry three pairs of shoes. This is a hard category to pack less in, because you want to be prepared for lots of different scenarios. However, I'm packing:
running shoes which I can also wear for outings
my beloved Pons, which are great for walking and can also be worn for going out at night
flip-flops, for the beach
I've also decided to pack some nicer shoes for dinner out (it is unusual for me to pack four pairs of shoes, but I had the room)
Toiletries
I travel with this leather toiletries bag my sister made for me. In it, I pack:
toothbrush and mini-toothpaste
deodorant
skincare products (serum and night creme)
mini-brushes
mascara
Diva cup
I don't usually pack a brush, because Mr. ThreeYear usually packs one in his bigger toiletry bag.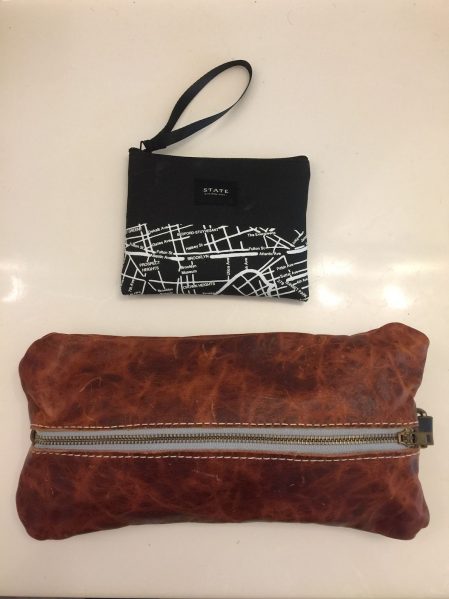 I have also started carrying this pouch that Mr. ThreeYear got from an international flight for my jewelry. It keeps it from getting so tangled, plus I always know where all of my jewelry is.
Miscellaneous
In the miscellaneous category, I'm bringing:
Ipad, which serves as my book, and charger
sunglasses (they're actually a great brand called Goodr, but I had an old RayBan case I found to store them in)
pen, lipstick, reusable straws
wallet and phone (which of course I'm using to take the picture)
Travel Clothes
I always leave the clothes I'll be wearing on the trip out so that it's easy for me to get ready before I go. Normally, I wear my running shoes when I travel, because they take up the most space in my suitcase, so it makes sense to wear them. This time, however, I had room, so I opted to wear my Pons, which are super comfortable to travel in. I also wore my khaki shorts and a striped shirt. My unmentionables are tucked in there too.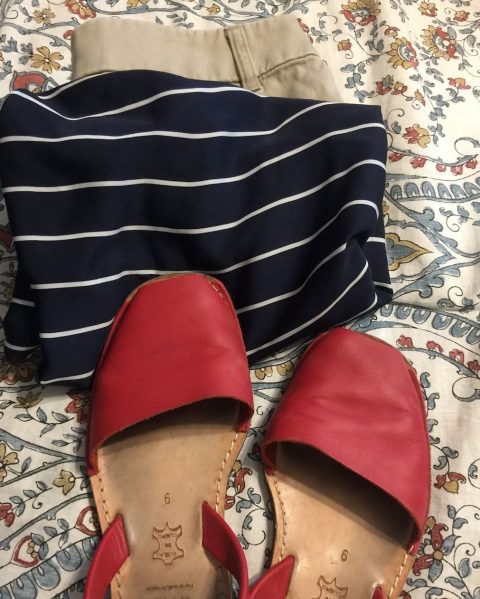 I've been packing lighter for several years now, ever since I embraced a semi-minimalist lifestyle. While I have noticed that I occasionally mourn a more complex outfit, by and large, a simpler approach means less to deal with, an easier suitcase to unpack at home, and less choices I need to make while I'm on vacation.
I do often wash clothing while I'm away. I find that there are almost always places to wash your clothes. I can mix and match quite a few outfits with my few shorts, pants, and shirts, so I look different every day.
Well that's it! How do you pack for a week away? What do I include that you leave out? What can you not live without that I didn't bring?