Hi! I'm back with another net worth update.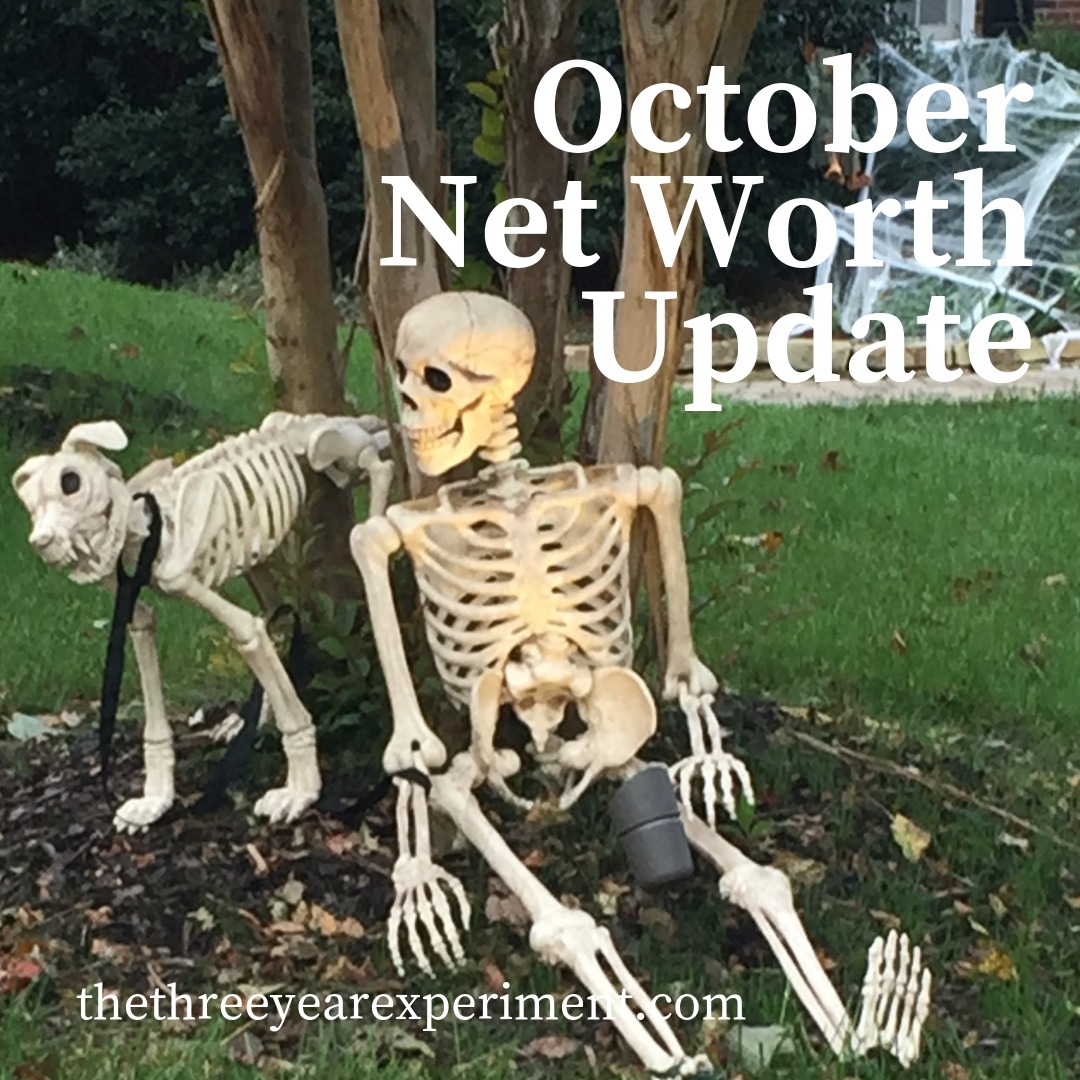 October was a fun, warm, leave-changing, slow fall month for us. I say "slow fall" because in New Hampshire, the leaves started changing colors around August 1st (every year!) and then from mid-September to the first week of October, went into riotous "bloom" until a heavy rain would take them out and all the leaves would be bare. Fall was brief.
In North Carolina, fall has slowly moseyed its way in, the leaves have taken their time changing color, getting darker and darker over weeks, not days, and are also taking their time dropping to the ground, as the temperatures shift between 40s and 50s to 60s and occasionally, 70s (F).
I know I talk about the weather a lot. But when you spent the last eight years as a Southerner in exile in bleak New England, you get at least a year to geek out about the amazing warm weather in the South.
If you're just joining, our family of four is on a three-year journey to double our net worth and become location independent. Since we've achieved the latter goal, we'll be primarily focused on the former in each of these reports going forward. Each month, I record our progress on our net worth and our spending. Last year, we increased our net worth by 32% over the year before. This year, we're trying to increase it by more than 65% from where we started in December 2016. It's looking more and more like we're going to miss that by a wide margin. But since we know we don't always reach our goals, especially our BHAGs, we'll just keep working 'til we hit it!
Our Progress
As of October 31st, our net worth has increased by a total of 42.7% from our starting point in December of 2016. Like many people's, our net worth took a decided hit last month. In fact, it took a 4.3% hit. Some of our net worth is in real estate and isn't affected by market volatility, and some is in cash, but a lot is in investments.
For awhile, I was bummed that our net worth hasn't been growing as fast as last year. Since we've moved, it's creeped up in tiny fits and starts, hardly increasing a percentage point each month. But then, I started calculating how much we've saved this year! We have saved almost double what we saved last year. Our income increased, too, so our savings rate didn't double proportionally, but even so, I stopped feeling bad about our lack of progress in achieving our net worth goal because…
that's out of our hands.
If we saved practically double what we saved in 2017, then we did everything we possibly could in that arena. Part of the reason our net worth took a hit was because of the real estate fees and commissions we paid when we sold and bought a house. Then, the market took a little tank last month, which we all knew was coming, and isn't over with. But the total $$$ saved doesn't lie. We are changing our behavior, which is huge.
Here's a graph to track our progress:
Spending Update
I've updated our spending reports to reflect the most important expenses for us, the ones that will reflect our true costs in retirement. These include healthcare costs, currently automatically taken out of Mr. ThreeYear's paycheck, living costs, and charity costs. I'm not including our mortgage because we plan to have our house paid off in retirement (or we'll pay cash for a smaller one if we downsize).
october SPENDING:
ChariTy
Charity: $88. We have our Compassion Christmas + monthly giving. When we belonged to a church back in NH, we gave a monthly donation to the church but we haven't begun this yet since we haven't joined a church here.
Food
Groceries: $604.84. Read our food report for all the details of how we got our lowest month of the year! (Woot).
Eating Out: $260.73. We ate pizza twice, Chinese food once, at the Mexican place twice, at our local brunch place once, fast food twice, and once we got a dozen and a half HOT and NOW Krispy Kreme donuts!!! All those meals were for all four of us, except for one when Mr. ThreeYear was out of town. (We need to eat a little more healthily in November, I'm thinking).
Fun
Entertainment: $180.83. We spent approximately $150 on the Renaissance Fair (even with coupons for free kids' entrance!), which happens once per year right around the corner from us, and it's huge. So we went and saw it, and did all the things, and paid a gazillion dollars for every stinking exhibit. Then, we all happily concluded that it's overpriced and we will never visit again. Checked off the list! The other $30 was spent on camping gear and fees for our camping trip (one night in Pisgah National Forest. So much better than the Ren Fair!).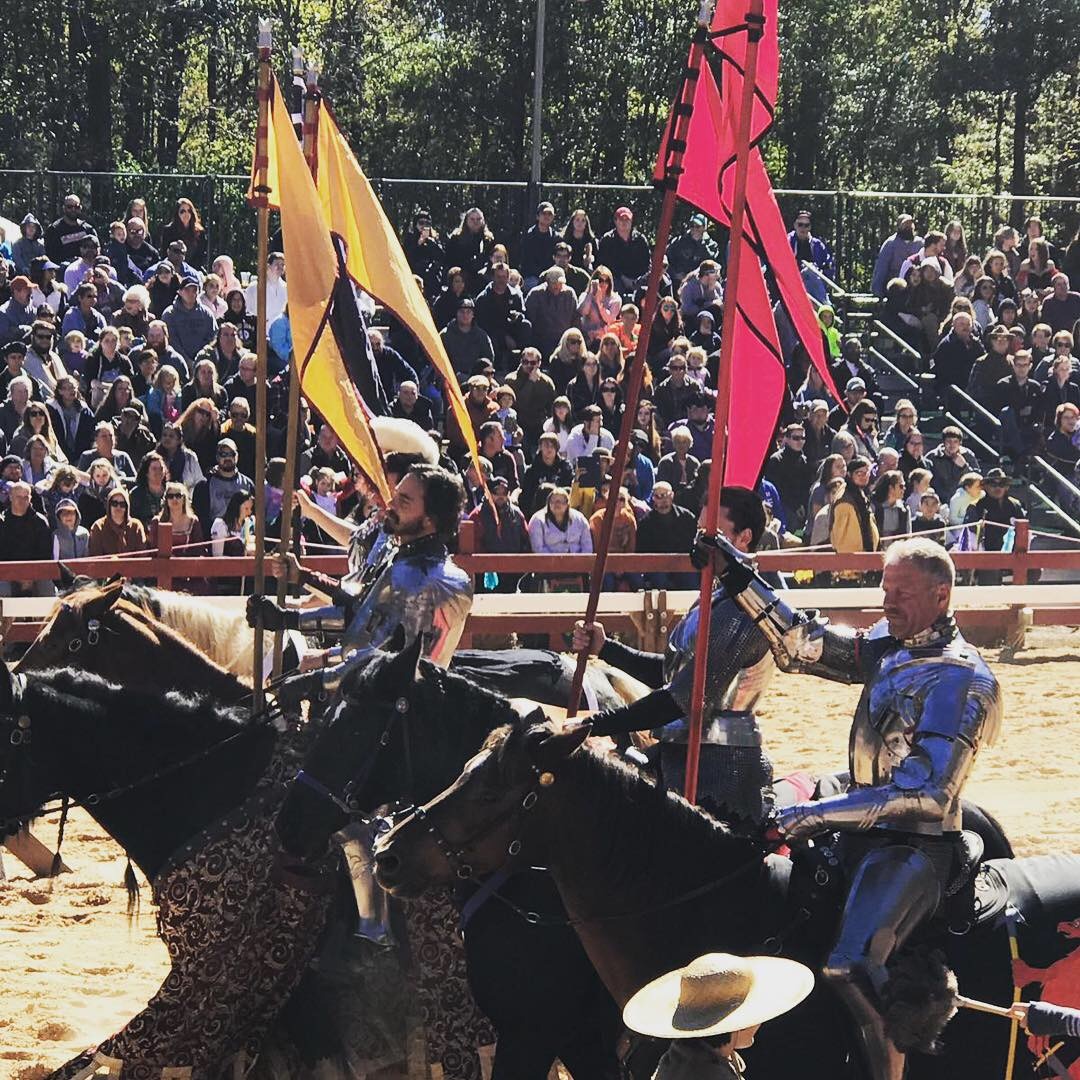 Fun Money: $260.23. This includes Mr. ThreeYear's and my discretionary spending money. I had several coffee outings with my sister, which have been awesome, and I also spent $58 for tickets to see Glennon Doyle speak. BUT I'm going to have to miss her so I'm bummed. I'm hoping my sister will go in my stead. Mr. ThreeYear bought a Sonos device that allows him to add a subwoofer (non-Sonos) to his Sonos speaker setup. He also bought two used tennis raquets now that he's playing a lot of tennis.
Gifts: $88.35. Birthday and some Christmas gifts.
Health
Health insurance: $724.72 This is the amount that is taken out of Mr. ThreeYear's paycheck for health insurance. It includes medical and dental coverage plus FSA reimbursement for our family of 4. I'm pretty excited because I just found out his company is offering an HSA for next year! We're maxing it out and paying a lower premium for the high-deductible health insurance option. This will mean more medical costs that we'll pay out of pocket, but we'll be saving a bunch tax-free that can grow tax-free and be withdrawn tax-free (for qualified medical expenses!), so that is a sweet deal.
Fitness: $368.05. This is for tennis, swim, and fitness classes/gym in our neighborhood, plus the cost of a Labor Day event we went to with my family, which included a brunch (we pay our fees/dues a month after). It should really say Fitness/Social, because those are the two big categories this membership fulfills for us.
Household
Home maintenance: $94.65. Some leaf bags and mower oil at Lowe's, a couple of things at the Dollar Tree, and three rugs I found on FB Marketplace for $50.
Clothing: $216.54. We went shopping for Mr. ThreeYear.
Haircare: $10.99. Super Cuts.
Household goods: $49.73. Cleaning supplies, deodorant, etc.
Kids
Lessons/Costs: $64.09. A Groupon for two for a climbing wall, supplies for two "Boo" bags, which were fun to make and drop off, photos, and a school lunch deposit of $25.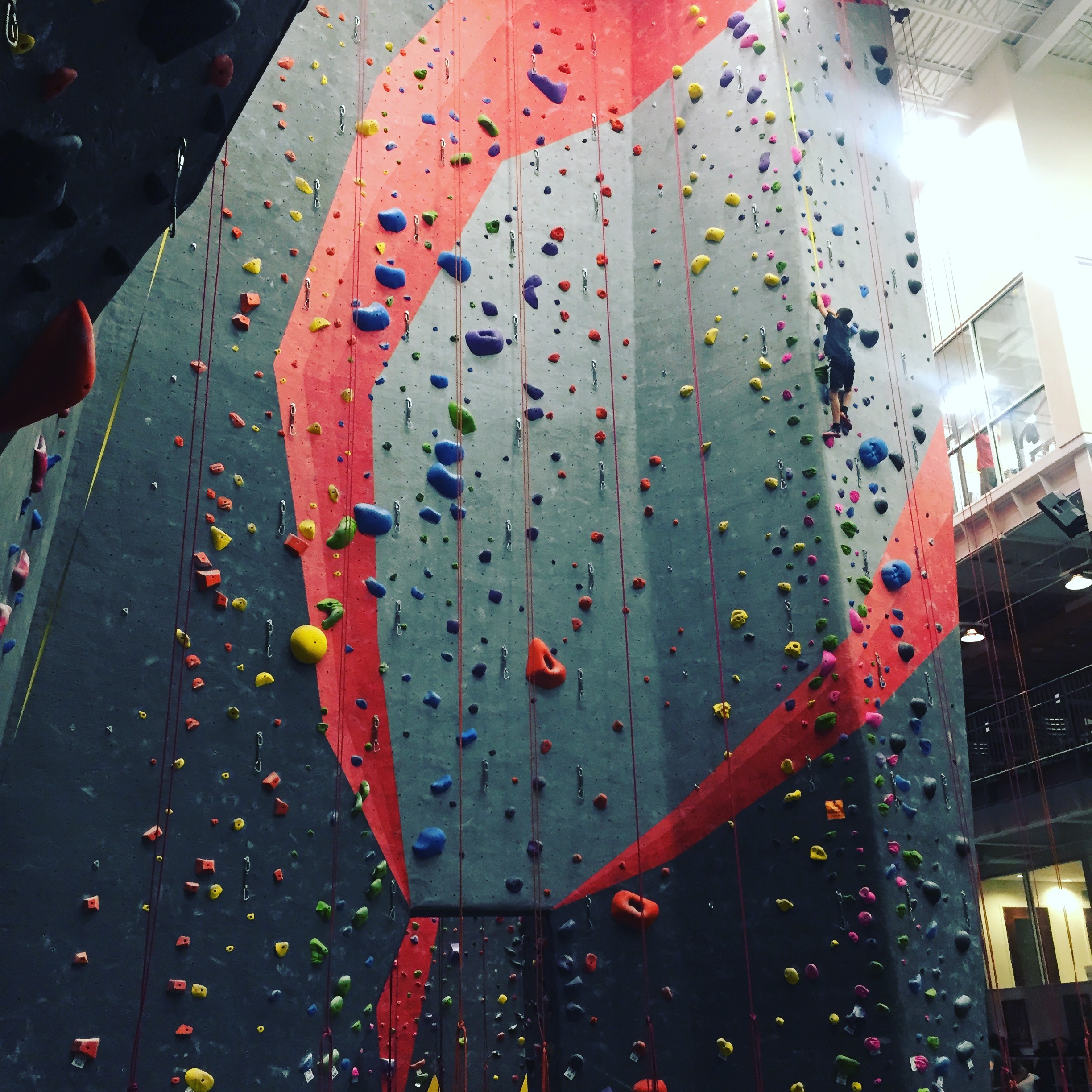 Allowance: $94.62. This category is a little bit of a misnomer this month, because most of the costs come from money we allowed them to use to buy souvenirs at Disney. They didn't find anything they wanted at Disney, so they talked me into letting them use their money for souvenirs they wanted from Amazon (a video games and a Lego set). Also, Junior ThreeYear used some of his virtual allowance money on a video game (when Mom forgets to give allowance out in cash, it becomes virtual!).
Pet
Pet costs: $550.16. The main cost is the $306 we spent to board Lucy while we were at Disney. We will look into other options for the future, including pet sitters, but since she was such a little puppy, we didn't want to take chances with a sitter. We also spent $75 on her vaccinations and vet visit, some on supplies and food, and some on… more toys. Oh, also a dog bed.
Transportation
Gas: $65.09. I can't believe this cost! It's our lowest ever, I think. Working from home, happy dance!
Maintenance: $52.53. We had a rattle and found a good mechanic to fix it for cheap.
Utilities
Internet: $44.95. New, high-speed internet (up to 100 mbps) at our new house.
Subscriptions: $25. Home phone through Ooma, Spotify, Skype.
Electric: $205. This was really September's bill paid in October, so that's why it's still so high.
Natural gas: $18.09.
Water & Sewer: $0. Our bill was actually around $95, still a lot lower than it had been, but we had a mess-up, and it didn't get paid. But, our bill for November was just $38!! So I'm feeling hopeful that maybe our water bill doesn't have to be as large as I thought.
Cell Phone: $50.25. Since I'm not working our house pays this again.
Vacation
Vacation: $730.49. This included our Frontier bag fees, parking at the airport for a week, one dinner out, gratuities, and a couple of drink purchases at Disney, and food going and coming to Orlando. For all the details of our Disney trip, check out this post.
Total:$4841.93
Here it is again in a condensed table format.
October Spending
| CATEGORY | COST | NOTES |
| --- | --- | --- |
| Charity | $88 | Compassion International, family help |
| Food | $865.57 | groceries and eating out |
| Fun | $529.41 | entertainment budget, fun money for Mr. ThreeYear and me |
| Health | $1092.77 | health insurance and fitness costs |
| House | $371.91 | maintenance costs, household goods, clothing, haircare |
| Kids | $158.71 | climbing date, souvenirs from Disney, Boo bags for neighbors |
| Pet | $550.16 | a week of boarding while we were at Disney, vet visit, vaccines, toys, food |
| Transportation | $117.62 | gas and maintenance |
| Utilities | $343.29 | internet, phone, Spotify, Skype, electricity, natural gas, water & sewer |
| Vacation | $730.49 | airline bag fees, parking, food to/from Orlando, one dinner in Epcot, gratuities, drinks |
| TOTAL: | $4841.93 | |
This month, our vacation (and related pet) spending took a big chunk out of money we send to investments. It's more evident than ever, now that I'm not bringing in an income, that what we spend affects our ability to save. I'm grateful that we have no debt, so that we could cash flow our trip, but I'm more cognizant than ever that our spending choices affect our saving/investing ability.
Getting a Month Ahead in YNAB
We've now been a month ahead in budgeting for three months. I cannot overstate how much this one small, but difficult-to-implement change, has helped our budgeting. Because we have a set amount to budget at the start of each month, waiting to be allocated, it is clearer than ever that our money is finite, and we must spend it carefully.
We also have to ruthlessly prioritize, because we can't do everything we want to do at once. I'm excited to see what the last two months of the year bring, in terms of total savings. We may not reach our net worth goal, but if we could manage to save 60% of our net income, that would be sort of amazing!
How did things go for you in October?