We have crept into November, here in the Piedmont region of North Carolina. Our trees are now handsome shades of red and orange, and while nothing rivals the splendor of a New England Fall, the foliage is looking particularly lovely right now.
And I don't have to brace for seven months of winter, either.
Life is good.
I thought as much on Sunday when I looked next to me and saw my sister on the pew next to me in church. We've started attending the same church on Sundays and it's just another way I get to see my nieces and my sister and BIL regularly. It's hard to explain the satisfaction that comes from living close to my family. But it's a feeling of relief. I'm not living 14 hours away anymore. I don't have to plot and scheme to figure out how to move closer to them. We're currently living in the most idyllic of locations, our little town of Davidson. The weather is lovely, most of the time.
This week was Halloween and at my school, we had a Trunk or Treat event for the kids, replete with a Halloween-themed scavenger hunt. My middle schoolers brought flowers for the Ofrenda we created for a beloved teacher who died last year.
My own kids trick-or-treated in our neighborhood, despite steady rain, and came back with an impressive haul.
Thanksgiving is just around the corner and I get an entire week off. We'll head to the beach house to soak in some sand, turkey, and family.
Our Progress
We did so well in September with our spending, but October saw us back to our newly-spendy(er) habits.
We've been using the part of my salary that's not designated for my 403b to fix up several things in the house that need fixing. We've updated our dishwasher, which was essentially worthless, and just finished getting our cabinets painted. We toyed with the idea of doing it ourselves, but the truth is, we had no idea how, so I'm infinitely glad we left it in the hands of professionals.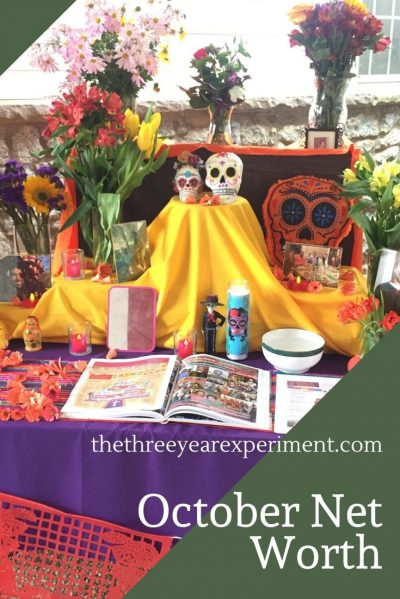 Here's the chart outlining our progress. We're currently at 72.56% of our goal. This year we've spent more and saved less, honestly, and since I've only been working for the last few months of the year, we've saved less than we have in the past.
Still, I'm content. Our spending is in line with our values and we should be able to reach our retirement goals nine years from now, when Little ThreeYear graduates (sniff sniff).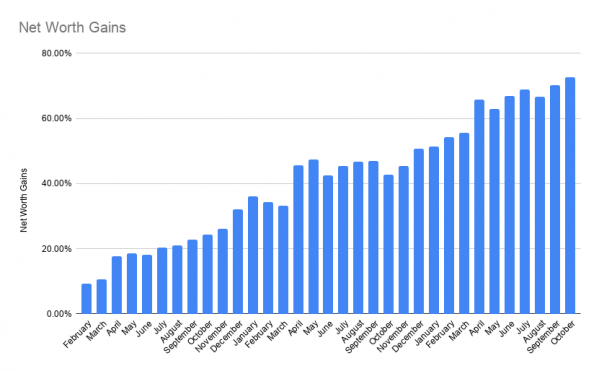 Percentages
While I don't share actual numbers, I thought it might be an interesting addition to my net worth updates to share percentages. This is currently the percentage of net worth that's in each category.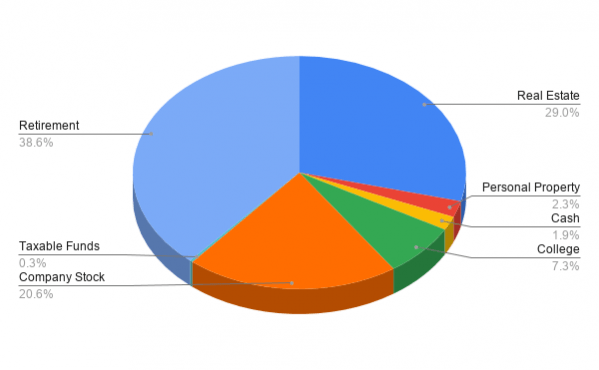 Our real estate is the equity in our home and our apartment in Chile. Our company stock is from Mr. ThreeYear's company and part of his yearly compensation. We are currently working on beefing up our and taxable fund. It will be fun to watch the change in these percentages over the next year.
Spending Update
We are not-a-super-frugal family, so I hope our spending reports are helpful to look at/inspirational if you're not either.
You can also scoff at the ridiculous amounts we spend in all categories, and scroll this post, metaphorically patting yourself on the back in a self-congratulating manner, if that's more your style. Whatever floats your boat.
Here's our financial situation:
We're debt free, except for our 15-year mortgage.
We achieved our dream of location independence, so we're not in a hurry to reach FI after doing that.
We are a high income family, as per this calculator.
We are not planning to retire for another nine years.
We plan to retire in the FatFIRE category (here's the definition of that term).
We're not particularly frugal, although we have been working to get better at our spending for the past decade.
Notes on Our Spending Reports
We don't include our mortgage in the spending reports. These spending reports are a way for us to have a more realistic idea of what we'll spend in retirement, and since our mortgage will be paid off then, we don't include it.
We do include the costs we pay for health care, since we'll definitely be paying those costs in retirement.
Our spending reports don't show how much we save, only what we spend. But the less we spend, the more we have to save.
OCTOBER SPENDING
We use YNAB to track our spending, and we budget a month ahead, meaning we use money from the previous month, September, to pay for our expenses in October.
While September was a pretty good spending month for us, October saw us spending a lot more, especially on home projects.
We also went out to eat a lot, especially during the week that we were having our kitchen cabinets repainted.
Charity
Charity: $183.62. Our monthly contributions for our sponsored child, kids at the border, and church offering.
Family help: $720.43. We had a relative who needed some help with a medical cost.
Food
Groceries: $959.36. We have been using the Wal-mart Pick Up Service this month and I have to say, it is very convenient. But I think we go overboard on ordering a bit. This is because Mr. ThreeYear has been ordering and he likes to have a full pantry and fridge. He will be gone for the next two weeks so I'm going to be eating down our stores.
Eating Out: $ 555.14. This was a very high month that included one night out to a delicious new tapas restaurant (where afterwards, unfortunately, I got very sick with the stomach bug my kids had the week before so I'm not sure if I'll be going back anytime soon). It also included lunch at a delicious Honduran restaurant that the people who were painting our cabinets told us about. The kind of place where, if you don't speak Spanish, you can't really order. 🙂 I took the kids out to all-you-can-eat-sushi while Mr. ThreeYear was traveling earlier in the month and they charged us for pieces we didn't eat, which really annoyed me, so I'm not planning to go back.
Fun
Entertainment: $115.64. This included a trip to Old Salem, a historic colonial town founded by the Moravians in Winston-Salem, wood and supplies for our camping trip, and the movie Pets 2.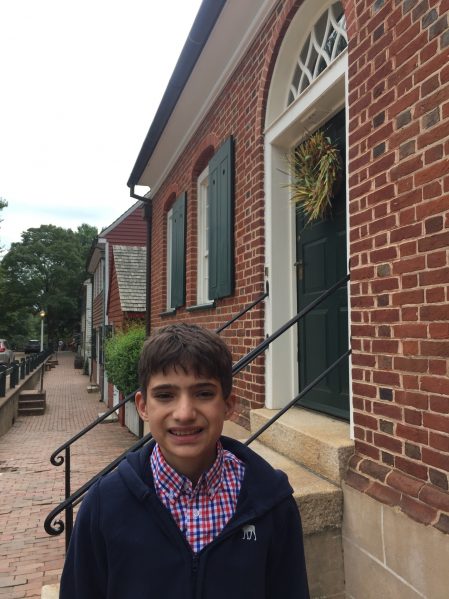 Fun Money: $331.17. Mr. ThreeYear bought some stuff for the house on FB Marketplace, and I went to a Succulent-Pumpkin party.
Gifts: $67.52. Two birthday gifts.
Health
Health Insurance: $447.68 This year, we switched to a high-deductible HSA account. In addition to our health and dental premiums, we also have $250 per paycheck taken out for our HSA fund.
Fitness: $363. Tennis and swim dues.
Household
Clothing: $0. Goose egg. Rare in this category.
Compost: $20. We have a monthly composting service.
Haircare: $0. Two in a row.
Home Maintenance: $3036.58. Made up for it and then some in this category. We are using some of my earnings from my job to complete upgrades on the house, including a new dishwasher (the one that came with the house was on its literal last wheel and didn't actually clean our dishes) and having our kitchen cabinets painted. We figured that was a lot cheaper than a kitchen renovation. See before and after pics of the cabinets below. We also bought new hardware.
Household Goods: $419.53. Wine and liquor from New Hampshire, an inflatable mattress for our camping trip (a literal bust), office supplies, a smart light switch, and several other items.
Housekeeper: $100. We just hired a housekeeper to help clean our house now that I am working full time. She will normally come twice a month but only came once per month this month. It has been so nice to have cleaning help! I am not a very motivated cleaner.
Postage: $0.
Service Fees: $5.50 Someone who-shall-not-be-named keeps taking cash out of the wrong ATMs.
Kids
Activities: $230.50. Junior ThreeYear is swimming in a competitive league, and Little ThreeYear is taking weekly lessons as part of the tennis academy.
Expenses: $201.76. The kids are now eating lunch at school, we bought discount cards to support the PTA, and Junior ThreeYear is going on an overnight retreat with the church group. This category also includes about $40 in books for Junior ThreeYear.
Pet
Pet: $48.25. Pet food.
Transportation
Auto maintenance: $0.
Gas: $139.97. Normal. Nice that I work so close to my house.
Utilities
Internet: $56.95. Mr. ThreeYear's work is no longer covering this. Easy come, easy go.
Subscriptions: $40.41. Ooma, Spotify, Skype, Netflix.
Electric: $181.02.
Natural Gas: $18.33.
Water & Sewer: $93.59. We are still watering our grass.
Cell Phone: $56.91. This bill now includes my cell phone from Total Wireless plus the boys' Relays, which are $10 each per month.
Total: $8089.36 (without the home Maintenance, $5052.78)
Here it is in a condensed format:
October 2019 Spending
| CATEGORY | COST | NOTES |
| --- | --- | --- |
| Charity | $904.05 | Compassion International, church, family in Chile |
| Food | $1514.50 | lots of groceries, lots of eating out |
| Fun | $514.33 | Old Salem, gifts, succulent pumpkin party |
| Health | $810.68 | health insurance and swim, tennis costs |
| Household | $3581.61 | painted cabinets, liquor, inflatable mattress, housekeeper |
| Kids | $432.26 | kids' tennis and swim lessons plus lunch, overnight church retreat |
| Pet | $48.25 | one bag of dog food |
| Transportation | $139.97 | gas |
| Utilities | $447.21 | phone, Spotify, Skype, electricity, natural gas, water & sewer |
| TOTAL: | $8089.36 | Without home upgrades, $5052.78 |
November
With my job, there seems to never be enough time, and yet I am way more productive than I was last year. I look forward to my writing times on Tuesday and Thursday mornings so much, but I also hit the snooze button a lot on those days, cutting into my time.

I'm looking forward to Thanksgiving, where we'll have a full week off to enjoy the beach. With our schedules this fall, we haven't made time to get away to one of our favorite places.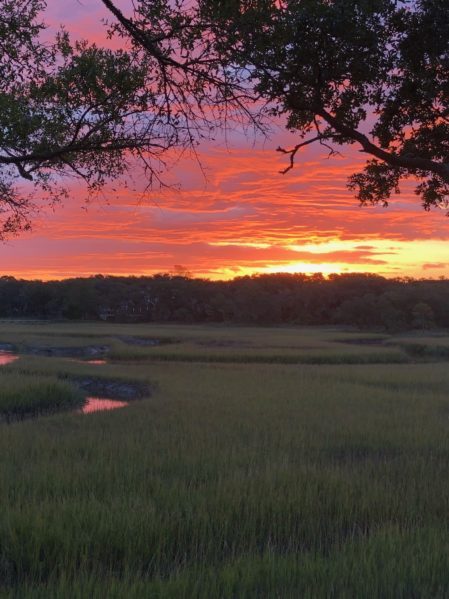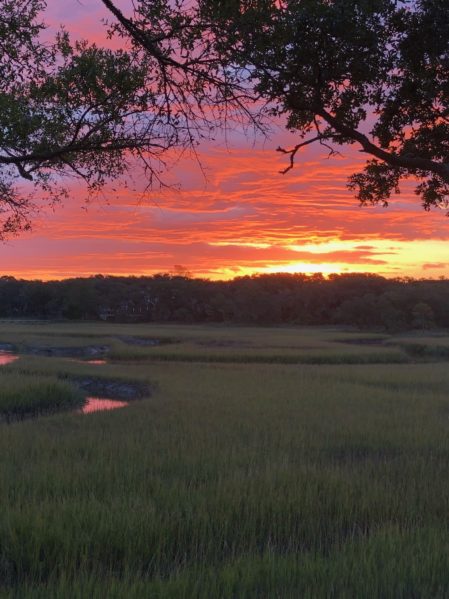 I've now got a routine in place that involves writing and working out, so I hope to post more regularly. It's definitely been a challenge to fit in the important things now that I'm working, but without them, life's just not as rich.
See you next month!