On Monday I shared the first half of our year in pictures, everything that happened in 2018 from January to the end of June, just before we officially became location independent. Today, here's a visual post on what our lives have looked like in the second half of the year, from July to December, since moving to North Carolina and enjoying more location freedom.
July
On July 2nd, we closed on our new house. Our moving van showed up on July 3rd with all of our furniture, and we spent Independence Day drowning in boxes. Even posting these pictures makes me remember that horrible, overwhelmed feeling of not knowing where anything was! I kept telling Mr. ThreeYear, "We're never moving again!"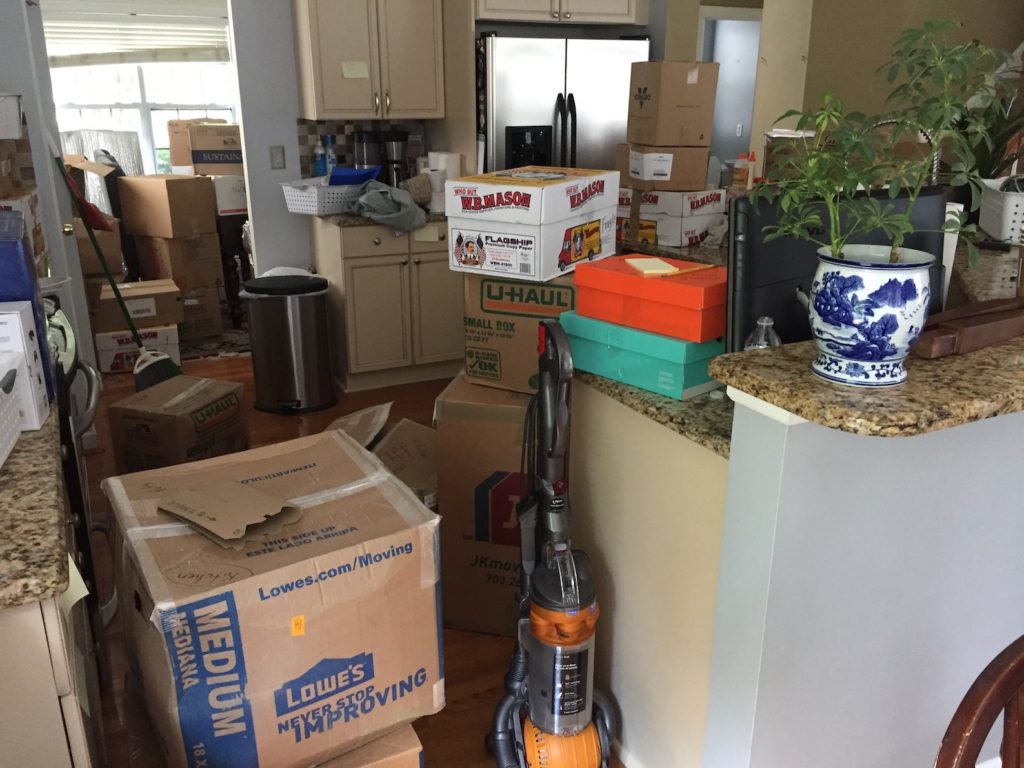 There were boxes everywhere for several days. We did our best to get everything unpacked, but unlike the last time we moved (from our rental to our new house in New Hampshire), we didn't have the luxury of moving slowly, in increments. Everything arrived at once.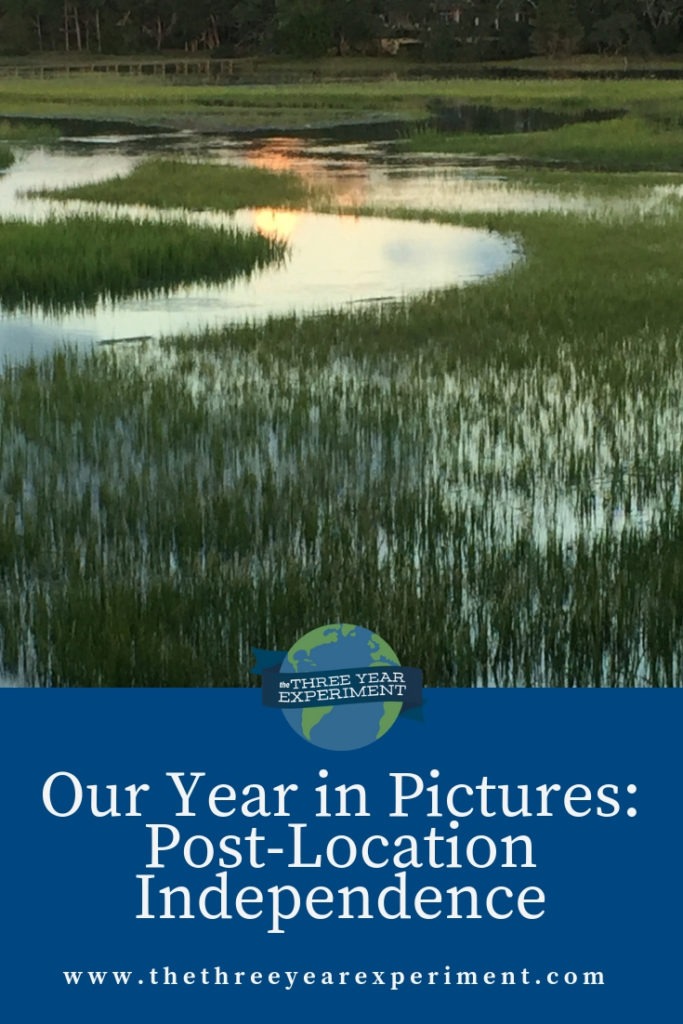 Mr. ThreeYear's first priority was to get his home office set up and test out working remotely, so he spent the first day or two doing that, while I went crazy trying to put a little order in the house. The boys were really helpful, unpacking their boxes, playing, and generally staying out of the way.
I made my first trip to Aldi with my sister to stock up on food. I was in heaven! This was going to be the beginning of a beautiful relationship…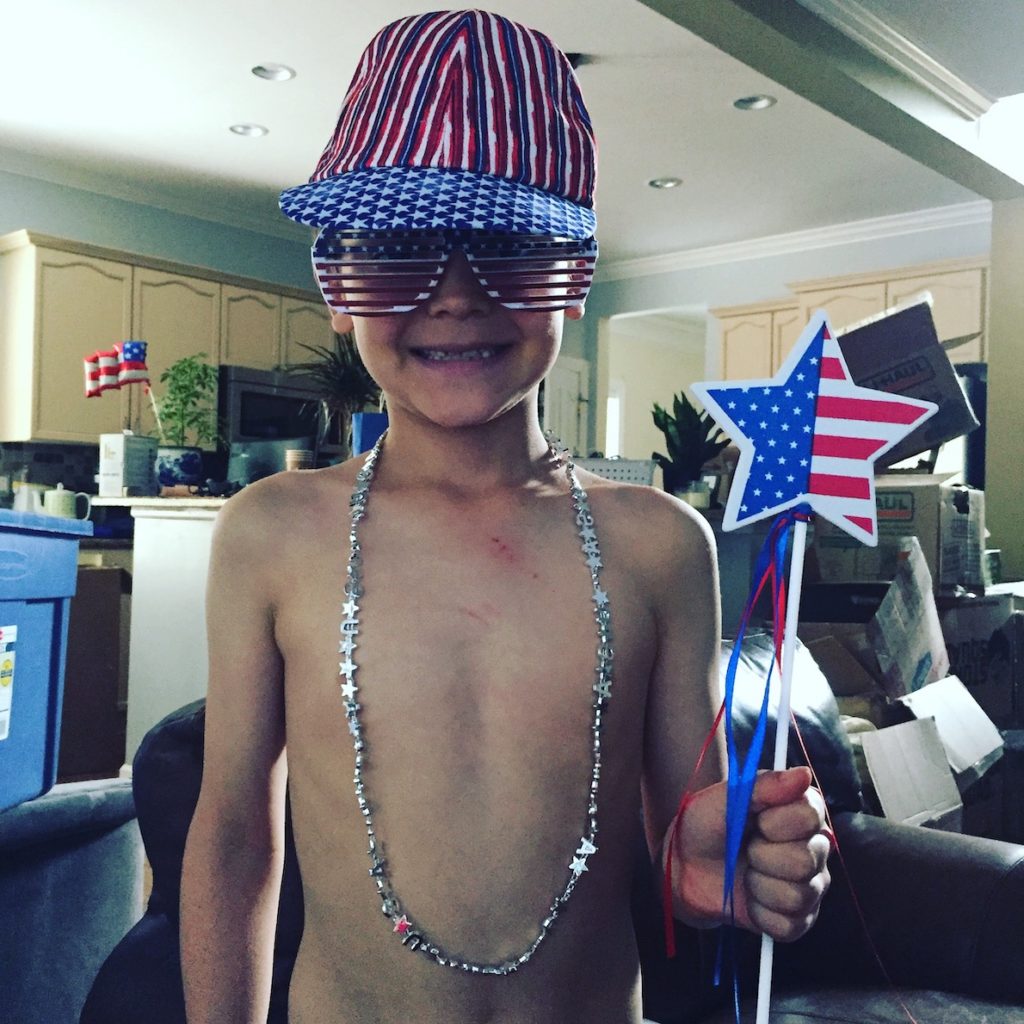 We celebrated July 4th amid a pile of boxes, although I did manage to find our decorations. Little ThreeYear, with his signature style, made sure we had some fun between unpacking boxes.
I made my first meal in our new house and was super proud. Everything came from Aldi and it was a one-pan wonder. After being unable to find anything for days, this meal felt like the biggest accomplishment!
On Friday of that week, we decided to leave all the boxes and drive four hours away to our family beach house. The rest of the family was already there, celebrating July 4th (thanks for the help with unpacking, fam!). We joined them and it was the best feeling in the world to wake up in the morning to this view, and no boxes!
We had a blast in the ocean, trying to catch minnows in the tide pools, and soaking up the sun and warmth.
We even celebrated my 39th birthday at the beach.
I made the kids watch The Princess Bride, which they loved (of course!), and we decided Little ThreeYear looks a lot like a young Fred Savage.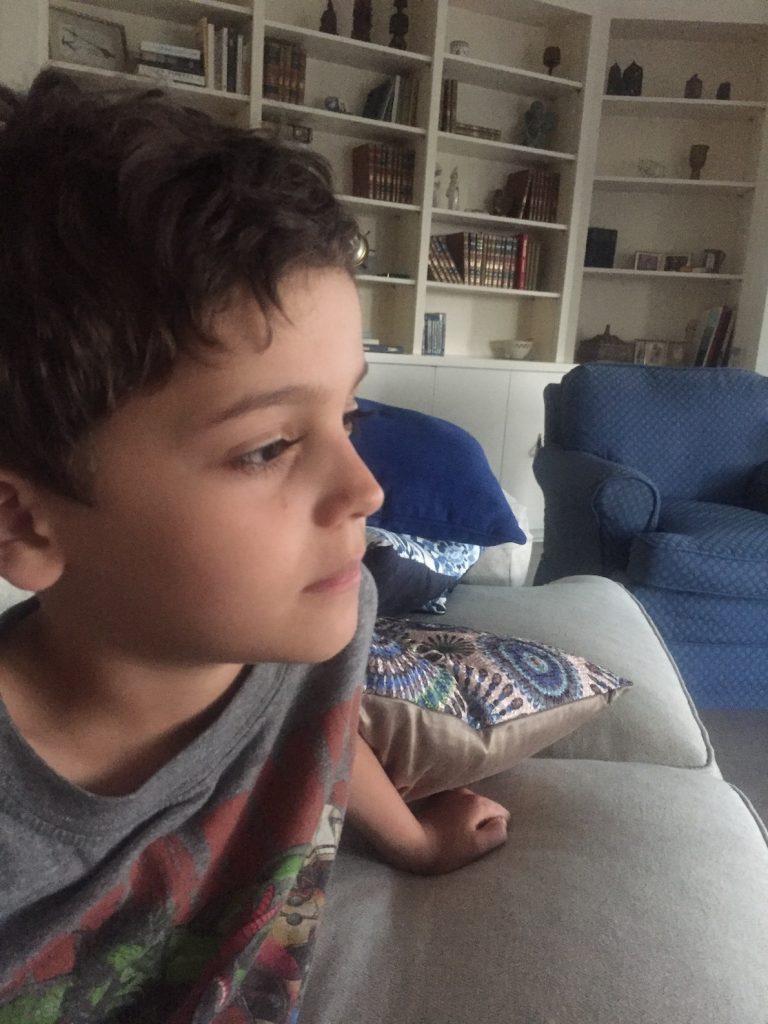 What do you think?
August
We kept putting the house together, little by little. In August, I decorated Junior ThreeYear's bedroom (still haven't gotten to Little ThreeYear's).
Then, I got talked into this:
Yes, we adopted Lucy, our labradoodle.
This picture just slays me, every time. She slept so much!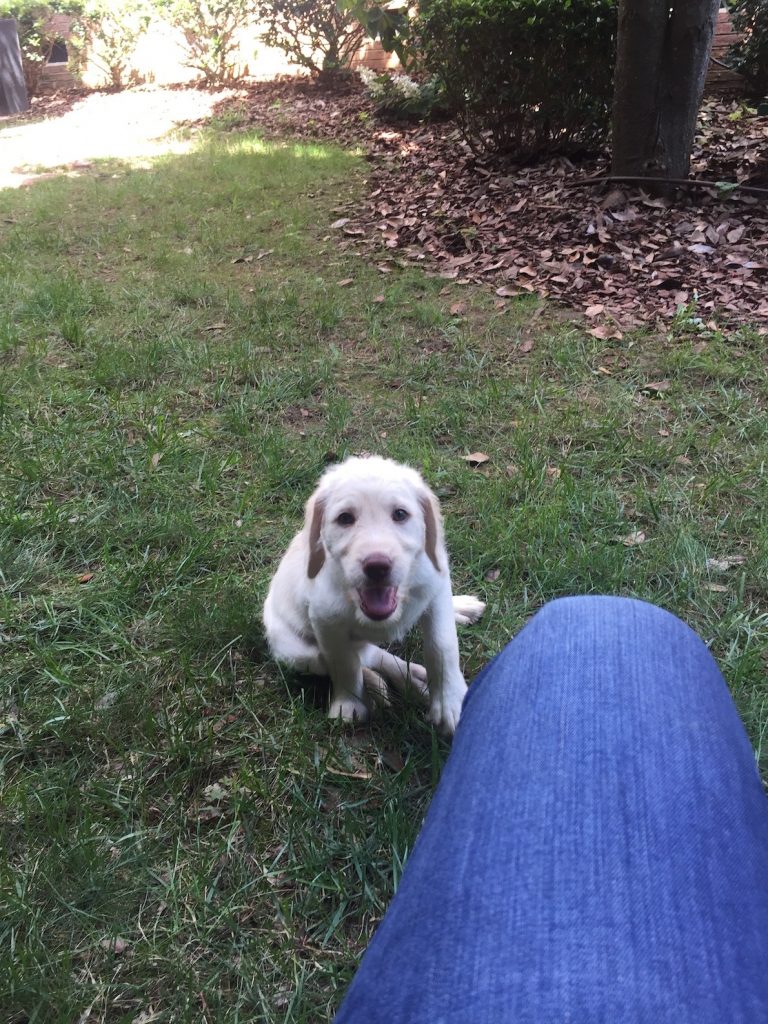 I can't believe how small she was in these pictures! She grew fast! Needless to say, she changed our lives a lot. I was on puppy duty 24/7 for awhile. I got up at 5am to let her out, then tried to play with her in a sleepy haze until my coffee kicked in.
We still managed to take some small trips and take advantage of the last weeks of the summer.
Finally, it was time for the boys to start at their new schools. Little ThreeYear started third grade, and Junior ThreeYear started his first year of middle school (sixth grade).
September
In September, we took another trip to the beach for my cousin's wedding, this time bringing Lucy with us.
She loved the ocean so much. We took her every morning and let her run on the section of the beach where dogs can run off leash.
When we got back, we began to settle into a school routine. That is, until not one, but two hurricanes tore through the Charlotte area and we had a total of four days off from school.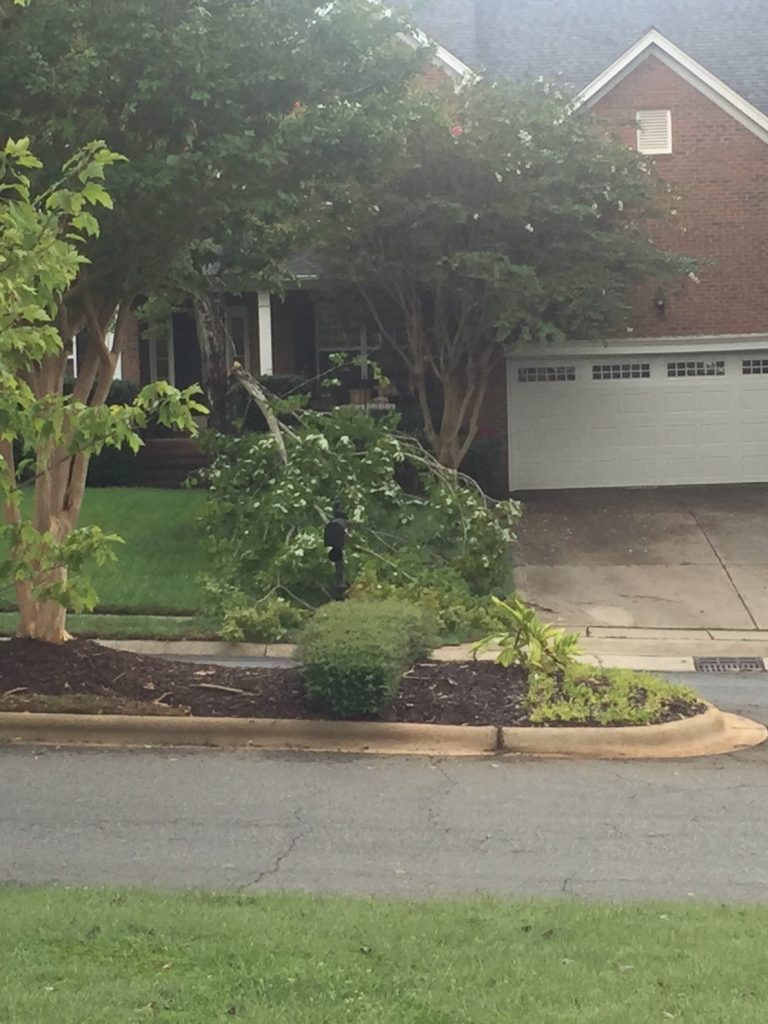 Luckily, we only saw a few tree limbs go down in the neighborhood, and some pretty intense rain. The eastern parts of North Carolina were pummeled.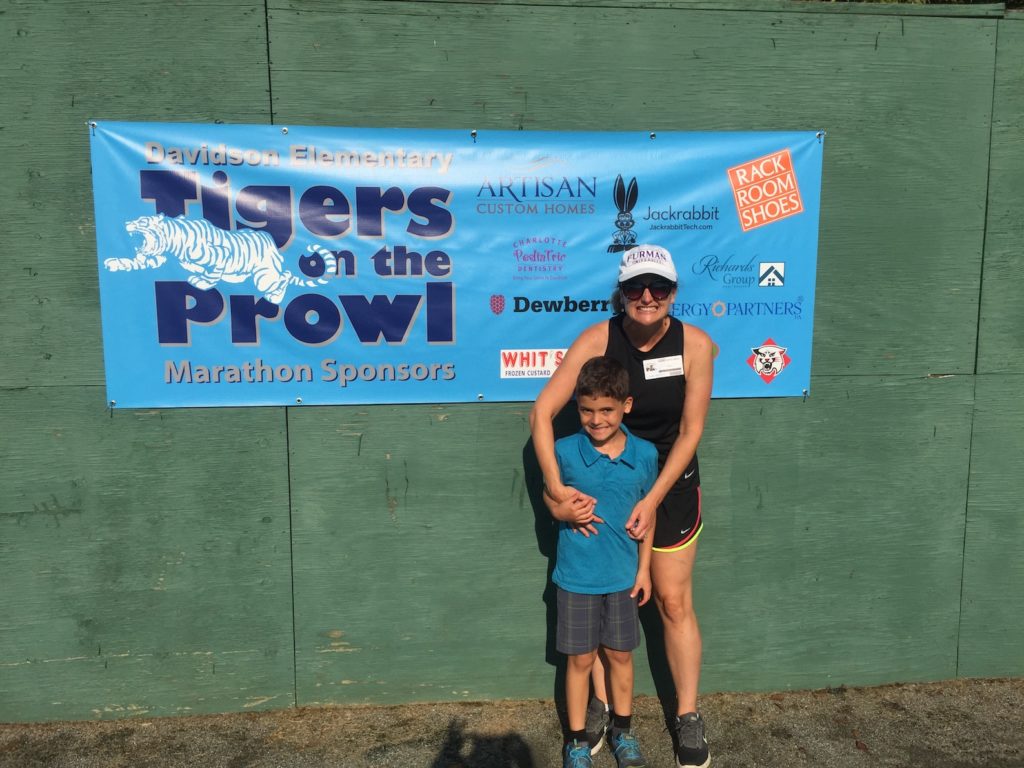 Later that month I got to go hang out with Little ThreeYear at school and kick off his fitness program, where the kids spend their breaks running. He's now run the equivalent of a marathon in laps around the school as of January!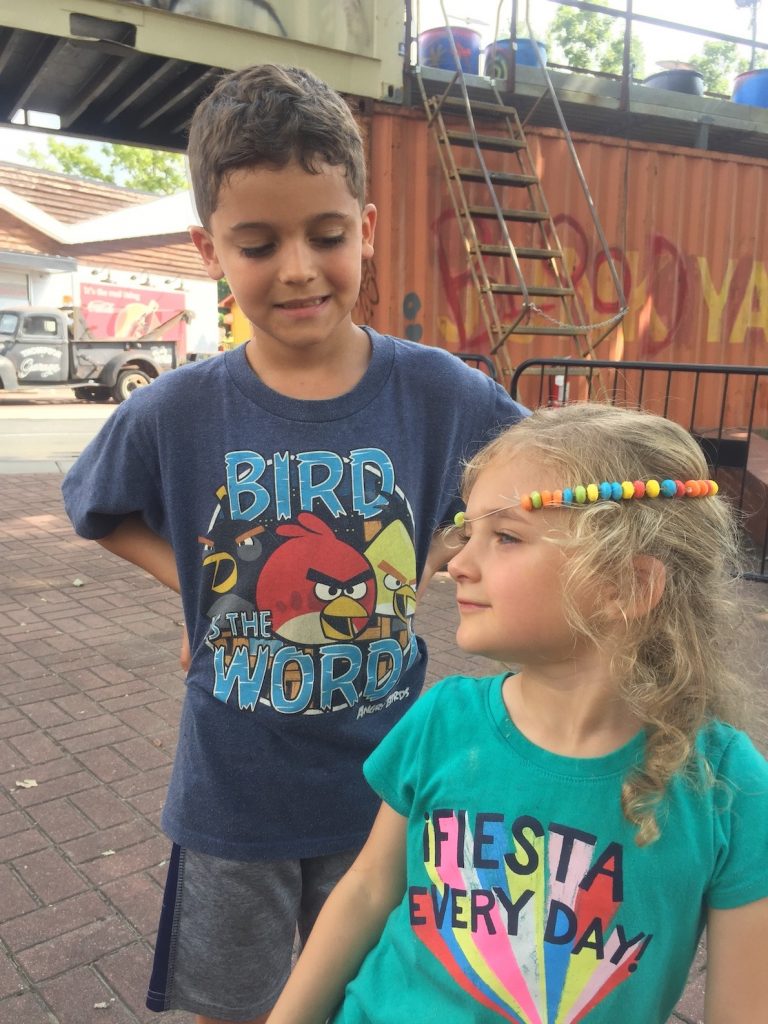 And we took the boys and their cousin to Carowinds, to celebrate Junior ThreeYear's birthday with the family. It was also a good preparation for a trip that would happen in October.
Soon, it was time for:
Where I met:
and:
and:
and even:
because I ran her down and stalked her!!
FinCon was so much fun. Amy and Vicki from WomenWhoMoney made it absolutely incredible (I stayed with them and several other amazing women).
It was also in a beautiful location.
How could you not have fun in such a beautiful place?
Immediately after FinCon ended, I went back to the airport and got on the Disney bus, which took me to meet the rest of my family in…
Disneyworld!
October
After eleven years, we finally took JuniorThreeYear (and Little ThreeYear, and Mr. ThreeYear, for the first time ever) to Disney.
We decided, because it was our first (and probably only) trip, that we were going to do it up. We stayed in the Polynesian, got the meal plan, and generally had a blast.
For all of the details of the trip (and the $$), read my complete post.
The one exception I might make to going back to Disney is when they open Star Wars World. All of my people loved the Star Wars exhibits so much.
"Would you like to swing this light saber?" "Um, yes!?!!"
I think Mr. ThreeYear may have cried a little bit when we met Chewy.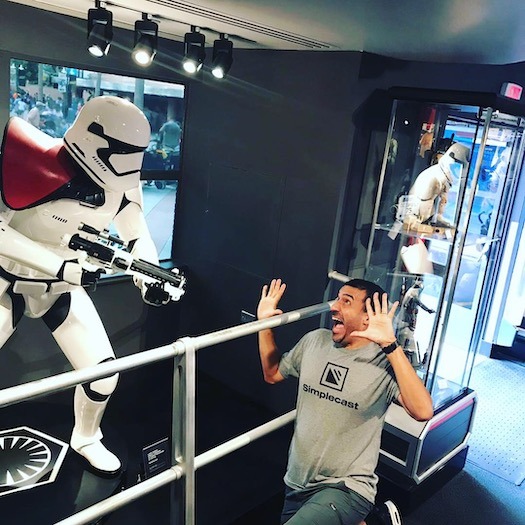 He definitely had the most fun of anyone.
We stayed at the Polynesian and it was divine. It was so beautiful.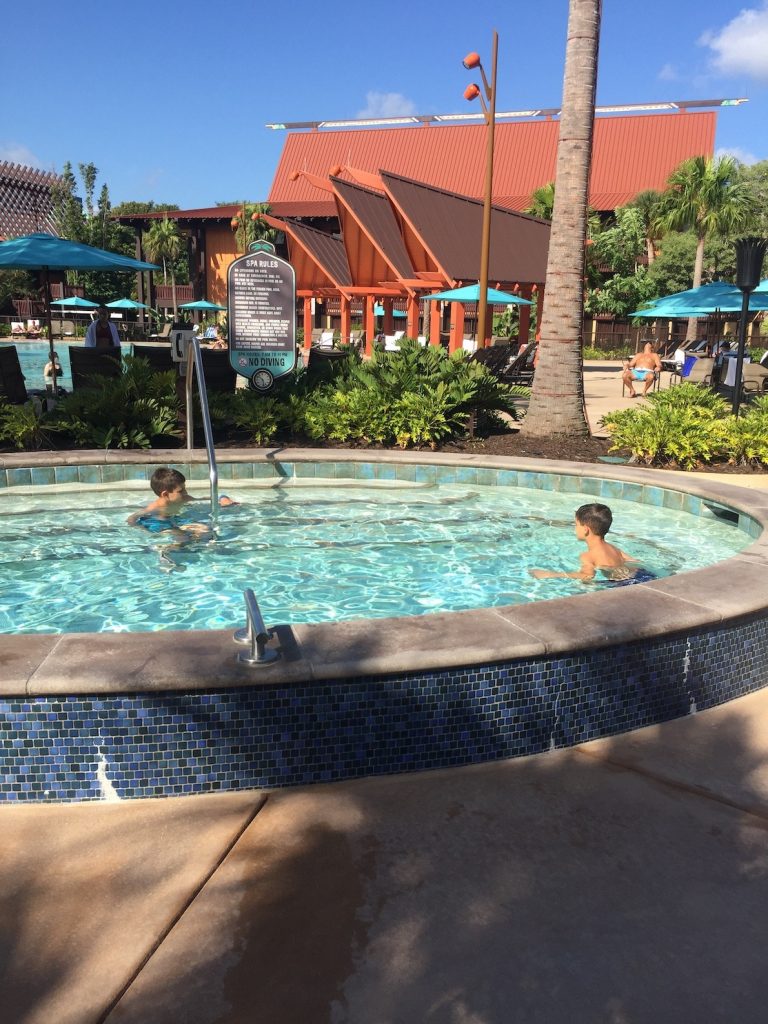 And the pools! It's hard to post these pictures on this wintry morning and remember how beautiful it was there! (Although I shouldn't complain, it was 55 degrees here yesterday).
Later that month we went to the Carolina Renaissance Festival, just down the road from our house. While we jaded adults found it overpriced and underwhelming, the kids had a fabulous time, especially watching the jousters (who were high as kites, let me tell you… I'm so jaded!).
Please, give us all your money.
This was, admittedly, very cool. The kids got to bounce waaay high on these trampolines, ubiquitous as they were in Renaissance Times.
The jousting tournament (boy was that a show!).
Little ThreeYear road a camel! (So that makes two members of our family who road a camel in 2018–Mr. ThreeYear had the honor in January when he went to Dubai).
Then, the first ever… ThreeYears' Family Camping Trip! (with my sister and BIL who knew what they were doing, thank goodness!).
We took hikes around the campsite.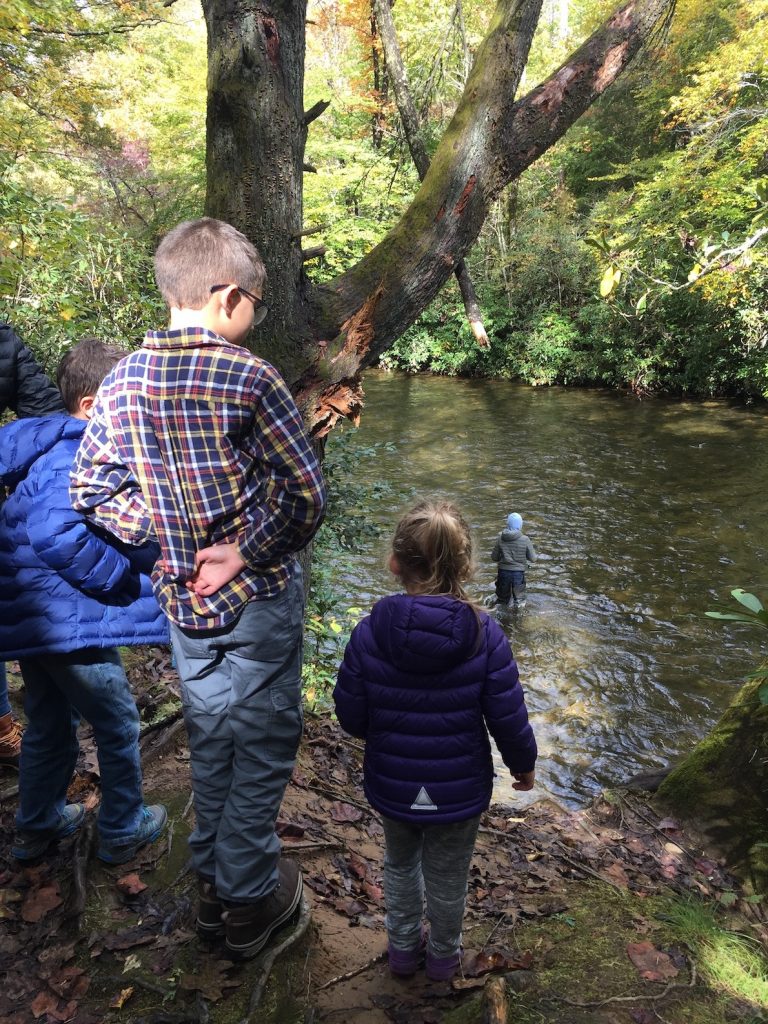 We went to a nearby fish hatchery and explored more of Pisgah National Forest. It was beautiful.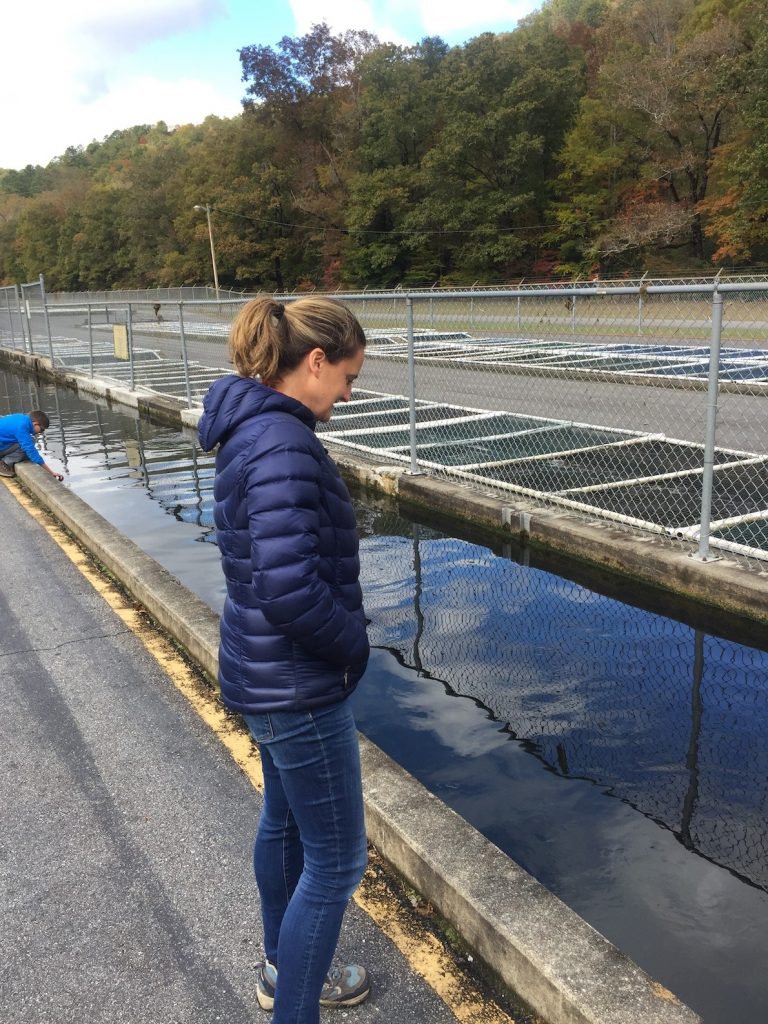 And the best part of the trip? Eating stuff we cooked over the campfire.
Our first Halloween in our new neighborhood was pretty awesome. We went trick-or-treating with some new friends and the boys got the mother load of candy.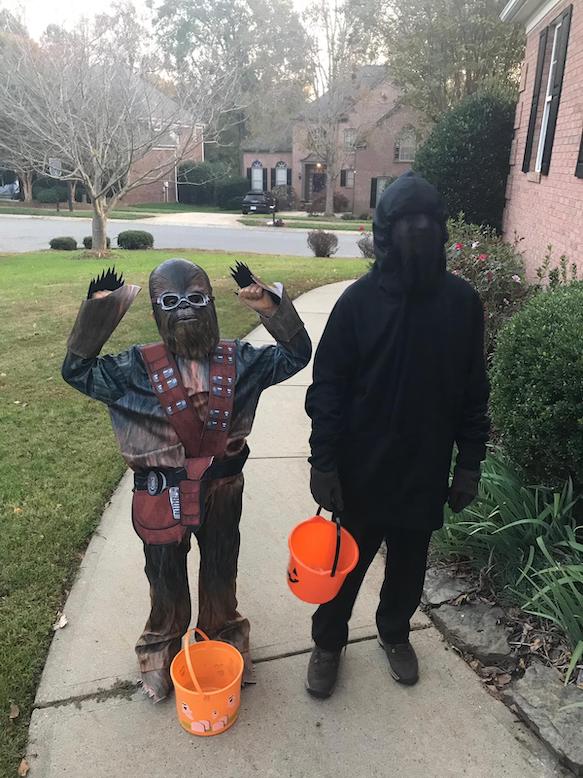 Even Mr. ThreeYear joined the fun, dressing up and video-conferencing with his team so he could be part of their yearly Halloween theme.
November
The leaves finally began to change in November. I started running more and we settled into a rhythm.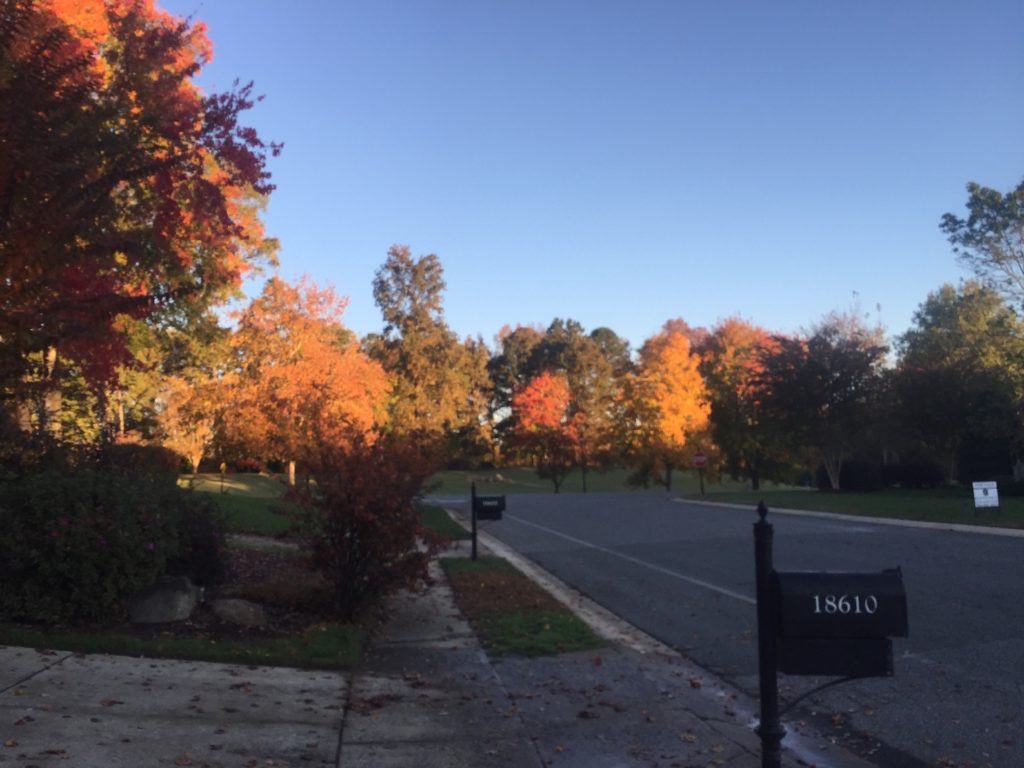 Junior ThreeYear decided to choose Climbing Club as his one activity. We found an amazing facility about 20 minutes away from the house.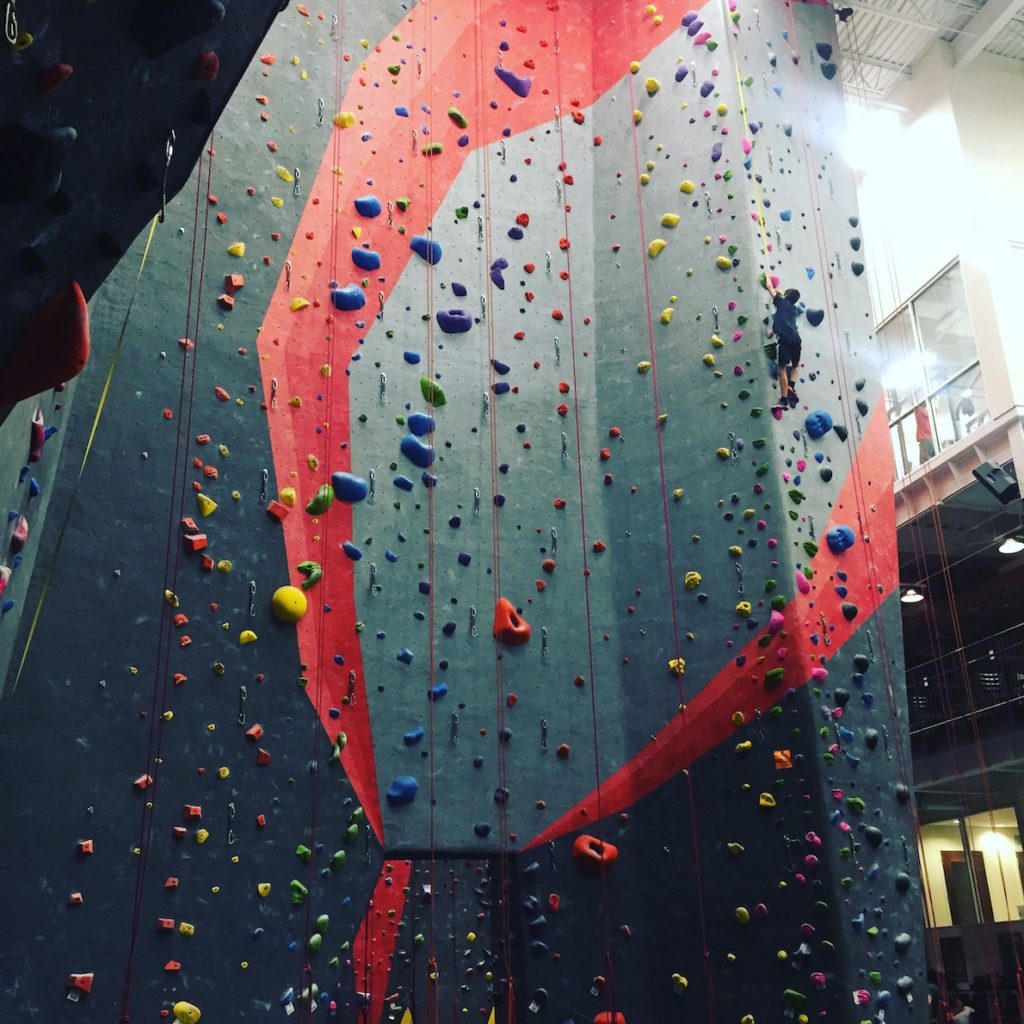 For Thanksgiving, we headed back to the beach.
We knew we were coming back for Christmas, so Little ThreeYear started decorating early.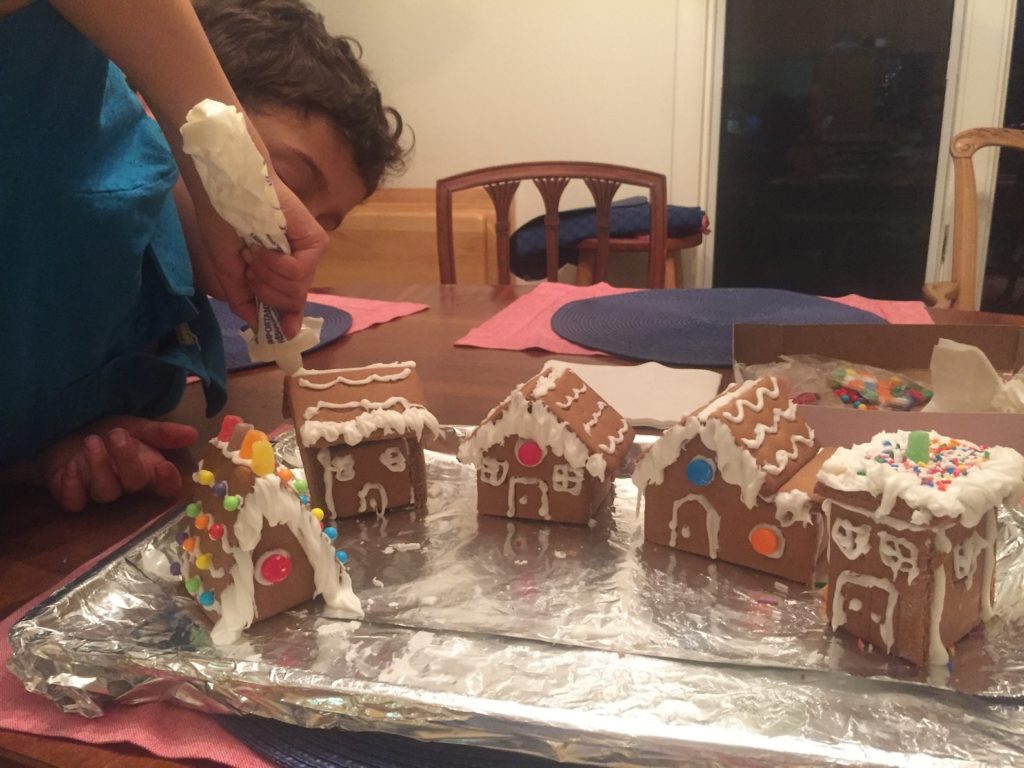 When we got back to our little town of Davidson, we enjoyed our first ever "Christmas in Davidson" event, where the whole town is transformed into a huge festival. A trolley came to pick us up from our neighborhood and ride us into town. It was pretty magical.
Oh and did I mentioned there were balloon ray guns?
December
We got the stockings hung and the decorations up.
We made more gingerbread houses, because, you can never have too many gingerbread houses.
We even went downtown to see the lights in Charlotte, sans kids.
Oh, and it snowed! Just for us!
Of course school shut down for days.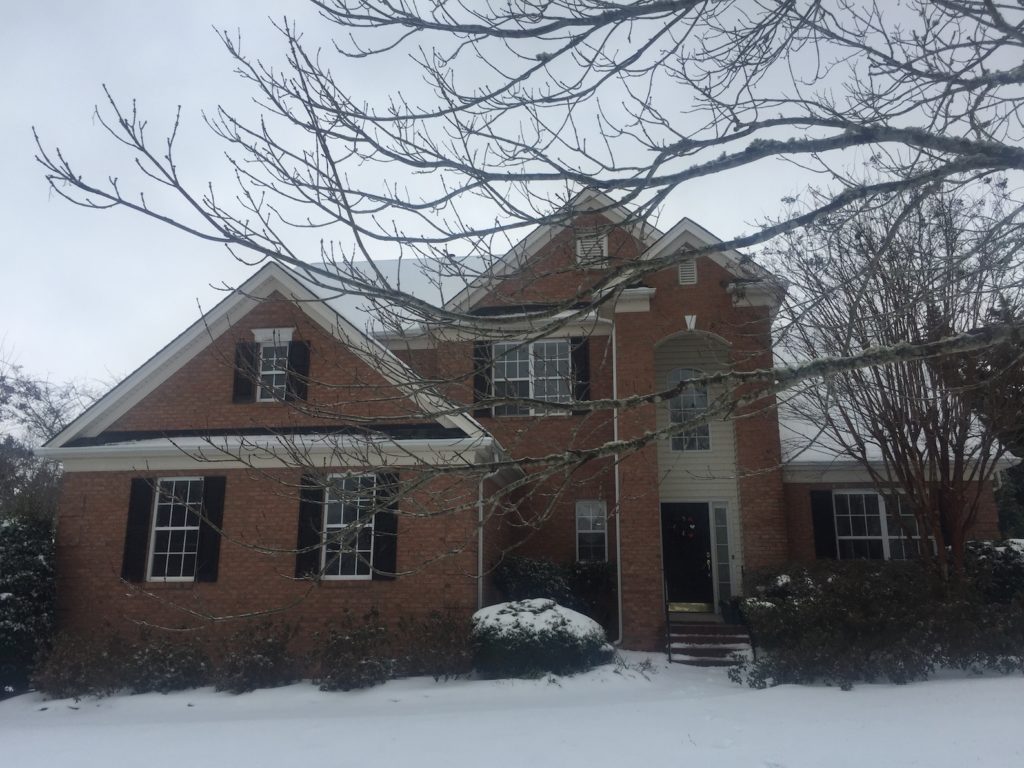 One of the best parts of living in the South again is that I'm close to many of my old friends. I got to visit my freshman roommate from college, who lives close by in Greenville, for her 40th. We had an awesome time!
Finally, it was Christmas, and we headed to the beach.
Christmas Day was an explosion of presents, lounging around, eating and more eating, and of course, video games. We had four generations of my family represented, and it was the first Christmas we'd all been together since 2010, when Diego was six months old.
We came back home to celebrate New Year's Eve, and we spent it in our typical low-key style at our house. The kids lit sparklers and we spent some time counting our blessings.
In the end, the second half of 2018 was busy, and we crammed lots of trips in. We spent many weekends visiting friends, family, or our beach house, and we absolutely loved it. But we didn't have the large swaths of travel that I maybe anticipated we would when we moved.
It took a lot longer than I anticipated to get settled into our new place. We're still getting settled. Our house is quite a bit smaller, so we're adjusting to that, buying appropriate furniture (used on FB Marketplace, of course), and generally finding out what rhythms and structures work for our family in our new town and new neighborhood.
This six months has been filled with firsts (first time we lived in NC, first year of middle school for Junior ThreeYear, first time we went to Disney, my first FinCon, first Disney trip, first family camping trip, first time we celebrated Thanksgiving and Christmas together with my whole family) and the ensuing excitement of those firsts.
It's also been filled with a whole lot of mundane. Doctors' visits, dentist appointments (soooo many dentist appointments!), therapy appointments, car maintenance, DMV appointments (ugh!!), vet visits for Lucy, meetings at the school to get the kids situated, and on and on.
That's part of our journey. I think we've accomplished a ton in an incredibly short while, especially Mr. ThreeYear, who's transitioned to a remote position and has been killing it (he was given responsibility for an additional continent a few months ago).
But it's also been tiring, to be honest. We're kind of worn out, and I think 2019 is going to be a low key year. It's going to be a settling-down kind of year, a year to continue to settle in, make friends, figure out our schedules, and balance all the moving pieces.
I do know this:
Less has been more.
The kids' simple schedules, despite the fact that I have panicked more than once over how little they're doing, have absolutely helped them THRIVE. They are both doing so well in their new schools.
Mr. ThreeYear and I have time to hang out together. We have friends. We have family close.
We have to remember not to fill up our schedules and plates with more, because less (house, activities, even furniture) has helped us enjoy more time together, time with family, fun unplanned activities.
So that's our 2018! If you made it this far, man, you deserve a cookie, because this was a long post! Hope you had a great 2018. As always, I'm so grateful to my readers for sticking with us and following along on our messy, imperfect journey towards location independence and FI.
Have a great weekend!