If you're just joining, our family of four is on a three-year journey to double our net worth and become location independent so we can move abroad. Each month, I'll keep you apprised of our progress. This year, we've got some major goals, including paying off our outstanding debt (car and apartment in Chile), replacing our roof, AND saving around $70,000. As of February, we were 9% of the way to doubling our net worth.
I waited until the end of April to post our net worth update, because, frankly, our March update wasn't very exciting. Thanks to Mr. ThreeYear's annual stock "gift," however, April's update actually moves our net worth dial. Mr. ThreeYear works for a 100% employee-owned company, and each year, in April, he receives a share of company stock (which is privately owned) equivalent to at least 8% of his base salary. The company is audited each December to set the stock's yearly price.
Although this is an incredible "gift," we consider it part of his total compensation, because that is what it effectively is, albeit tax-deductible (for all the ins and outs of how such a plan, called an ESOP, works, head here).   If he were to leave the company, he would need to take equal distributions over 5 years and roll the shares into a retirement account.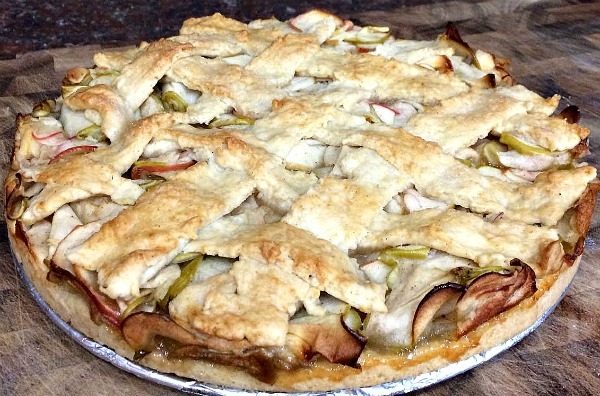 March and April were rough months for the ThreeYears, ain't gonna lie. It's always one of the toughest times of the year for me, living in New England as a transplanted Southern Belle (or, just…Southerner…). March and April are hard-wired into my psyche as a time when the birds are supposed to be chirping, flowers are supposed to be blooming, and snow is definitely NOT supposed to be still falling.
However, we have learned a few tricks to get through this time of year, including scheduling vacations for the end of April, embracing the snow, and just sticking it out and knowing things are going to get better. The ThreeYears spent these two months making delicious food, enjoying time with family at the beach, and DIYing our lights in our kitchen.
I enjoyed my fourth "full" month blogging and posted quite a bit, and noticed my readership and page views slowly starting to grow (thanks loyal readers, commenters, and tweeters! You guys are amazing!). A special shout out to Chief Mom Officer, Felicity at Fetching Financial Freedom, Troy at Market History, and Lena at Happy DIY. Thanks so much for your early support!
And a huge thank you to these amazing bloggers who shared TheThreeYearExperiment in the wider internet world: J$ at Rockstar Finance who shared Are You the 1%?, Physician on FIRE in his Sunday Best, and Tsh Oxenreider over at Art of Simple.
Our Progress
At the end of April, our net worth had increased by a total of 16.45% from our starting point in December of 2016. In order to hit our goal of doubling our net worth in three years, we'll need to increase our net worth by an average of 2.77% each month (or increase it by 33.33% by December), but we know that progress won't be completely linear. March and April combined represent a large jump in net worth because of the stock shares. Our savings rate will most probably decrease this summer as I stop working but continue taking classes for my masters program.
We hope to supercharge our savings rate next year, when the mortgage on our apartment in Chile is paid off, which we plan to do by the end of this year. That will allow us to start a taxable retirement account and hopefully funnel lots of money there.
Here's a graph to track our progress:
And, because I love thermometer charts, our progress shown another way: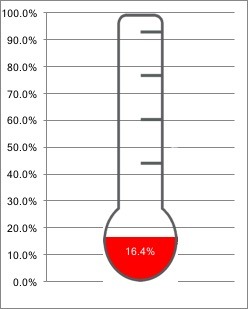 Spending Update
This month's spending. We continue to spend like champs. Luckily our overall yearly averages trend downward.
| Category | Spending | Notes |
| --- | --- | --- |
| Home Expenses | $2397.71 | includes mortgage for our house and Chile apartment |
| Transportation | $376.29 | includes one outstanding car payment and fuel |
| Groceries | $940 | No surprises here. We love to eat. |
| Eating out | $173.27 | |
| Kids' expenses | $98.04 | After school activities, lunch, and band rental (got to buy a drum set on Ebay!) |
| Entertainment | $80.44 | renting soccer channel for one month to watch the Chile games, one birthday gift |
| Household goods | $135.67 | toilet paper, cleaning supplies, etc. |
| Utilities | $583.03 | internet, electricity, propane, cell phone |
| House Insurance | $376.50 | half of yearly premium |
| Haircare | $158 | All four of our hair appointments fell during April! |
| Total: | $5318.95 | At the end of this year, we hope to have the Chile apartment and the car paid off, so that will decrease our expenses. We've got a lot of fat, but we are decreasing our spending every year so that's the important thing. |
And now, to May!
April is now in the books and we're cruising into May, which currently feels like Spring thanks to melted snow and warmer temps! We are filled with Vitamin-D induced happiness and optimism for the future! See you next month!