I've been thinking about enough lately. In this country, enough has become a concept that's almost unpatriotic. Saying you have enough implies you're satisfied. It implies you're not endlessly striving for more, better, faster, perfection.
I've spent the last week on Spring Break. I meant to blog, had packed the laptop, but left it at home. Rather than type into my phone I said, "it's time for a break" and let myself have a vacation for a week.
Taking a week off of anything, even a hobby, is something it's becoming harder and harder for us to do. Mr. ThreeYear took a week off of work for the first time in a long time, but still checked in to his email daily. "We're expected to," he explained.
Enough has been allusive this year, a year of transition for my family. The house needs so much, I'm not working, we have a new dog, we live in a new town. Mr. ThreeYear endlessly searches for just one more device (used, on FB Marketplace) that will make the house a home. I've been searching for the perfect curtains, bedspreads, toilet seats, patio furniture.
And yet, we live in a place where the excess bothers me, daily. I drive along perfectly manicured streets, watch as landscape crews dig up large, beautiful cherry blossom trees in the median and replant smaller, beautiful cherry blossom trees. I see people replace perfect, new late-model SUVs with perfect-er, newer late model SUVs. Our across-the-street neighbors now have more cars in their driveway than they do people in their home.
And still, they want more. This kitchen won't do, anymore, because it's become outdated. We need to tear it out, this perfectly good counter and these cabinets, and replace them with something better. Families add backyard pools, even though the neighborhood has an Olympic-sized pool. More convenient, marker of social status, who knows?
The problem is, it's not just stuff that we want to replace. Here in the personal finance community, we've dealt with our "stuff" demons. We know we should hang on to our cars, our kitchens, our extra dollars as long as possible. That's not the issue.
But enough? Still a problem. What do you mean, you don't have a side hustle? Don't you want to maximize your income? Hobbies? You need to monetize them. Goals? You should be checking them off!
In the aptly-titled What if This Were Enough?, Heather Havrilesky writes, "Day in and day out, through aspirational products and heartfelt-seeming commercial messages, in the psychobabble of gurus and the motivational rhythms of Facebook testimonies, between the lines of pop songs and the dialogue of TV comedies, we are taught to communicate triumph while privately experiencing ourselves as inadequate and our lives as disappointing."
Living your life, it seems, has gone out of fashion. Going to work, coming home, loving your kids, loving your spouse, taking a walk… there doesn't seem to be room for that life in our collective culture. Even bloggers who write about a simpler life have brands and push for more, bigger, more reach, more eyes, more attention.
I've been vaguely annoyed by the collective "Type A"ism for awhile, but haven't been able to put my finger on it. Still, I've engaged in a number of weird experiments to try and suss out what's going on.
I've given up social media for a month.
I've taken time off blogging.
I haven't gotten my hair cut or colored in eleven months.
I have taken a year off teaching and won't let myself rush to find a job.
It's an effort to "imagine a different kind of life, a different way of living… to reject the shiny, shallow future that will never come, and locate [myself] in the current, flawed moment." To learn to "live in the middle, in the gray area, where a real life can unfold on its own time."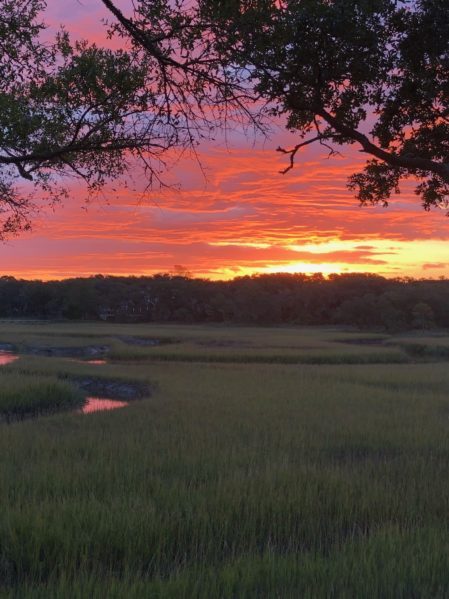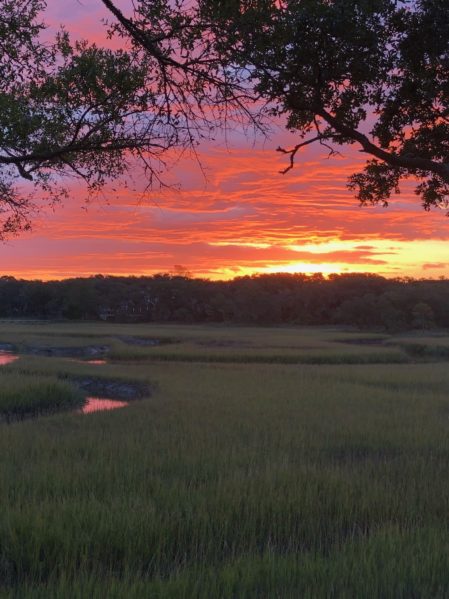 Perhaps this vague feeling of never having enough, never being satisfied doesn't plague everyone. But it seems to be part of my DNA. My jam? Endless self-improvement, endless plans and goals. There's always a feeling of working towards something, of making progress, of pushing forward. But there will never be perfection. And I'm about as close to blissfully happy life conditions as I can get.
The hard part is settling in to an ordinary life. An ordinary, beautiful, happy life, and not pushing for more. Just enjoying it.
Yesterday Little ThreeYear and I took a bike ride. We rode all the way down the one-mile greenway and then parked our bikes and settled out for a walk on the longer trail that continued on. "Mama, I want to show you the lake," my son said, so we dashed off into the woods, with green leaves and the smell of Spring fresh in the air, the afternoon sun diffusing through the trees, a cool breeze tickling our arms. We identified trees and found trunks where past visitors had carved mysterious symbols and initials with penknives. We found the "lake," which I identified as a swamp, and Little ThreeYear pointed out tiny creatures in the stream as we sat on the bridge. I finally made him go back, when we got to three large rocks, which he'd never hiked to before. "It's time for dinner," I said, "and your dad will be getting worried about us." "Okay, Mom," he said, "but next time, let's go farther than the rocks!"
Is it innate, or is it our insidious culture, this constant press for more? At the end of a perfect hike, my son announced his desire, his need, to go further, to explore more, to reach the end of the trail.
What does that mean for our happiness? For our contentment?
I have found enough, if only fleetingly. I found it yesterday, when I left my phone, my schedule, and my expectation to achieve anything at the door.
I find it when I take a break from routine, when I do something new, and immerse myself fully in the moment.
We find it when we fold hands before we eat, and give thanks for the things we have.
I find it when I step away from advertisements, and allow myself to luxuriate in what I know in my core to be an embarrassment of riches.
I write ENOUGH on the ceiling of my house in my mind, remind myself to be content, to love my actual life, the one I've worked and fought so hard to get.
"We want too much," writes Havrilesky. "We don't need that much to be happy. We can change ourselves, and our world, in part by returning to that simple truth, repeatedly. We have to imagine finally feeling satisfied."