Happy Wednesday, readers! So glad to be back with another installment of the "Your Three Year Experiment" series, where we feature stories of people pursuing their unique dreams and goals over the next few years.
Today I'm delighted to introduce Jennifer, a new reader whose story is very similar to my own, except she's a lot younger, doesn't have kids, and has way more energy than I do, based on this interview! 🙂
You're going to love her story! In it, you'll learn:
the daily habit Jennifer and Lewis, her boyfriend, use to stay on track with their goals
their multi-national geoarbitrage plan
why paying attention to your tax rate is so important
Take it away, Jennifer!
Tell us a little bit about yourself.
Hi! My name is Jennifer and my boyfriend's name is Lewis. We are in our mid-30's and live in Cincinnati, OH. We've followed very different paths up to this point in our lives but one thing we have in common is our dissatisfaction with following the standard societal norms and the idea of working for the next 30-40 years. We have decided to chart our own path that is a unique mix of a "fully-funded lifestyle change" and eventual financial independence, with a big dash of geoarbitrage mixed in!
Our plan is to spend the next 3 years in Cincinnati saving up/investing as much money as possible so that we can then move abroad for the following decade or so. We would both continue working on-and-off in some capacity- I plan to apply for teaching positions in international universities, while Lewis completes his degree online and then launches his own translation company. Our goal is to move every 2-3 years. So far we are planning: Bogotá (Colombia), then somewhere in the Middle East (likely Dubai or Abu Dhabi) [Laurie's note: then definitely check out my friend Andrew's story], then either Paris or Granada (Spain) for Lewis to do his masters. From there, who knows?!?
What's your background? Early years, education, married, kids, jobs?
I've spent most of my life living in Cincinnati minus a few years in Dallas. I grew up in a solidly middle-class family and was the first to attend/graduate college. My parents have always tried to instill the standard American 'dream' in me of getting a good job, staying there forever, and living my whole life here in Cincinnati. Sorry to disappoint them, but I've never fit into that mold!
Even my career path has been interesting in that I keep jumping back and forth between two fields. I went to a top design school for architecture/interior design but quickly realized that I didn't enjoy working in the field, so I took extra classes each quarter (the maximum the university allowed!) in order to get a minor in Spanish. Good thing too, because I graduated in 2009 and couldn't even find a design firm to VOLUNTEER at!
Instead, I completed an alternative certification program and became a high-school Spanish teacher in Dallas, TX. While I loved the school, I missed my family so I moved back to Cincy, but after five years in the classroom, I had to stop teaching due to medical reasons. At that point, I transitioned back into technical roles, going from a CAD drafter, to project manager, and to support engineer at my current position.
I am also completing my masters right now in Applied Linguistics [NOT an easy course of study!!], and earned a CELTA certificate back in 2015 for teaching English abroad. Those credentials will enable me to find university-level teaching positions in the future, which is what I hope to do long-term.
Lewis was born in Bogotá, Colombia in a middle-class neighborhood, but his parents knew the importance of a good education and enrolled him in a prestigious private school in the north. When he was 15, they sent him to live with family in Miami where he completed high school and then started community college while working multiple jobs to support his family (who at that point had also emigrated to the US on an asylum visa).
However, his true passion was music and he and his friends formed a power metal band that became quite popular. He left school as the band started touring around the US and eventually relocated to LA. Unfortunately, after a few years, the band fell apart and he was thrust into the daily grind of corporate work.
He eventually moved back to Florida and a few months later happened to answer the phone when I called looking for help expediting my passport!
Within a few months, he moved up to Cincinnati and worked a variety of jobs until finally realizing that his passion (and skills) is in translating and interpreting [Mr. ThreeYear has his undergraduate degree in the same]. He now works at a language services company as well as being a medical interpreter, and plans to go back to school (online) at one of the top universities in Colombia, which will only cost $11k for the entire four-year program!
We have a 10-year old dog, named Lua, and two cats- Charly and Purrsia [What a great name for a cat].
How did you come to the realization that something needed to change in your lives?
Back in 2016, after having to leave the classroom, I was lost in terms of what kind of job to pursue and was unemployed for about 6 months. While I had always been smart with my money, I had never been in the position of seeing my savings dwindling each month and not having a way to generate more. It was during this time of looking for ways to cut costs that I discovered MMM and the world of financial independence! Just in time too, because by November 2016 my savings were gone and Lewis had to help me pay my bills.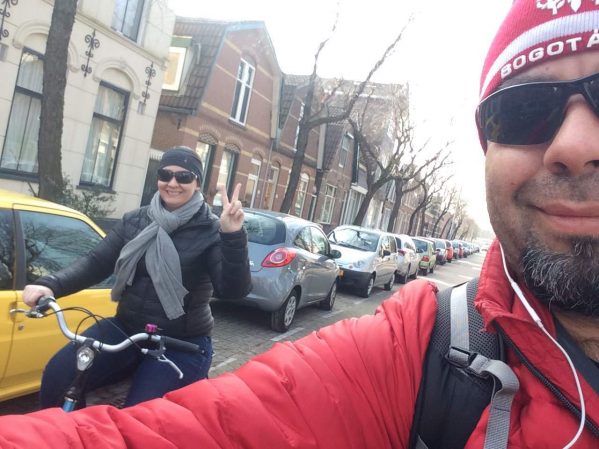 I absolutely hated the feeling of having to rely on someone else financially, but thankfully I got a random offer for a well-paying contract position that same month, which let me start saving up money and begin investing in index funds. I'm on target to fully fund my 401k and IRA this year, and hope to do the same for the next few years.
Lewis took a bit longer to get the FIRE bug. Being in the band, he developed a taste for 'luxuries' and 'living in the moment'. Once the band broke up, he lived paycheck-to-paycheck and was a frequent user of payday loans. He knew he was bad with money, so he asked me to be his "treasurer" and control where his money goes (at least in part). By helping him to budget and build an emergency fund, he started to increase his ability to save.
We attend local MMM meetups, which has further inspired him to spend less and save more. We try to do daily 'walk-and-talks' with our dog where we discuss our daily achievements and stresses, create new goals, and keep reminding one another why we are pushing ourselves now so that we can enjoy our lives more in the near future. This has greatly helped both of us gain clarity and stay focused on our goals.
We had actually planned to move to Bogotá this year, but in planning out the logistics we realized that we could not afford to! We want to live in the nicest part of the city due to its proximity to the universities and improved security. Commuting takes hours (even on public transport), so we want to be able to walk most places and visit his family often, therefore a cheaper apartment in the northern suburbs won't work.
When I found out about the high personal income tax rate that I'll have (33%!), even as a university professor I would barely be able to afford our living expenses in that area. This was upsetting news, as we've waited a long time to be able to move there and be closer to his family. Now, it serves as our threshold goal- we want to make sure that we are in a good enough position financially that we won't have to depend solely on my highly-taxed local income, especially since he won't be able to contribute much while studying full-time.
What will that change look like?
We are focusing on the three keys to financial independence: earn more, spend less, and invest the rest!  
How are you employing a three year experiment to make it happen (what's your three year plan)?
I am looking for a new position as my current contract is going to run out soon. I had to figure out how to market my strange mix of skills and experience and realized that technical writing was my golden ticket [Wow! Mr. ThreeYear used to manage a team of technical writers. So many overlaps to our stories!]. It can be a pretty lucrative career that will provide an immediate salary raise, allowing me to save even more after maxing out my 401k and IRA each year. I'm hoping to find a position for the next few years that will help me build my skills to the point that I can work freelance/remote in the future, which would be a great side gig once we embark on our international journey.
Lewis has committed to staying at his current position, which pays well, has nice benefits, and allows him to interpret on the side, earning great overtime! His goal is to gain more experience in order to command a higher hourly rate, as well as work a few nights a week at an expensive restaurant where he can pull in a few hundred extra every week. He is just starting to invest and realizing how he can keep more of his money by sheltering it in tax-advantaged accounts, so he hopes to increase his contributions each month until fully maxed. He had planned to start his studies in January, but on a recent walk-and-talk we decided it would be best to maximize his time earning as much as possible now, then start school (online) once we are abroad.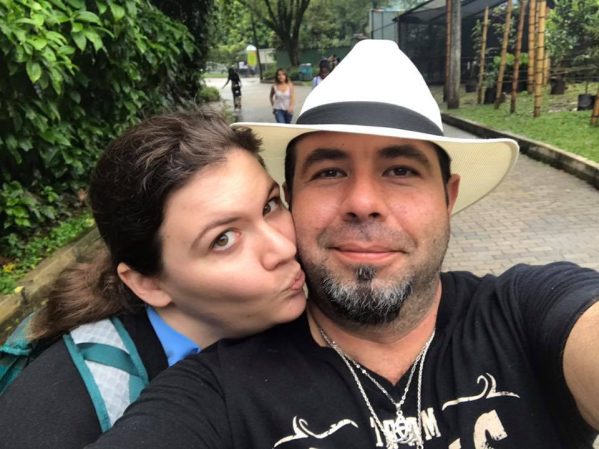 If the opportunity arises, we may also get into buy and hold real estate over the next three years. We live in a great neighborhood (B-class neighborhood surrounded by A-classes) and are currently looking for multi-families in the area, but it's slim pickins' at this point. If we manage to catch a deal, we will move into one of the units for a year in order to get owner-financing, then rinse and repeat each year until we go.
Any monthly cash flow we can generate will help cover our living expenses in Bogota (although it would also be taxed at 33%!). If we can get up to $2k/month cash flow, we would essentially be FI at that point! But, if we don't end up going this route, then we aim to have at least a years' worth of rent (around $12k) in high-yield savings or a taxable account in case we need help covering the rent in Bogota.
What have been some challenges you've run into?
Helping Lewis grasp the concept of frugality (versus being cheap) and not always needing to 'live in the moment'- financially, at least. We have struggled to align our spending habits and making sure that our financial plans feel 'fair' to both. This has taken almost five years and we have had some really rough patches due to finances, especially when we used to combine them. We now keep our money separate and always will from now on, but our goal is that both of us reach some level of financial independence- even from one another. I hated the feeling of relying on someone else for that one month and never want him to feel that way either, so we want to make sure we both feel empowered financially. We want to want each other, not need each other. 
What have you found easier than expected?

At this point, we are both pretty frugal and it's just looking for opportunities to save even money. There are small things like using fewer paper towels, spending less on groceries, and such. I recently changed our car insurance which will save us $1200 a year! Also, discussing our passions has helped us become more intentional with our spending and keep one another's purchases in check. We've both come a long way in terms of our discretionary spending!
In addition to finances, we have other goals to accomplish during this time period, including improving our health and establishing friendships with other couples. Thankfully, we've had a lot of luck in finding others that enjoy the same frugal activities such as hiking, dinner parties/potlucks, and game nights.
Do you think you'll reach your goals in three years? Longer? Shorter?
I think we have a strong shot at it. I plan to max out my pre-tax accounts each year and invest anything extra I can, so I expect to have at least $120k saved up in 3 years (I already have $40k). I am hopeful that Lewis will get to the point of being able to max out his accounts by next year so that he can save $50k or so as well. Although three years feels like a long time to us right now, in reality, it's relatively short and that time frame helps us hunker down and do whatever we can to increase our FFLC/FI fund!
What are you looking forward to once you've reached your goal(s)?
Having $170k in index funds (and hopefully some rental properties) will allow us to pursue a "fully funded lifestyle change" where we can focus on our passions- travel, family, hiking, and languages- as we begin our international journey. Then, if we earn enough locally and/or through side gigs/passive income to cover our living expenses and hopefully still max out our IRAs each year, we should have around $500k after about a decade (even more if I get a lucrative job in the Middle East and can sock away significantly more those years!)[And there are no income taxes for Americans in Dubai, at least as of a couple of years ago].
At that point, we will only have to work enough to cover basic living expenses and that invested money can just keep growing until we want to start accessing it (we will use a backdoor Roth while abroad to get money out of our pre-tax accounts funds into a Roth IRA tax-free). We'd love to live in an RV for a few years before picking a new part of the US or world to settle in for a while.
Anything else?
Working until you have 25x your annual expenses saved up is one path to FI, but it isn't the only one. I recently found an FI blog by another Cincinnati-local, called Four Pillar Freedom [I am also a big fan of Zach's site!!], and he makes an excellent case for tailoring your path to your personal needs. Other options, such as "Barista FI" or Fully Funded Lifestyle Change, might be the better path for you. And adding real estate into the mix can speed up your journey significantly!
Thanks so much for sharing your plan, Jennifer. I have a feeling you and Lewis are going to do some great things over the next three years. Jennifer doesn't currently have a blog, but she plans to start one, so make sure to bookmark ExpatEducatrix for the future! If you'd like to reach out, leave a comment or let me know and I'll send you her email address!
If you're interested in being featured in this series, drop me a line at laurie @ thethreeyearexperiment.com. Keep on pursuing life on your terms!