Hello! Welcome to "Location Independent, International Jobs," the Wednesday series where I showcase stories from people who have become location independent, work internationally, and/or practice location arbitrage, as is the case with today's guest poster.
Today you'll hear from Moose, who blogs about FI at MSoLife. It isn't everyday that you meet a fellow Carolinian with ties to Chile who speaks Spanish fluently. We've had fun ribbing each other in Spanish over email. I couldn't wait to hear more about his plans for the future once he reaches FI in a few years.
This interview will cover:
Where Moose plans to move to live more cheaply once his family has reached FI
Who geoarbitrage is right for, and who it isn't right for
How a mini-retirement can fit into your FI goals
For the complete story of how Moose plans to retire to South America, read on.
Can you tell us a little bit about your background?
I was born in France and have lived in Mexico, the UK, the USA, and
Germany, so it's hard to say where I'm from, but I currently live in Los
Angeles, California and am from Charlotte, NC. I've been married for a
little over five years and we have one daughter, who's two years old. I was
an Army officer for six years before going to business school and I've
worked in investment banking (for a short time and it sucked) and investment research for private equity and hedge funds.
How did you make the decision to move to a foreign country with a cheaper cost of living (geographical arbitrage)?
I made the decision to geoarb to Chile at pretty much the same time I made
the decision to be financially independent. I chose Chile after a lot of
research for several reasons. Some of them are outlined in my geoarbitrage
post here.
For one, I speak Spanish fluently. My wife and daughter can also receive Chilean citizenship through ancestry. Chile has a low level of corruption, a well-developed economy, excellent schools, and gorgeous nature/geography. On top of all that, the cost of living is incredibly low compared to even modest towns here in the US. Lastly, and this is anecdotal, when I was a cadet at West Point, I knew a Chilean cadet from Santiago that came to our school and he's an excellent human being all around. You can say that Giancarlo made a positive impression on me. I can retire within the next 6-8 years here in the USA, and even though I could pretty much retire immediately by moving to Chile, I want to live comfortably in Chile, not on a low budget.
So, I've decided to shoot for American early retirement standards and then
geoarb.
Related Reading on Chile:
How do you make that work financially? With your job?
I'm currently on a mini-retirement, but my job is a huge
engine toward making this dream come true. I've busted my butt since I was
14 or so, went to tough schools, and earned a high-paying job. Once I
realized how reckless I was being with my finances, this enabled me to
very quickly turn my situation around. On top of that, I recently was
awarded a substantial amount of disability by the Veterans Affairs office
for service-connected disabilities I sustained while I was an Army
officer. I'd rather not be disabled and not get that payment, but that's
out of my control and I'm grateful that I finally got that after six years
of fighting with the VA. It's enough to cover the mortgage for a good
house in the Carolinas. Couple these things together and that will keep us
going nicely in Chile.
Favorite Part of Travel? Least Favorite Part?
My favorite part of travel is expanding my mind. Not in the LSD and
mushrooms way, but in the sense that it forces you to consider new
perspectives and ways of doing things. Different countries have different
characters and values and it's great to develop my own character by
experiencing the world. My least favorite part of traveling is the
physical aspect of it. I'm not a huge fan of flying in planes or driving
for hours. It's uncomfortable and invariably I get sat next to someone who
is coughing themselves inside out.  I hate the process but love the
destination, if that makes any sense.
Do You Have Any Funny Culture Shock Moments?
Being the big oafish gaijin in Japan was a culture shock. I'm quite
well-mannered (thank my English mother) but in Japan, I'm an absolute
clumsy brute. I'm also about twice as broad as most people there so I felt
a bit like a caricature. Outside of Japan and Korea, I haven't felt
culture shock in Latin America or Europe really given that I've lived in
both already.
Why would you recommend this to others? Or not recommend this to others?
I recommend geoarbitrage to people who already like to travel. I also
recommend it to people who want to quit the rat race and fire their boss
earlier. It's a powerful tool for early retirement. I don't recommend it
to people who aren't adventurous and open-minded. If you don't like
people, you won't like them in another country either. If you have a lot
of attachment to where you currently live, be it family and/or
sentimental, I recommend maybe living somewhere else part-time but not as your default location.
Any tips for how others could make a similar arrangement possible?
Focus on being financially independent first. To err on the side of
caution, try to do it for wherever you're at now so that you have
substantial cushion when you geoarbitrage. I'd also recommend traveling to
where you want to retire and staying there for a couple of weeks at least.
Not touristy joints but staying amongst the local populace. AirBnB is
excellent for doing just that and is also frugal. Stay in an AirBnB and
cook your meals there after buying your food at a local grocery store.
Immerse yourself.
How will living in South America positively (or negatively) impacted your
finances? (since this is a personal finance blog!).
Living in SA will allow my family to enjoy a higher quality of living and
earlier retirement, it's the best of both worlds! Land in Chile is
remarkably cheap and I can buy a massive plot of land there. I can't do
that here. On top of that, the soil is fantastic for growing all sorts of
crops because it's similar to the Napa Valley region of California and
some areas of Italy. Healthcare is incredibly cheap there as well. I don't
want to be super frugal when I retire but more "normal" and living in
Chile will let us comfortably do that.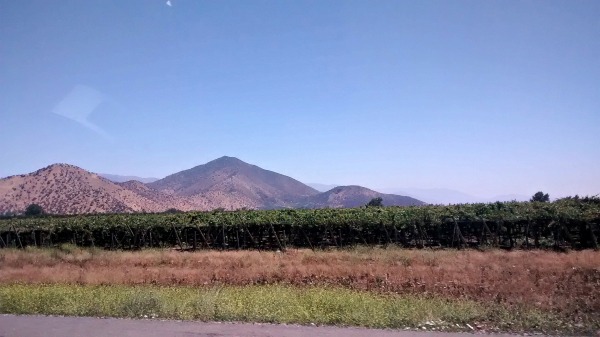 What are your future plans for future trips?
Our next trip is likely to be to the Yucatan in Mexico. It's a lovely
place and also incredibly cheap. We want to go there for a few days to
kick back and relax. We haven't done that for a while.
If you have questions for Moose, make sure to leave a comment below. You can also get in touch through his Contact page or by emailing moose@msolife.com. Thanks, Moose. I can't wait to hear more about a fellow Carolinian living in Chile. I have a feeling you're going to love it there.