If you're just joining, our family of four is on a three-year journey to double our net worth and become location independent. Each month(ish), I'll keep you apprised of our progress. This year, we've got some major goals, including paying off our outstanding debt (car and apartment in Chile), replacing our roof, AND saving around $70,000. As of August, we were roughly 21% of the way to doubling our net worth.
After an unusually warm spell, we're finally getting the insanely gorgeous leaves New England is known for. As I drive to and from work, I'm privy to the most amazing shows of reds on the trees.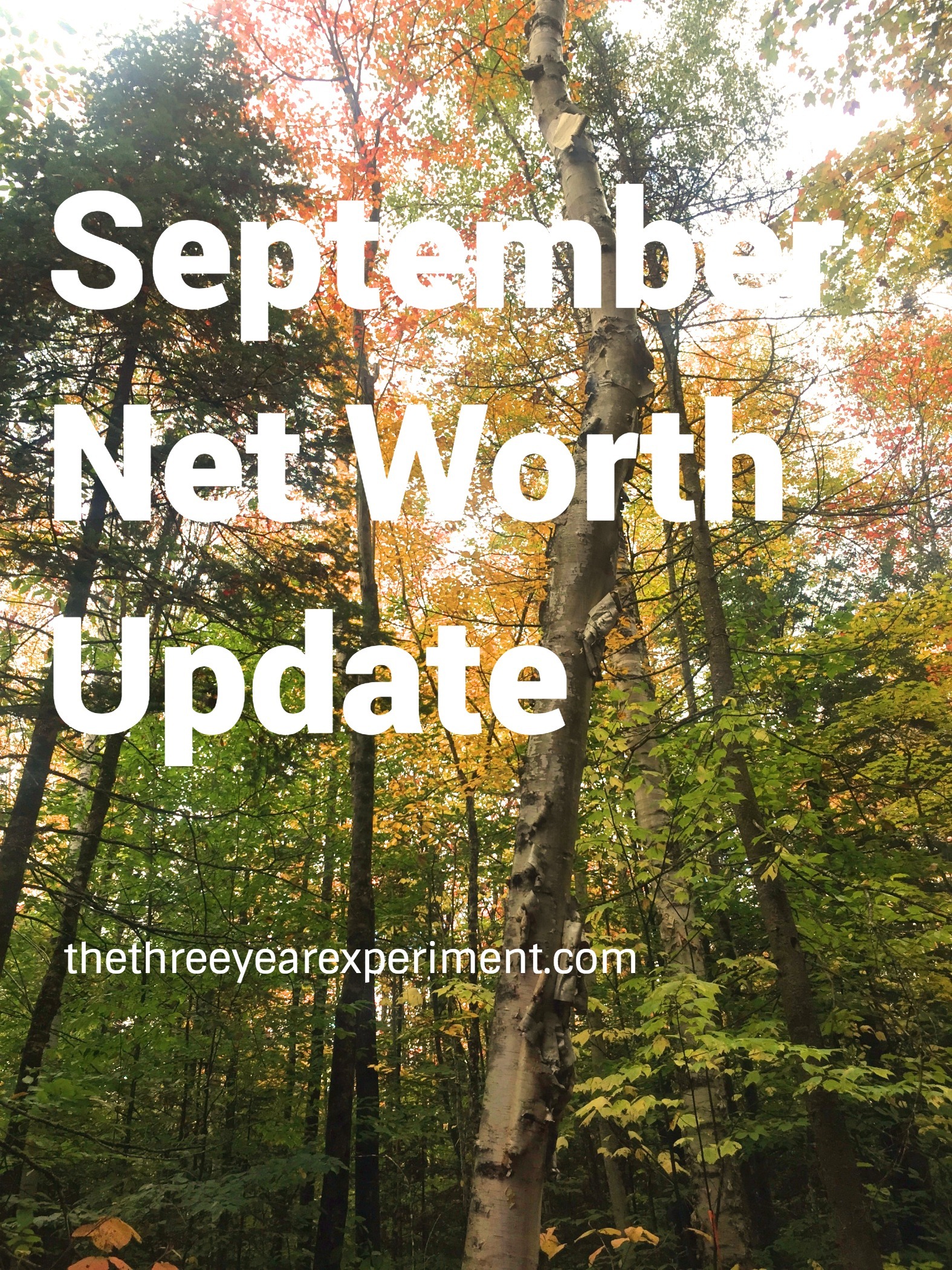 We're well into the school year. The Junior ThreeYears are adapting to their new classes and homework. I keep adding more students that I need to work with to my schedule, so I'm less and less part-time. I've literally used up all my hours in the school day and will now be eating lunch while working with a student. At least I'm paid hourly!
One of the highlights of the month was my first solo girls' trip in something like ten years. I met my best college friend at my sister's house in Charlotte and we spent the weekend perusing a local farmers' market, checking out local dining and brunch options, and catching up. I had such a great time that I vowed to take more of these trips. The best part was, Mr. ThreeYear and the boys had a wonderful time together at home. They went to the movies, went out to lunch at their favorite Mexican restaurant, and had a great time bonding while I was away.
We spent gobs of money in September. Our biggest purchase was our tickets to Chile. Our plan was to buy them with airline miles, but in the end, we decided against that. Mr. ThreeYear wanted to go during Christmas and New Year's, so it would have taken an insane number of miles for each ticket (something like 120,000 each). We didn't have enough for four tickets and we thought it made sense to save them. Our second biggest purchase was my master's course. I have three more to go after this. And I had to pay quarterly taxes as well, although those numbers don't show up in our spending report. Since I'm working so much this year, I'm setting aside 20% of my paychecks for taxes. I may start setting aside 25%, just to be safe. It's hard to know exactly what I'll owe since the amount of money I make varies so much, so it's better to play it safe.
The stock market is still bullish, and we've seen our net worth rise again, despite our massive spend this month. It is nice to be earning a paycheck again, so we can reach our end-of-the-year-goals faster. I'm also so ready to be done paying off our apartment in Chile and our car that I'm wishing December was already here. Wait, didn't I just write a post about staying in the present?