This is the end, my only friend… (cue The Doors music). We have reached the last few days of the year. You know why I love this time of year? Let me be honest:
presents. I love getting them, and I love giving them.
year-end bonus. Mr. ThreeYear gets his bonus in December so we have this whole chunk of extra money burning a hole in our pockets (okay, not really-it usually goes to worthy financial goals. But we still splurge a little with it).
Christmas music. It's cozy and it reminds me of happy Christmases of yore (another totally holiday-appropriate word, yore is).
Family. I get to hang out with my extended family during the holidays.
New beginnings! The end of the year is the time when I've accomplished a lot of my goals, which gives me a happy, productive feeling, and then I have the excitement of creating a new goal sheet for the coming year.
While I gave you an update midyear , let's see how I ended the year with these goals.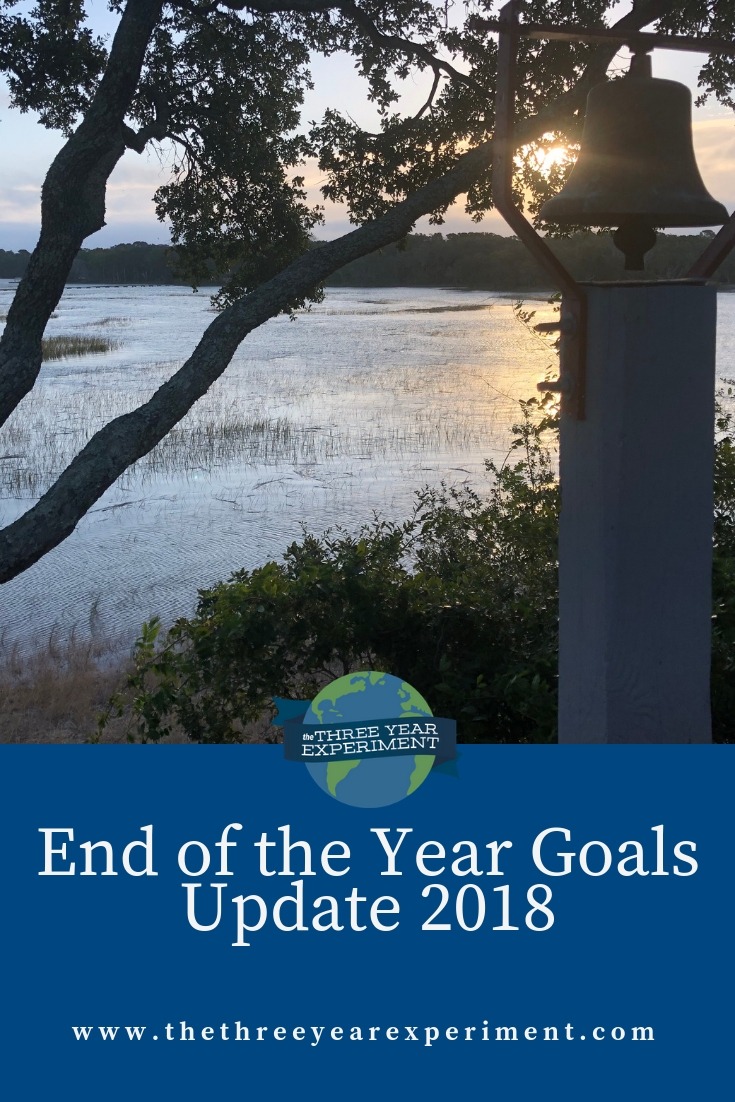 My 2018 Goal Sheet
As a reminder, here's my goal sheet from 2018:
First of all, let's look at the BHAG goal: doubling our net worth by 12/2019. How'd we do? Honestly, not so good. We sold our house and lost a big chunk of money to real estate agent fees, closing costs, and moving costs. Then, the market dropped. So even though we saved almost double what we saved in 2017, our net worth only inched upwards slightly.
But, honestly, this goal is really not a very good goal, because I can't control it. Our net worth increasing is somewhat out of my hands because of market fluctuations. I would have done better to set a savings goal, which we would have more than reached. Still, I'm leaving our BHAG in place to see how close we can get in 2019.
Grade: B. I'm giving us a B for the year because we saved so much. The market will eventually go back up.
Next is my Yearly Focus. This is what my biggest yearly goal will be. For 2018, my yearly focus was to develop the habit of controlling our grocery spending and to finish my Masters.
While we did occasionally go over our budget of $772 per month (which I usually rounded to $775), we have averaged $756 in monthly grocery spending. We did it!
As for my master's, I took my last two online classes in November and December to finish, so I am just waiting to officially be awarded my degree.
Grade: A. I was proud of how I was able to keep the focus with these two big goals, even though it was a crazy year. Having a yearly focus is awesome, because it's something I kept after, something that was really important to me, despite the craziness of the move. And now these two big goals are accomplished and I feel very proud!
The next section is Top Values. I create a big balloon with my top values, so I can remember why I'm doing all this.
3 Top Values:
FAMILY  (nuclear & extended)           
TRAVEL              
FINANCIAL INDEPENDENCE
When we became location independent this summer, because Mr. ThreeYear and I both began to work remotely and we moved to North Carolina, it made our goals of family and travel a lot easier to realize.
While we haven't traveled a lot this year per se, outside of our three weeks to Chile this January, and a couple of quick visits to Portland and Montreal before we moved, and our epic visit to Disney in September (okay actually that's a lot of travel), but we have enjoyed many vacation days at the family beach house during the second half of this year.
Moving is expensive, if I haven't mentioned that before, and it's super disruptive to your life. There are so many new routines you need to establish, closets to organize, and small repair jobs to get your house the way you want it.
We've decided to enjoy the local travel opportunities we have in front of us for the next little while, including having my sisters-in-law visit from Chile next summer, which I'm super excited about. We'll probably take a big trip at the end of next year, maybe back to Chile, but we're going to give ourselves a chance to take a breath from the craziness of our move before engaging in any big trips. We're also going to explore where we live. So far, we've gone on a camping trip in the Pisgah National Forest and we're looking forward to exploring more beautiful North Carolina mountain destinations in the Spring.
In other words, we've decided to work on our Financial Independence value a little harder this year and enjoy the family and travel opportunities we have right where we live.
Grade: A. I feel like our lives are a really strong reflection of our values and that makes me happy.
Now, how have I done with my main goals?
My Big Eight 2018 Goals Are:
Save $XXX per month, $XXX total by 12/31/2018. This is the money we're able to save by not having any more payments. Grade: A. We did save the total amount we had aimed for, and actually a lot more, but because we bought a more expensive house and our mortgage increased, we're not able to save as much per month as we were. So our monthly savings has dropped. But I'm going to keep increasing it each time Mr. ThreeYear gets a raise to see if we can get back to that level in a few years.
Develop two online businesses by 6/30/2018. Grade: C. Technically, I failed, although I do have one online business. I have a really great idea for a second online business and keep dragging my feet on it. At the end of June, I did have two freelance clients, but I haven't added any more. I would like to add a couple of local clients, so that means reaching out to local writers. I'll be honest-my heart's not really in this one.
Keep spending below $772/month on groceries, for a total of $9600 spent by 12/31. Grade: A. We did it! Our monthly average for all twelve months came in at $756. And I feel like I learned so much about what's possible with our food spending.
Finish Master's Degree by 8/31/18. Grade: B. I finished it by 12/31/18. BUT IT'S DONE! Ugh. Such a hard goal. I'm good at procrastinating.
Get and stay one month ahead in YNAB by 12/31/2018. Grade: A. Oh my gosh, achieving this goal changed our spending!!! It has made such a huge difference in our spending to have a month's income waiting to budget at the beginning of the month. No more budgeting half of the bills, waiting for the second check, budgeting the other half, running red in your virtual envelopes and waiting to pay yourself back… I know exactly how much I have to spend, and I know the moment we've gone over budget and need to pull our spending back. It's great. It's also made it crystal clear that if we overspend in one category, we have less money in other categories.

The age of our money in YNAB is currently over 100 days. That means we're officially over 3 months ahead!

Do one thing each month to promote blog–guest post, blogger challenge, etc. Grade: B. Before the move, I was doing great on this goal, but since we moved, I've just been posting on my own blog three times per week. I had one guest post that was very successful on Money with a Purpose, but I haven't actively sought out guest posts from other blogs.
Save $XXX in i401K by 12/31. Grade: C. I saved about 70% of my goal here. In the end, it was so expensive to move that it was very hard to save as much as I'd planned in my i401K. I did save a lot, though, and it's definitely better than nothing.
Get my Chilean National Identity Card renewed and look into investment property in Chile. Grade: F. This is a goal I kind of dropped at the beginning of the year, because it's very cumbersome to do outside of Chile. I need to fill out paperwork and have it ready the next time I go to Chile but I'm not ready to think about that yet, honestly. And I think I'd rather look at investment property here, where I'm living, than a continent I currently visit so infrequently.
Finally, the last section of the sheet is for Quarterly Goals. This is where I broke down how I would achieve the Big 8 goals each quarter. This is where the rubber hit the road.
JANUARY to MARCH:
Develop one online business on Teachers Pay Teachers or Etsy. This was a fail. 
Sign up for one Master's course and one online course, pay $2150 cash. Pass. I took the online course. 
Write 2 backup posts for blog. Fail for the quarter, pass for the year. I amazingly 

squeezed

 this in during the last few weeks of the year.
Save $200/month for YNAB. Fail for the quarter, but pass for the year!!
Renew Chilean identity card. Fail. This is an example of how an overly bureaucratic society can stifle entrepreneurship. There's way too much paperwork and none of it can be done online. You have to go and stand in achingly long lines, in person. Welcome to the 21st Century, Chile! 
Quarter 1 wasn't so good as far as goal-setting goals.
APRIL TO JUNE:
Develop second online business (freelancing?). Pass. I did start working with more freelancing clients. 
Finish Master's course and sign up for 2nd course, plus one online course, pay $2150 cash. Fail for the quarter, pass for the year. I ended up doing this in Quarter 3.
Spend no more than $772 on groceries for April, May, June. Pass. I kept my monthly average below $772. 
Look into loan for Chile apt. Fail. We decided not to pursue this.
JULY TO SEPTEMBER:
Tweak online businesses to increase earnings. Earn $XXX from businesses during July, August, September. Fail. Moving consumed all of my attention, and I still haven't recovered. 
Save $2000 for YNAB by 9/30/2018. Pass. We achieved this goal! 
Officially finish Master's degree and raise teaching rates to $XX. Fail for the Quarter, Pass for the year. I didn't finish the Master's degree in Quarter 3 but did finally finish at the end of the year. And I have a new tutoring gig that pays even more than my hourly teaching r, ate so I'm stoked! 
OCTOBER TO DECEMBER:
Catch up on i401K contributions to reach $XXX from my earnings by 12/31/2018. Fail. I didn't reach my total contributions goal. But I almost did! 
Pay for and enjoy Disney trip with family. Pass. We fully funded this trip before we went and had an amazing time!
Make sure to have $XXX in savings and taxable accounts by end of year. Pass. We did this! 
I also added a section called Habits to Improve–I wrote these on the back of my goal sheet. The four habits I focused on were:
Spend 15 minutes a day playing with kids.
Run every day first thing, at least 10 minutes.
Listen more without judgement.
Speak in Spanish more with the kids.
While these aren't goals, per se, they're reminders of behaviors I wanted to work on during the year. Here's how I think I did:
I spend a lot more time with the kids now that I'm not working. I'm present, less stressed, and available to them a lot more. While I'm still not "playing" with them, I'm helping with homework, occasionally playing board games, and doing stuff together, like watching movies or taking walks.
I have now joined a running group and I'm consistently running 2 times per week. I am not yet consistently going to the gym on the other days, but I do belong to a gym and it's less than a half mile from my house, so I think I will make this a consistent habit over time.
I think that not working has made me calmer overall and I've made a lot of new friends who I'm listening to more. Without judgement–well, I'm a work in progress.
Sí. I decided that even 10 minutes a day was a worthy amount of Spanish, so I'm making it a point to speak at dinner and at breakfast in Spanish. This is something I'd like to continue and improve upon for next year.
How Have I Done in 2018?
I reached my two yearly focus goals, and (pretty much) achieved five of my eight big goals. Plus, we achieved location independence! How crazy is that?! When I look back on the beginning of the year and think about how I thought it would end, it absolutely floors me. Mr. ThreeYear and I are both insanely happy with our move. Our lives have definitely changed for the better, and we credit a lot of that to our financial discipline over the last ten years.
Lest this post turn into a big ol' pat on the back, let me say that I know we're in the honeymoon phase of our move. Reality will set in, and there will be parts of our new life to contend with that are harder than before. We were also working so hard at the beginning of the year, that the second half of the year where I haven't been working as much feels more like a vacation.
I do think that overall, 2018 has been a year of reaping some of the fruits of our self-discipline and sacrifice of past years. Years of driving a car that wouldn't start unless Mr. ThreeYear got a colleague to push it for him. Years of waiting to buy furniture to fill our new house. Years of taking on extra jobs to earn extra money to achieve our goals. Years of running or going to the gym to keep ourselves healthy. We tend to forget the sacrifice and focus on the reward, so it's good to take time at the end of the year to look back and reflect.
I'll be back soon with a new set of goals for the new year (here's how I set them). In the meantime, I'd love to hear if you set goals for 2018 and how you did!?!
Thanks for reading. Happy 2019!