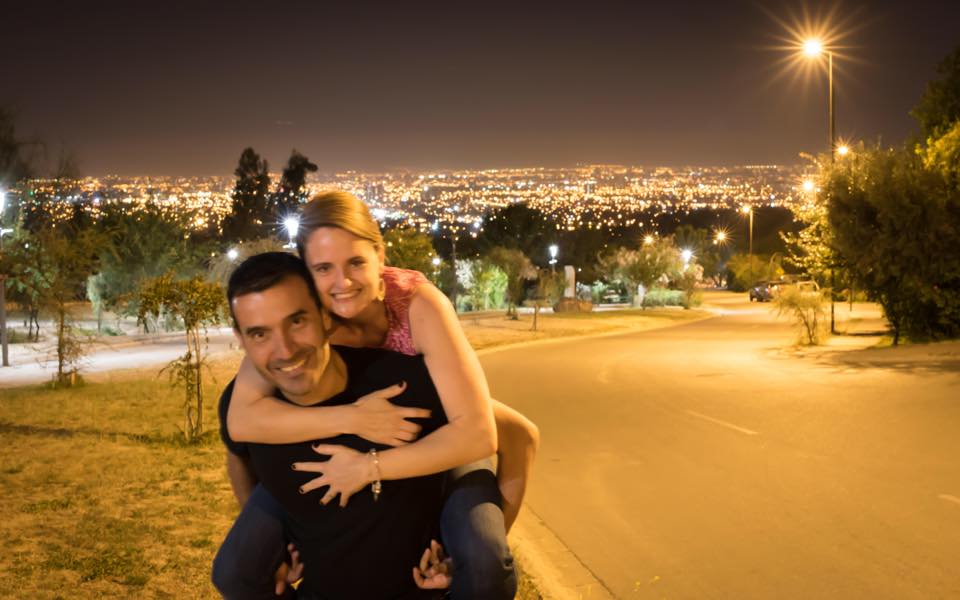 Hey. I'm Laurie. I'm married to a lovely Latino who kindly moved to the US for me, then carted me away from my beloved Southland to frigid Northern New England (I'm only really grouchy about it in March and April). We have two creative, bright, and crazy little boys who keep life interesting.
This summer, something happened. I turned 37. Ok, that sounds dramatic. But it felt… older. Closer to a decade I have not previously felt very close to. 40. I had a tri-life crisis, I suppose, and sat down with Hubs to decide just what we wanted for our family in the next few years. That and a trip to Southeast Asia sparked conversations and ideas about what was next for our family. Did we want to stay put in our cozy little New England town, far from both our families? (NO!) Did we want to move to Thailand, eat lots of coconut buns, and learn more Thai than kòp kun (mâak)? (Maybe.) How about a sojourn to Chile, so the kids can learn Spanish? (Possibly).
Luckily, I'm a planner. So, in order to cut the golden handcuffs and travel, we did decide to do the following things over the next three years:
Double our net worth. 
While doubling our net worth won't quite bring us to financial independence, we'll be close. And that means we'll be a lot freer to earn less and/or not contribute to retirement. Over the past 8 years (I'm a bit of a fan of tracking), my family has done a modestly successful job of learning about and investing our money. This blog is my attempt to hold me accountable for our progress during the next three years. It's also a place to share what a normal family who makes plenty of mistakes can do with some self-discipline and focus. We're not uber frugal and we're not mega savers, but we have implemented several habits (slowly, over time) that have improved the state of our finances, and I hope we get even better at those habits, the frugality, and the saving, to double our nest egg. This is a BHAG, because by my calculations, we will only get 75% of the way there in three years, but that's info for a future post.
2. Get jobs we can do abroad.
I'm currently working on a degree in TESOL. With a Masters in Teaching English to Speakers of Other Languages, I'm able to get lots of different jobs abroad–Thailand, Chile, Singapore, Uzbekistan. I'm halfway through the Masters program, so I should be done with this goal in May, 2018. Hubs will work on a remote job, one he can take anywhere.
3. Get ready to move.
We have a lovely, semi-minimalist house that we bought in a short sale 4 1/2 years ago. We have a fifteen year mortgage on it and hope to sell it for a tidy profit, but we need to do some work to get it ready.
Three years is the magic number because I'm currently 37. Most people talk about having a five year plan. Well, I have a shorter time frame. Three years feels like a challenge, but also long enough to take steps to make big things happen. It's going to be a challenge, but I'm up for it!
"We overestimate what we can do in a year, and underestimate what we can accomplish in three years."
Our Story
The hubs and I met in Santiago, Chile, back in 2002. Two years later, we got married and moved to the US. Since we were jobless, we moved in with my parents. (That was fun! Thanks, parents!). In just a few months, we found jobs in Atlanta, and moved into a little apartment in the city. This was a time in our lives of rampant lifestyle inflation. We ate out a lot, spent a lot of our money on fancy electronics, and generally were pretty wasteful with our money. While we had some frugal habits (we didn't have car payments, since both our cars were paid for with cash, for example) we also had some very bad financial habits. We had credit card debt from our honeymoon, we weren't saving enough for retirement, and we weren't thinking about the future.
When I read blogs about couples who've been able to save a lot and retire very early, I find that the common thread seems to be this: they've got the saving thing figured out from the get-go. Most have good money habits that have been ingrained since childhood and they follow them. We (I, really) had some bad money habits and triggers to unlearn, the biggest being the mindset that frugality was a character flaw. I have definitely changed that mindset over the years! (For the complete story of all of the mistakes we made, check out this post).
In 2006, we bought a house at the height of the Housing Bubble. We put 5% down and took out a 30-year mortgage (great choice, there!). Two years later, in 2008, after the birth of our first son, I was at a Barnes & Noble, and picked up a copy of Dave Ramsey's Total Money Makeover. This was the first time I'd heard someone make such a clear and compelling case for getting, and staying, out of debt. I went home and convinced my husband that we should pay off our outstanding debt, which added up to about $38,000, between credit cards and car payments. We were lucky to graduate college without any debt, but we'd still managed to dig ourselves a pretty substantial hole with our lifestyle inflation.
It took about 18 months to pay off all that debt—through laser focus, selling all those electronics we no longer used or wanted, and cutting out a lot of eating out and mindless spending. I was then pregnant with our second child and my husband had just found a new job with a small, employee-focused company in New Hampshire. Because he had worked for Fortune 50 companies obsessed with the bottom line for the last six years, and at that point, layoffs were rampant, we decided that a move with such a company made a lot of sense. But, that meant selling our house for a LOT less than we'd paid for it. Because the company's relocation package was so generous, we were able to sell the house and move to New Hampshire without taking on any new debt for the privilege of unloading our house.
For the last seven years, we've focused on growing our net worth to achieve FI. Through selective frugality and minding the gap, we've steadily increased that number. While we've still got a long way to go, doubling our net worth will give us a nest egg big enough to provide security to take off for the next leg of our family's adventure, wherever that may be!
Looking forward to sharing our progress with you!